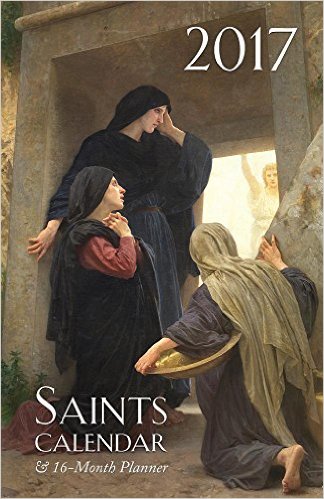 If you haven't ordered it yet, today is a great day to place an order the 2017 Saints Calendar & 16-Month Planner, and any other books you might be wanting to order from TAN Books, using the 50% off coupon code they shared over on Instagram! (Valid today only!)
The ever-popular 2017 Saints Calendar and Daily Planner is a 16 month calendar ready to use in September. Our spiral-bound design allows plenty of space for daily appointments in a lay-flat format. This calendar has become a favorite for home or office with professionals, students and busy homeschool families. TAN calendars contain special feasts and fascinating Catholic traditions. They are marked with days of Fasting, special Saints Days, and the Sundays of the Liturgical Year for both the Ordinary and Extraordinary Calendar."

Also available from Amazon (though the coupon code won't work over there), the TAN Saints Calendar has been one of my favorite planners for the past 10 years.
Speaking of bargain priced books, there have been quite a few new links added to the 6th Annual Curriculum Sale Blog Hop! Be sure to check them all out. I also just finished reducing the prices on all the books I have left for sale!