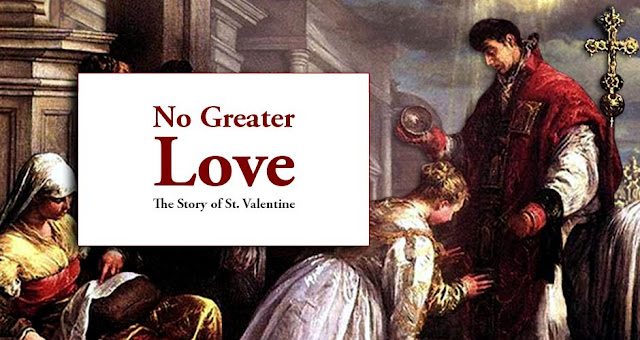 "Searching for the perfect Valentine's Day gift for a loved one? Whether it be your spouse, a friend or your children, you need look no further than this inspiring and heartwarming story about the saint whose self-sacrificing love and message of giving has come down through nearly 17 centuries and remembered every February 14th – Saint Valentine himself.
How this obscure Roman priest and martyr, who neither courted nor married, became the patron saint of lovers has led to many stories and legends about him. Yet this well-researched and magnificently produced play portrays Saint Valentine as he surely must have been – a humble, kind and selfless follower of Christ whose charity always sought out those who needed it most. Young and old alike will be both entertained and edified by this heroic story. Indeed a gift worth giving!"
Regina Martyrum Productions just released the story of St. Valentine – No Greater Love! I'm hoping to download it tonight so we can listen to it during our drive to Mass in the morning.

I hope you all have a very happy St. Valentine's Day!