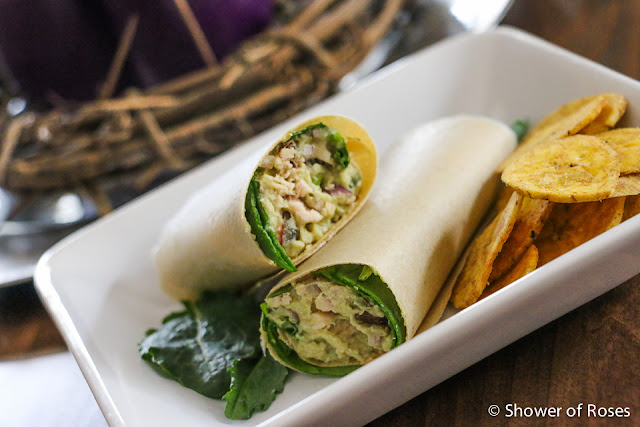 Making sure I eat enough protein, fats
(coconut, avocado)
, and starchy carbs
(sweet potato, butternut squash, plantain)
each day is key to making sure I have enough energy to get through the day on
my AIP Diet
.
I have never been a huge fan of fish, but I'm starting to
force myself to eat it
learn to like some types. This past year, on
Fridays outside of Lent
, there were times I would "
substitute another penance
" so that I could eat some meat. I haven't been able to successfully add dairy, eggs, grains, legumes, nightshades, seeds, or nuts back into my diet yet and I was really worried about how I was going to "survive" the Fridays in Lent this year!
Thankfully, with the help of
my favorite new cookbook
, I've come up with quite a few "quick & easy" meatless recipes that have been such a blessing and have helped keep my energy up where it needs to be for our full schedule. One of those recipes is
Chunky Tuna Salad
. It's great on top of baby spinach or mixed greens, as a wrap, or even as a dip with some plantain chips for an afternoon snack!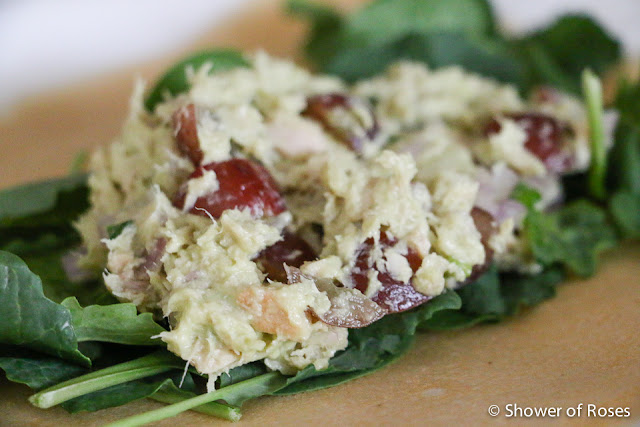 Made without Celery or Dried Apricots and extra Avocado Mayo – still delicious!
Chunky Tuna Salad Wraps
Directions and Ingredients:
2 – 5oz cans Wild Planet Albacore Tuna (I buy it at Costco.)
2/3 cup red grapes, quartered
2/3 cup celery, diced
1/2 cup dried apricots, diced
1/4 cup green onions, chopped
3 tablespoons shallots, diced
1/2 teaspoon fine sea salt
Mix all ingredients together until well combined.
Make Avocado Mayo: (Note: I halve the cookbook's recipe and use the following.)
1 large ripe avocado, peeled and pitted
1/8 cup plus 1 tablespoon extra-virgin olive oil
3/4 tablespoon fresh lemon juice
1/2 teaspoon apple cider vinegar
1/4 teaspoon fine sea salt
1/8 teaspoon garlic powder
Place avocado in blender. With the blender running, slowly drizzle in the olive oil until combined. Add the remaining ingredients and puree until smooth.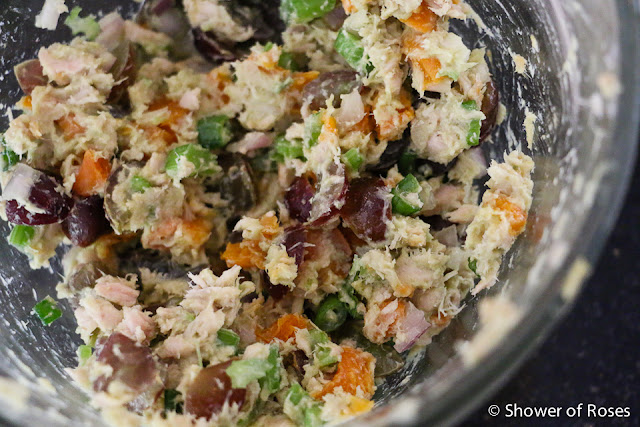 Add 1/2 cup Avocado Mayo to Chunky Tuna Salad. Mix until combined.
Baby Spinach or Mixed Greens
Paleo Wraps – Original or Turmeric (I've had my eye on these ever since I started my AIP diet last March… My husband convinced me to splurge on them during one of our recent grocery shopping date nights. I love them and it's so nice to be able to eat a wrap made with something more than just lettuce again!)
Place a bed of baby spinach or mixed greens and a scoop or two of chunky tuna on top of a Paleo Wrap and roll up.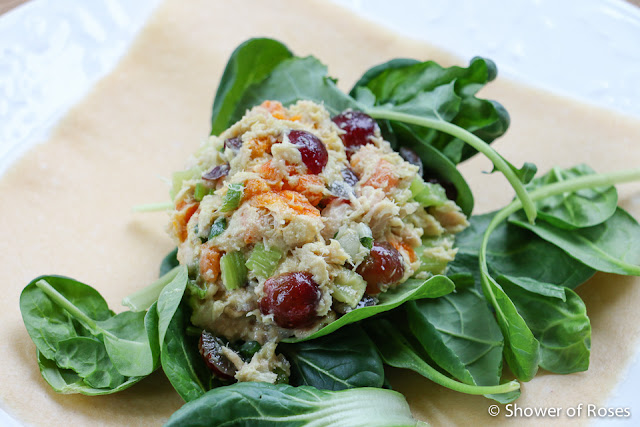 It's so pretty and colorful with all the ingredients! The apricots are a fun addition and perfect if you happen to be craving something sweet. I like it with or without them…. Below you can see it made with the Turmeric Wrap.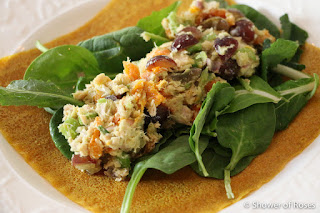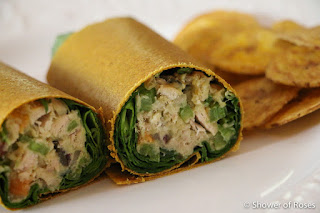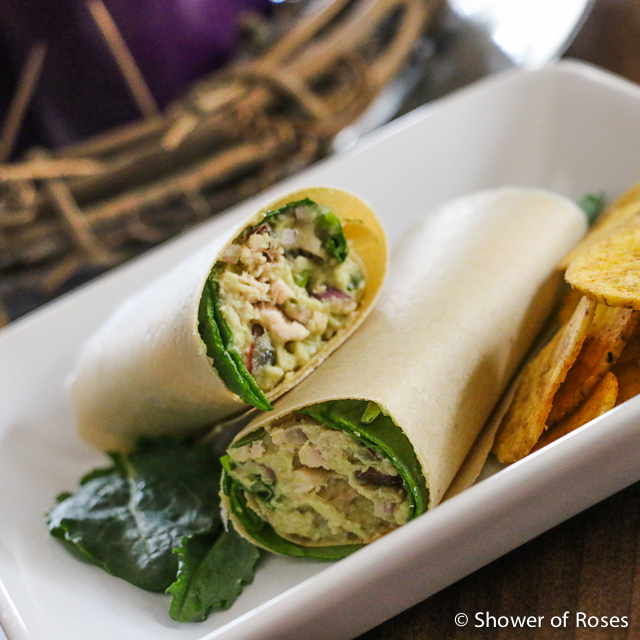 From the Archives:
The Autoimmune Protocol :: My Journey Towards Better Health & Weight Loss with the AIP Diet
The Autoimmune Protocol :: Seven Snacks That Helped Me Survive the AIP Diet
Hearty Healing Beef Stew (Definitely not for Fridays in Lent, but I may or may not have eaten a big bowl on Shrove Tuesday around 10pm and another for breakfast the following Thursday morning, after Fasting on Ash Wednesday!)