This month we have been learning about U.S. Elections and we are working on the final details of our U.S. Elections Lap Books today as we wait for the polls to close this evening…
We still have a few things to finish… The kids are each writing their personal policies (social, economic, and foreign) and working on coming up with their own campaign ads and slogans.
I loved hearing the kids quiz each other while they assembled their lap books!

Left Flap:
Suffrage
The Presidential Campaign: Stump Speaking
The Presidential Campaign: Campaign Advertising — Spreading the Word!
The Presidential Campaign: Media — News Source
Inauguration Day
Definition of "Election"
The "Vocabinet"
Raising Money
Different Forms of Government
A "Handful" of Political Parties
Statistics
Who Do We Vote For?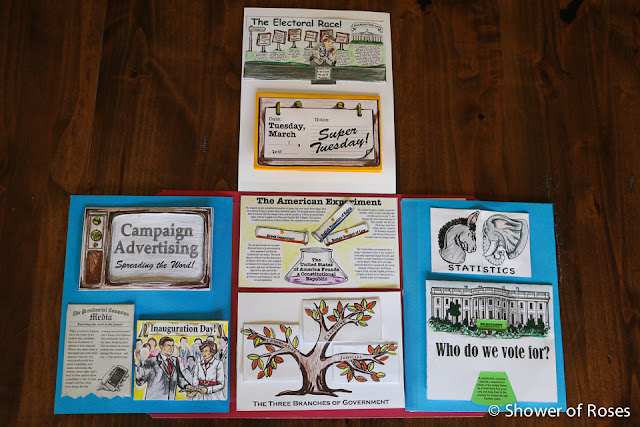 The Electoral Race!
Caucuses & Primaries (Choosing the Candidate)
The Three Branches of Government
The American Experiment
Books:
See How They Run: Campaign Dreams, Election Schemes, and the Race to the White House
Presidential Elections and Other Cool Facts