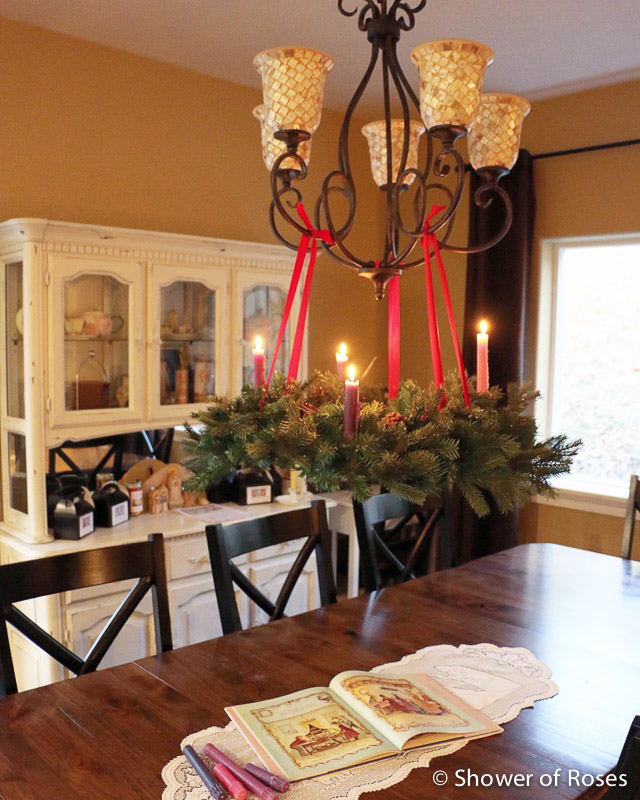 December 1st:
I've always admired the pictures of the hanging Advent wreaths I've seen shared by friends each year and have wished I could figure out how to hang one above our dining table. (We also set up another Advent wreath on our coffee table in the family room to light during our evening rosaries. You can see that one pictured at the top of this post.) After seeing a tutorial (posted by Jennifer Macintosh in a Facebook group) the other day, my girls and I just spent some time trying to come up with a hanging wreath using what we had around the house… I grabbed the wreath from the front door, wooden craft candle holders, and some ribbon and we did our best to hang it. We tested it with leftover candles from past years… The girls think it looks great. Of course they recognize the idea from one of their favorite Tasha Tudor picture books. Our older boys, on the other hand, aren't sure what to think and said they prefer our usual tabletop wreath. We are still trying to decide which we'll use this year. What do you think?
My very first introduction to the idea of a hanging wreath was during Advent of 1990 when I read The Story of the Trapp Family Singers for the first time.
My grandmother and I were very close and she was always giving me new books to read. She had just passed away that year, at the age of 61, and Grandpa Murf continued the tradition and gave a copy of The Story of the Trapp Family Singers to two of my siblings and I on Thanksgiving Day. Of course, as the oldest sibling and book lover of the family, I was the first to read it and apparently claimed it as "mine." Twenty-seven years later I still have that treasured and well-loved gift from our grandpa!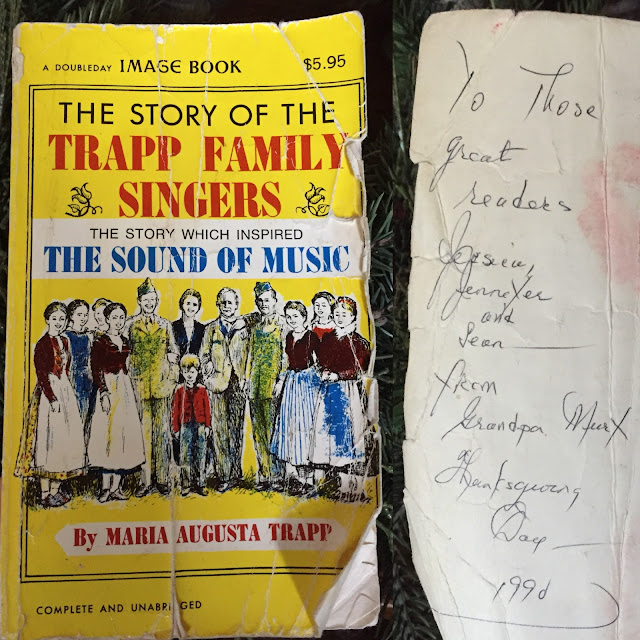 It was the Saturday before the first Sunday in Advent. During lunch I said to Maria: "Where do you usually put up the Advent Wreath?"
"Put up what?"
I was aghast. "Don't you have an Advent wreath every year?"
"No, we never did. What is it?"
"It is a large wreath made of fir greens, holding four candles, one for each of the four Sundays of Advent. People put it up in their living room. It reminds them of the coming of Christmas. They light the candles and sing Advent songs."
"Oh, how nice! Couldn't we have one this year? Papa, please buy a large Advent wreath for us."
"Oh, you don't buy Advent wreaths. We could easily make one ourselves," I interrupted, and then explained to the Captain that we would need about two basketsful of fir twigs and perhaps one of those wagon wheels from an old buggy I had seen in the tool shed.
"What else?"
"A spool of thread, four wax candles, and eight yards of silk ribbon." The Captain offered to fetch those from town. Everybody was excited getting the Advent wreath ready in time. The gardener was ordered to bring the fir twigs and the boys ran out to fetch the wagon wheel and clean it before it was brought into the nursery.
Then we went to work. The children picked the fir twigs out of the basket and passed them on to me, and I wound them around the wheel, fastening them with thread. It took quite some time because it was a large wreath. Four long spikes had to be put through the wheel at equal distances to be used as candle holders. When we had just finished and were starting to clean up the mess we had made on the floor, the Captain came back from town. Now the candles were put on the spikes, the ribbon was cut into four equal parts, which were fastened to the wreath so that it could be suspended from the ceiling. Our first Advent wreath was finished…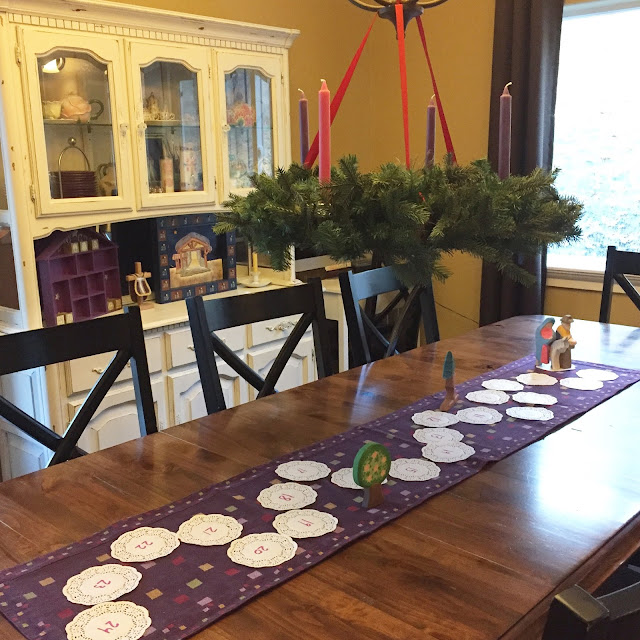 December 3rd – The First Sunday of Advent: I made a couple adjustments to our hanging advent wreath and the girls created a simple "Advent Calendar" path/table runner for St. Joseph, Mary and the donkey 💜💜💗💜 The countdown begins!
I briefly mentioned in this year's Advent Book Basket post that I hoped to modify the activity suggestion in Catholic Mosaic to go along with St. Francis and the Christmas Donkey and make an "Advent Calendar" path for St. Joseph, Mary and the Donkey to travel. The girls did a lovely job creating the Advent path and every morning, before I made it out to the kitchen/dining room, our little ones had already moved St. Joseph, Mary and the Donkey to the next spot along the way! They also ended up adding other wooden figures for the feasts of St. Nicholas, St. Lucy, and Our Lady of Guadalupe.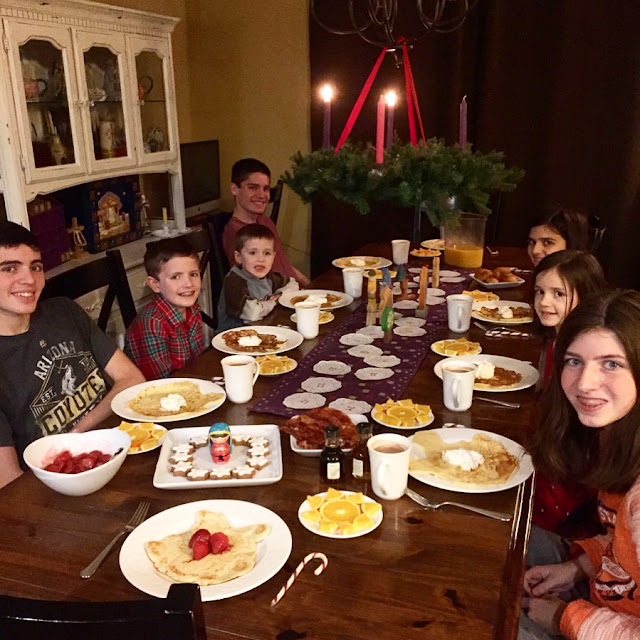 December 12th – Feast of Our Lady of Guadalupe:
It's been a very full day: school, math tutor, working at the office for the afternoon with a tired baby, high school basketball game for one of our teens… but the girls and I were able to pull together another Our Lady of Guadalupe brunch for dinner! Aztec Cocoa, Orange Juice, a Crown of Twelve Stars (Cinnamon Star Cookies), A Woman Clothed with the Sun (Orange Slices), Crescent Moons (Crescent Rolls filled with Turkey and Cheese), St. Juan Diego's Tilma of Roses (Crepes cut into "Tilmas" with Whipped Cream and Strawberry "Roses" for the kids and a Paleo Pancake with Strawberries and Maple Syrup for me! Mmmmm), Crushed Serpents (Crispy Bacon), and Bishop Zumarraga's Croziers (Candy Canes leftover from St. Nicholas Day).
We weren't the only ones with a hanging Advent wreath this year!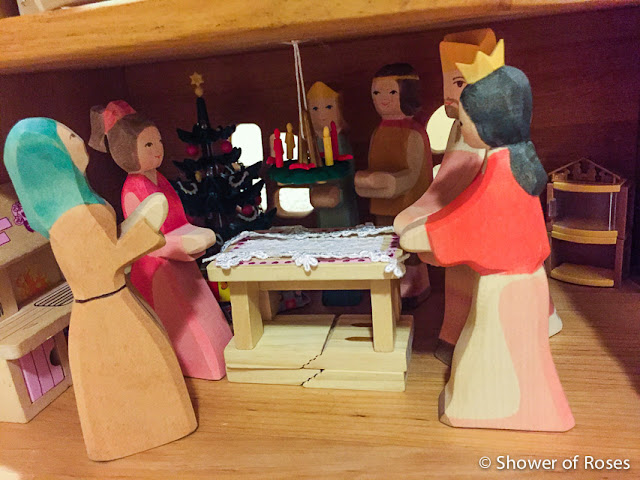 "We all stepped back and admired the beautiful big wreath with the four candles. It gave the whole room a festive look and a festive smell, too."