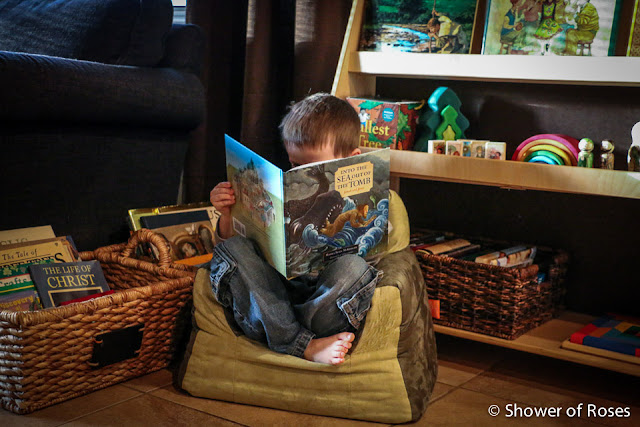 I have been trying to purchase a book cart for our home since last summer! I found it for a great price, but then my order was cancelled due to it being out of stock… So were my next four attempts to order it from various online sellers. I decided to try one last time this past January from yet another online store that was having a sale at the beginning of the year. A few weeks later I finally received a shipping notification! However, after another 6 weeks, it was delivered different than pictured and damaged. It's still useable so they left it here while we wait for the replacement.
My little ones are loving the new book cart! The other day, after I set it up with some of our picture books for March, our youngest dragged his little chair from the other room and plopped it down right in front of all the books to start reading. He is enjoying all the books, but one of his current favorites is Into the Sea, Out of the Tomb (reviewed here – highly recommend the first in the series too).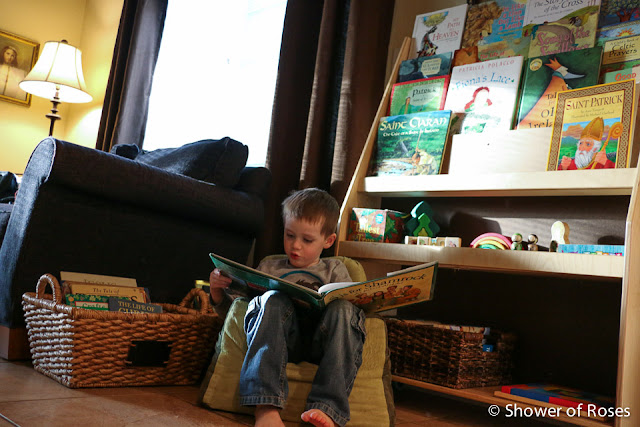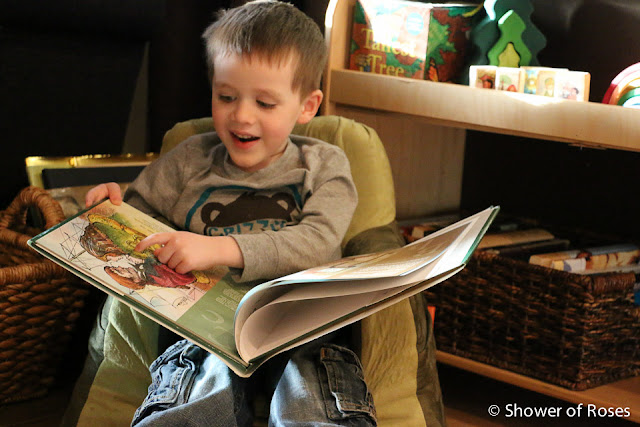 I have filled our book basket (and new book cart!) with books for March as well as a basket filled with some additional books for Lent. I do have some new additions to our family's collection to share with you today.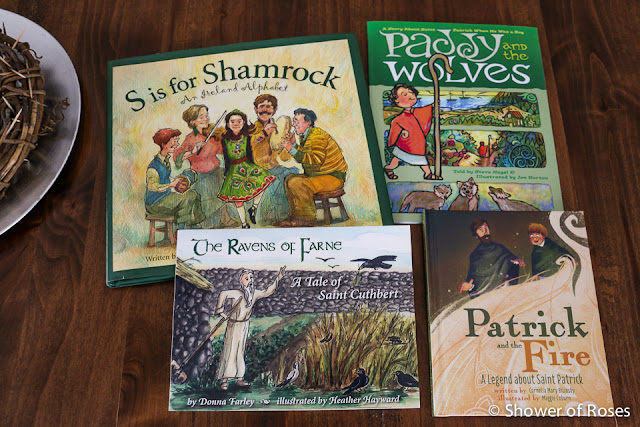 This first book is one I purchased from Amazon last year but haven't pulled out to share with the kids yet. It's making it's way into our book basket this month, just in time for the upcoming feast of St. Cuthbert on March 20th.
The seventh-century Saint Cuthbert of Lindisfarne is one of England's most beloved saints, honored also by the Eastern Church. Saint Cuthbert's adventurous, yet humble spirit is demonstrated in this delightful tale of his encounter with an unruly raven. The lyrical, humorous text and simple, charming illustrations of Ravens of Farne will appeal to readers of all ages.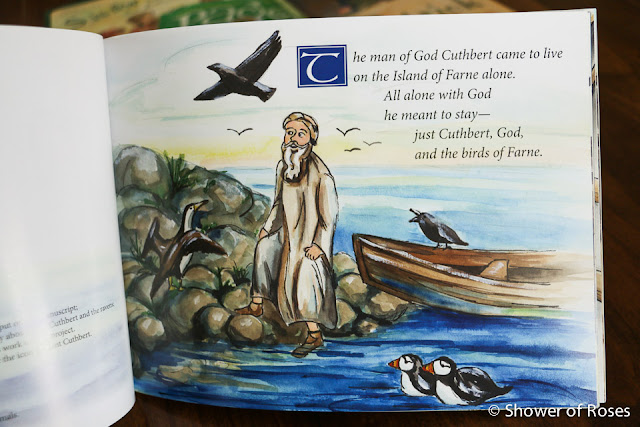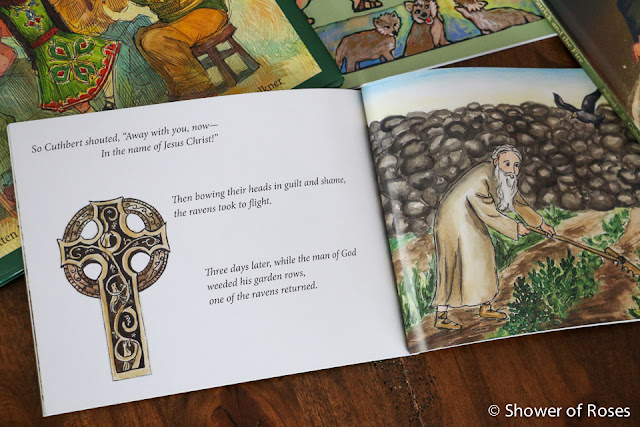 + + +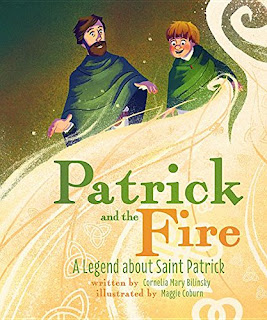 Patrick and the Fire: A Legend about Saint Patrick
(Published by Pauline Books and Media, January 2017)
Bevan the goatherd longs for the annual festival bonfire celebrating the god of light. When a stranger named Patrick appears, Bevan learns about one God in three persons. Patrick frightens Bevan when he boldly lights a fire rivaling the kings. Soon the king realizes Patricks faith, like his fire, cannot be quenched, and Patrick preaches the Trinity to the people. Ages 5 to 8.
I just received a review copy of this book from Pauline Books and Media. I plan to give it to the kids on St. Patrick's Day along with a couple other little treats. I also have a copy of their other brand new release, Brigid and the Butter, that will most likely end up in an Easter basket this spring!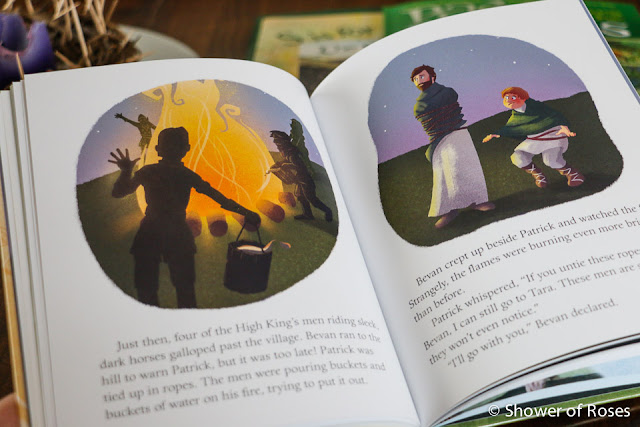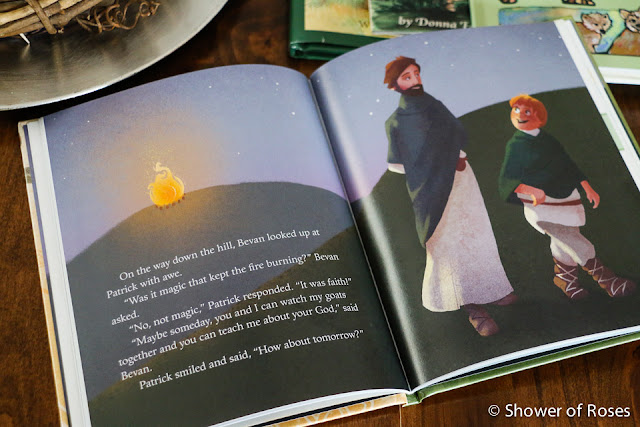 + + +
I mentioned this book last month and I'm sharing it again now. This will be another new addition to our collection on St. Patrick's Day this year. A coloring book version is also available.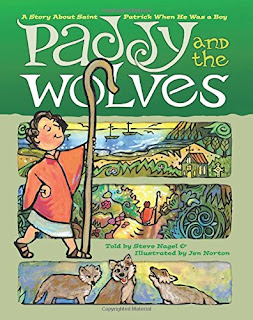 Paddy and the Wolves: A Story about Saint Patrick When He Was a Boy
(published by Peanut Butter & Grace, January 2017)
Just in time for Saint Patrick's Day! Young Paddy can't sit still during prayers at home, but he's more than happy
to help the Irish shepherd, Barra, watch sheep for the day!
But who will watch Paddy when he wanders into the woods? Paddy finds delights and dangers, and both deepen his understanding of the prayers of his people.
Paddy and the Wolves imagines Saint Patrick as a young boy, weaving a story that uses the saint's childhood adventures to foreshadow events in Saint Patrick's adult life. Award-winning contemporary Catholic folk artist
Jen Norton creates a lush panorama of Paddy's world,
filled with bears and bluebells, flashy fish and furry friends…and grace.
Paddy and the Wolves includes a bonus section with the Prayer of Saint Patrick, adapted for children, suggestions for celebrating Saint Patrick's Day at home (including an oatcake recipe), and also a biographical sketch.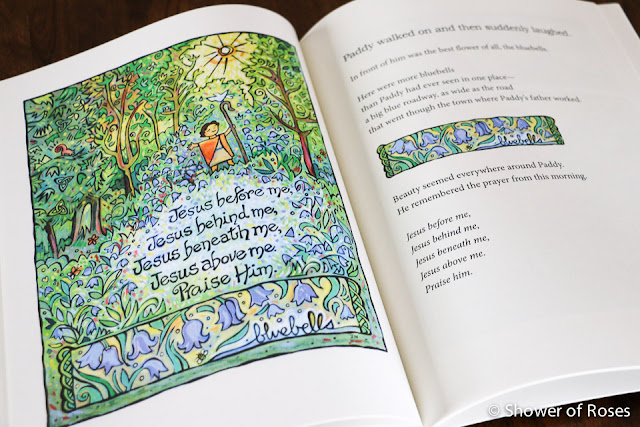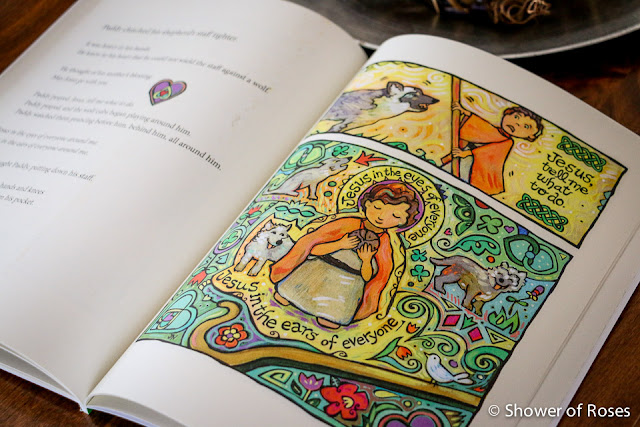 + + +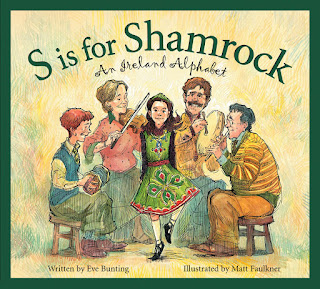 Small in size (less than 400 by 200 miles) the country of Ireland holds a big place in world and human history. And many from around the globe proudly lay claim to ancestral ties there. S is for Shamrock: An Ireland Alphabet gives readers a guided A-Z tour of this small island country whose influence extends far beyond its sea borders. Famous landmarks such as the Blarney Stone and Finn McCool's Giant Causeway speak to the land and history that shaped Ireland and its inhabitants. The prose and poetry of Eve Bunting, Irish native and children's book author, bring the magic and mystery, character and culture of the Emerald Isle to vivid life.
This was a book I received using one of my credits over at Paperback Swap. It is a great addition to our Discover the World and Discover America collections.

+ + +
I'm still working on the list of books for this year's Easter Baskets, in addition to another basket of books to give away! In the meantime, you can find our complete list of books for the month of March here: