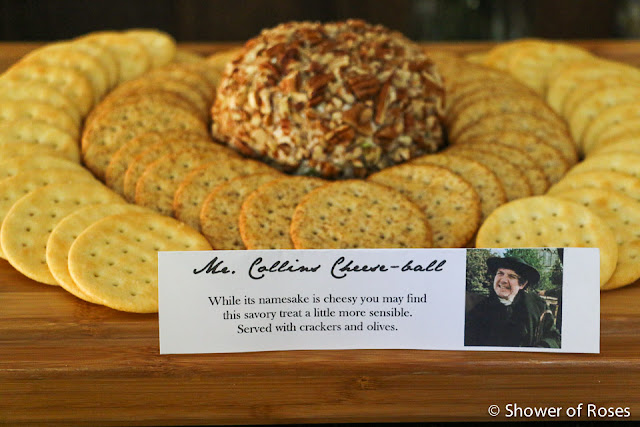 While its namesake is cheesy you may find
this savory treat a little more sensible. Served with crackers.
I'm working on a post with all the pictures from our 14 year old's recent Jane Austen themed birthday party. In the meantime here is the recipe for the "Mr. Collins Cheese-ball" that Chiquita made as one of the appetizers for her older sister's birthday and movie night!
Ingredients:
8 ounces cream cheese, room temperature
8 ounces mozzarella cheese, shredded
3 green onions, chopped (whites and greens)
2 tsp. Worcestershire sauce
1 tsp. dried oregano
1/2 tsp. dried parsley
1/2 tsp. garlic powder
1/4 tsp. cayenne pepper
1/4 tsp. salt
1 cup pecans, chopped
Directions:
Mix the cream cheese, mozzarella cheese, onions, Worcestershire sauce, oregano, parsley, garlic powder, cayenne pepper, and salt together until well-combined.
Turn the mixture onto a large sheet of plastic wrap, cover and shape into a ball. Refrigerate for 30 minutes to one hour.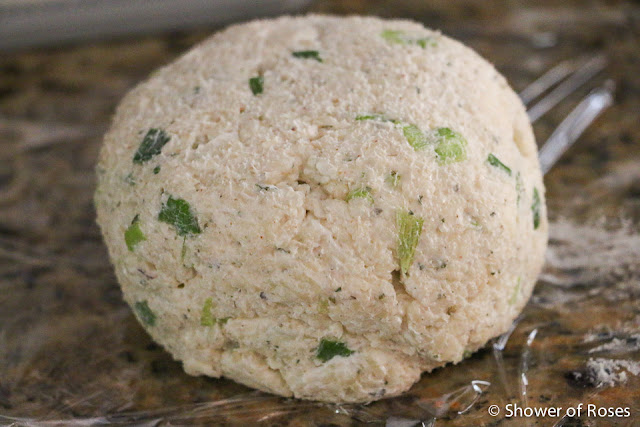 Place the chopped pecans on a small plate, remove the cheese ball from the fridge and gently roll in the pecans, helping them to stick to the outside of the cheese ball.
Serve with crackers.