Our little baby is four weeks old today! We just got back home from having her weight checked again. On the way to town I told our oldest daughter that I was pretty sure the baby had gained at least a half pound these past two weeks and that she probably weighs really close to what she (and our second daughter) weighed at birth (7 lbs 4 oz). I was right on… Grace weighed in at 7 lbs 3.7 oz!
I'll be taking her back in a couple weeks for another weight check. Her doctor is happy to see that she is growing, even though it's not as quickly as he'd like and she has dropped from the 8th to 5th percentile. She is still wearing her older sister's preemie sized clothing. The girls all got a kick out of me taking a picture of her next to one of their dolls (dressed up as St. Rose) since she is practically the same size! ♥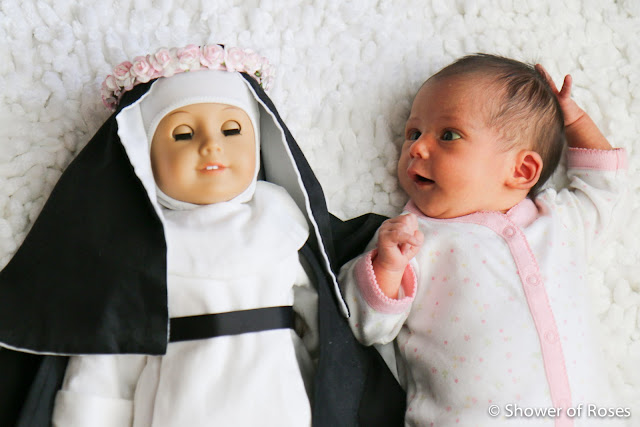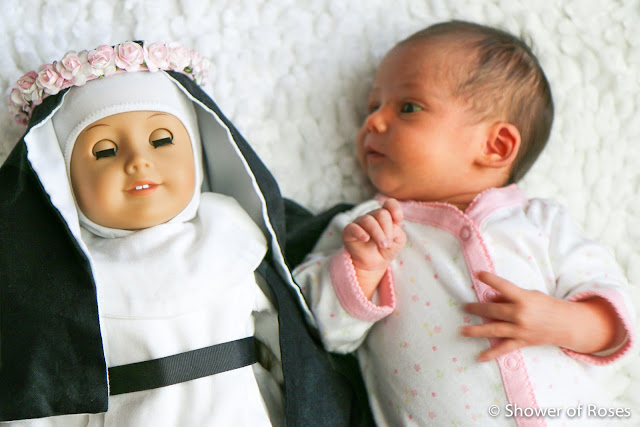 DEAREST Patron, St. Rose, in baptism I received thy name and was put under thy special care. Oh, teach me to be like thee! Help me to avoid sin and to practice virtue. Be always at my side to guide me and protect me, and bring me safe to Heaven, that I may be ever happy with thee in the presence of God.