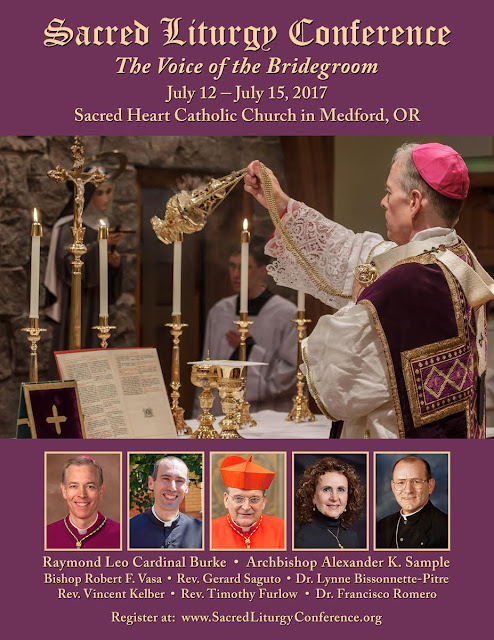 "Join Raymond Leo Cardinal Burke, Archbishop Alexander K. Sample and Bishop Robert F. Vasa in Southern Oregon July 12th – 15th for a three-day immersion in the Church's sacred liturgy and its living musical heritage. The theme of the 5th annual conference is "The Voice of the Bridegroom", and will focus on sacred liturgy, Church history, and the role of Gregorian chant."
Sean and I are so excited about the upcoming conference which will be hosted at the Sacred Heart Church (where we were married in 1999) and we purchased our tickets last September!
Archbishop Sample will be there! Father Saguto
(he attended Christendom College at the same time I did and is currently District Superior of North America for the FSSP, the order in which my three brother-in-laws are priests)
will be there!
His Eminence Raymond Cardinal Burke will be there!
We had no idea that we'd be surprised with another baby, due to arrive just two and a half weeks before the conference, but I'm really hoping that I'll still be able to attend. It is going to be amazing!
Will we be seeing any of you at the conference? There is still time to register but seating is limited and is first-come first-served. The registration deadline is April 3, 2017.
for more information and to register!