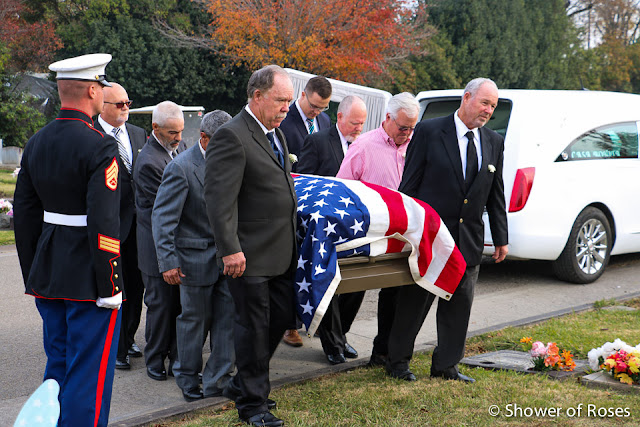 After receiving his law degree at Notre Dame University, my grandfather served in the Marine Corps from 1953-1957, achieving the rank of Captain. My dad was born at Camp Lejeune while he was in the Marines.
On December 3rd, the first Sunday of Advent this year, I woke up to the news that my grandfather had passed away early that morning. So many emotions and tears, both sad and happy… Sad that he is gone, but happy that he had long faith and family filled life, and I can't help smiling at the thought of him seeing my grandmother again. She passed away in 1990 and I still miss her dearly.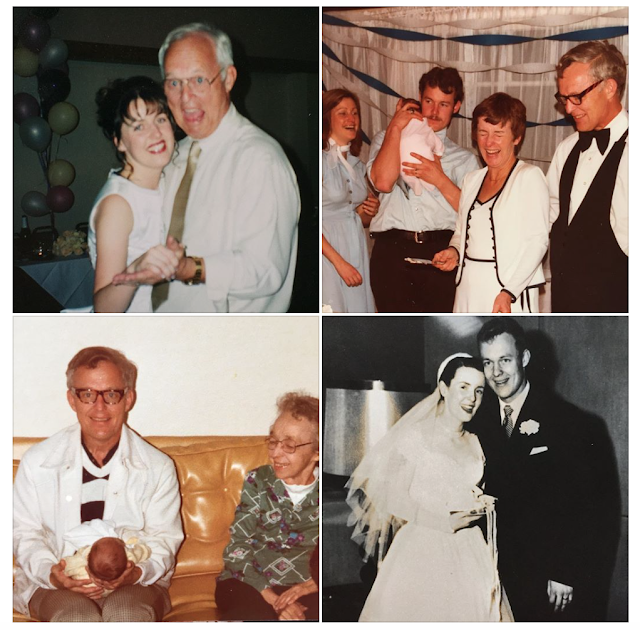 Dancing with Grandpa on my wedding day • Party following my baptism and my grandparent's 25th Anniversary Mass
Grandpa holding me sitting next to his mom when I was almost a week old • My grandparents on their wedding day
I had really hoped to make the trip to his funeral, but when it was scheduled for our daughter's 8th birthday, combined with how hard it is to travel with the baby and not getting enough sleep, I decided to stay home… but early Thursday morning, after getting a decent nights sleep (six hours or so, two three hour stretches!) I decided that I just couldn't miss my grandfathers funeral. I made some last minute plans, packed my bag and the diaper bag, and got on the road with two of our teens and the baby, to make the long drive to California.
As the first-born grandchild, I have so many wonderful memories of my Grandpa Murphy, my dad's dad, and I'm so thankful that I was able to attend the rosary (we made it just in time Thursday night), funeral Mass (Friday morning- I was asked to do the first reading and prayers of the faithful, my youngest cousin did the second reading) and his burial.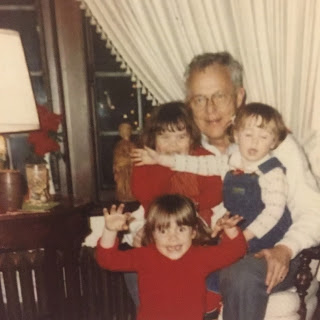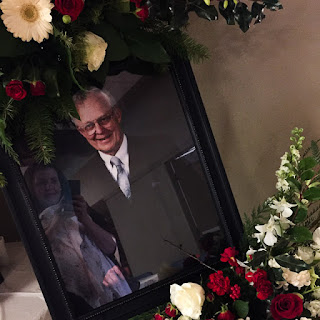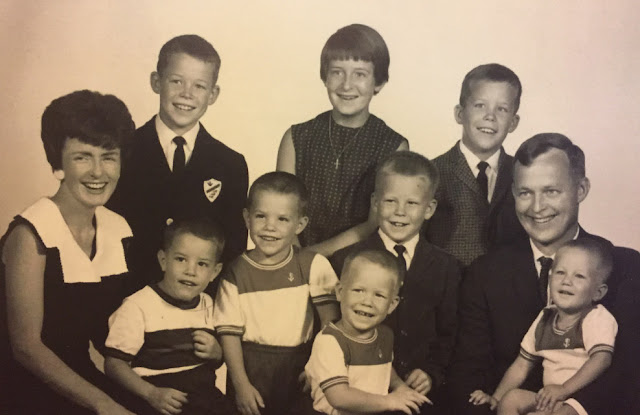 My Dad is standing next to my grandma in this picture.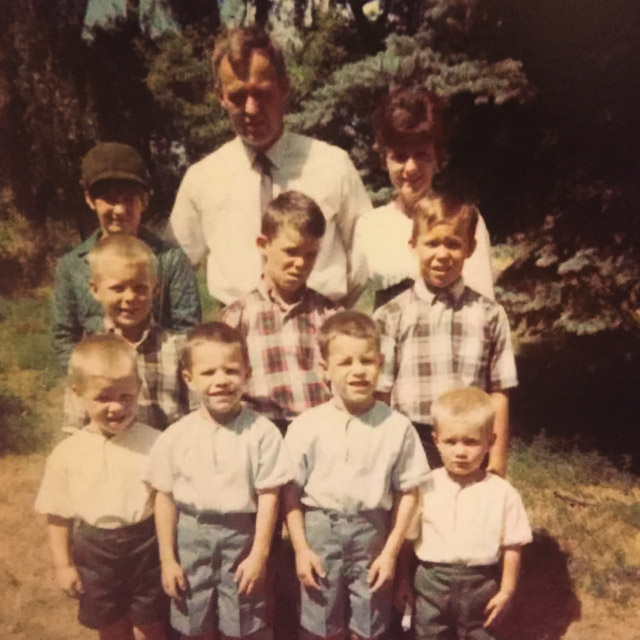 My oldest son laughed when he saw that his grandpa, my dad, had his famous "head tilt" even as a child!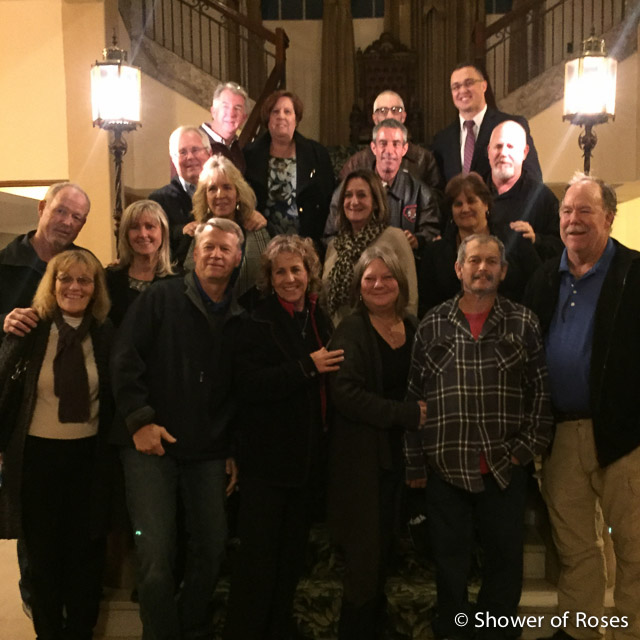 Despite the sad circumstances, it was so great to see all my aunts and uncles together again, and see many of my cousins and childhood friends as well!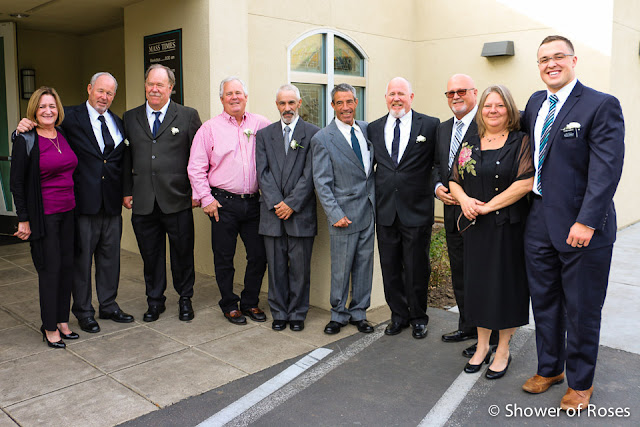 My Grandfather's 10 children in birth order. My Dad is the oldest son.
Three of my uncles (including the twins) and one aunt were adopted as babies.
I loved hearing the story of how my Grandpa flew from CA to South Dakota with my one week old auntie, and just a diaper and a bottle, when he brought her home to meet the rest of her family after her birth.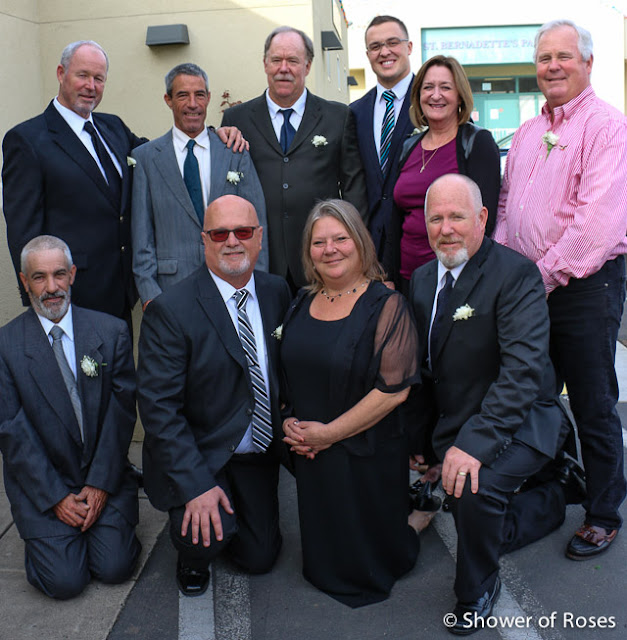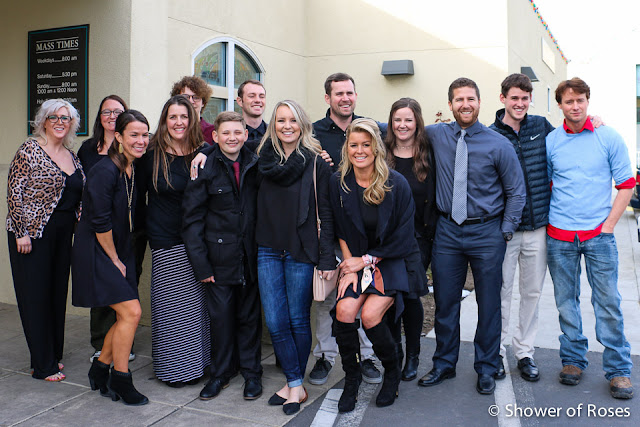 I'm the oldest grandchild and I'm standing next to my 13 year old cousin Byrce who is the youngest. My uncle asked Bryce and I to do the readings for the funeral Mass. Out of my grandparents 28 grandchildren, 17 of us were able to make it to Grandpa's funeral. A few cousins had to leave before we snapped a picture.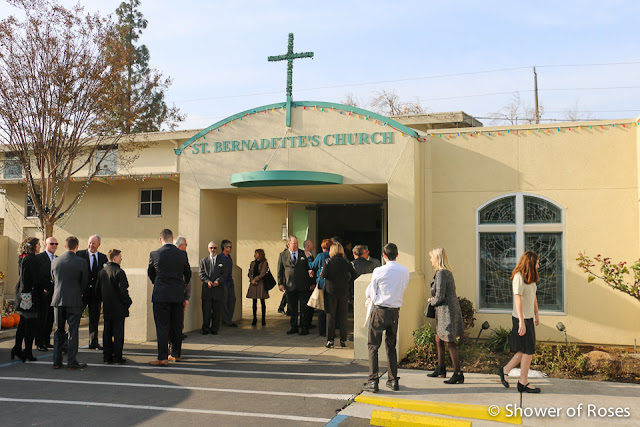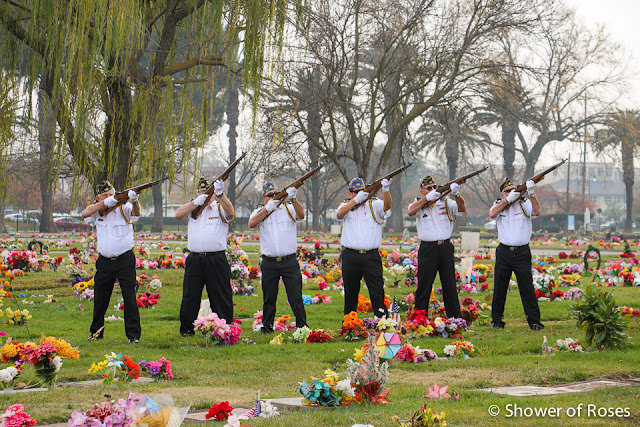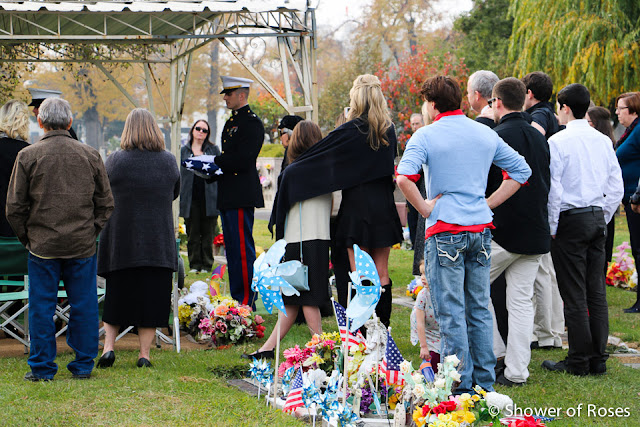 Richard R. Murphy
Jan. 24, 1929 – Dec. 3, 2017

Richard R. Murphy (Richie, Dick), of Stockton, 88 years of age, was born and raised in rural Iroquois, South Dakota, and received his undergraduate degree from St. John's University, Collegeville, MN. He went on to receive his law degree at Notre Dame University, South Bend, Indiana, where he met JoAnn Baltes (1929-1990), whom he married in 1953. They raised 9 children together in Orange County, CA, Dell Rapids, SD, and Stockton, CA, where they owned and operated West Lane Tennis Club as a family business. After JoAnn's death, Richard married Mary Berry of Susanville, CA, and they had a son, Richard B. Murphy, in 1993. In 2006, Richard married Darlene Gunda, and they enjoyed 11 years together.
Richard served in the Marine Corps from 1953-1957, achieving the rank of Captain. He enlisted after he completed his law degree. Richard practiced law for over 50 years in Southern California, South Dakota, Northern California and Indiana. Richard was very devoted to his faith, and took pride in helping others, both professionally and in his personal life. He relished raising his family and enjoying his grandchildren. He loved athletics and was an avid racquetball and basketball player. He also enjoyed watching the University of Notre Dame football games.
Richard is survived by his wife, Darlene Gunda-Murphy; 10 children: Shannon, Pat (Josephine), Tom (Cheryl), Sean (Lori), Jeb, Tad, Kelly (Jackie), Casey (Tonia), Bridget (Shawn), and Richard B. Murphy. Richard also had 28 grandchildren and 29 great-grandchildren.
In your charity, would you please offer a prayer for the soul of my Grandpa Murphy?
Eternal rest, grant unto him O Lord and let perpetual light shine upon him. May he rest in peace. Amen.
May his soul and the souls of all the faithful departed,
through the mercy of God, rest in peace. Amen.