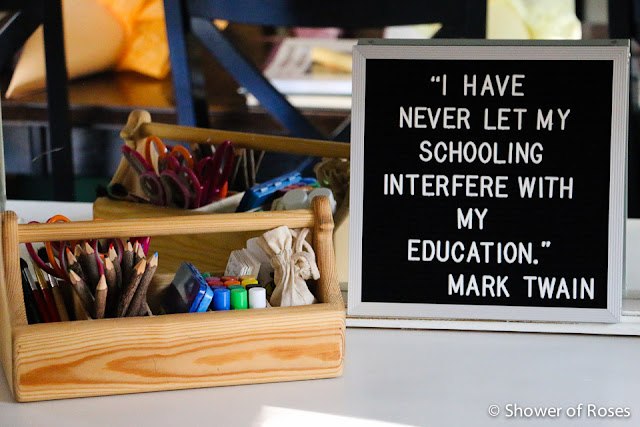 This year I've been home educating seven of our eight children. We have two 11th graders, a 9th grader, 7th grader, 5th grader, 2nd grader and a Kindergartner … plus a new baby!
Last year I started the school year thinking that it would most likely be our last year with a pre-schooler… Despite our plans (we had actually been charting to avoid pregnancy due to all my health issues and prior miscarriages) God had a surprise in store for us. After making it through the challenging pregnancy, thanks to all the extra prayers and graces, we started this school year with another beautiful little addition to our family. God is good!
This year has been all about survival and focusing on the necessities.
I've had hard school years before, but this one has been one of the hardest. I'm home educating more children than I have in the past over a large age span from Kindergarten through High School, working nearly full time, fighting autoimmune/health challenges, and getting very little sleep with our adorable but most demanding infant we have had by far… I'm tired. Nevertheless I'm still grateful that, despite all the challenges, home educating is still an option for our family.
I just keep praying for grace and perseverance.
"You must pray…without prayer, all the schooling in the world will not produce the effect God wants homeschooling to give."
I've had quite a few requests to share our school plans for this year and I apologize for taking so long to finish writing this post which I started last fall. Some weeks it's all I can do to get just get to math and reading with my little ones. It's been nearly impossible to find "extra" time for blogging, but I'm starting to see a faint light at the end of the tunnel and I'm finally getting an opportunity to type up this year's curriculum!
What homeschooling looks like for us has changed over the years, depending on the children's interests, academic needs, and our family dynamics. What we are doing in our family now is not at all what it looked like years ago when all of our children were younger. I'm sure it will continue to change as some of the older children move on to college and the baby lets a little older and lets me get a little more sleep at night.
Before listing out what each of my students has been studying, I want to share a number of things that I have been so very grateful to have for our homeschool this year:
#1 – Kolbe Academy
Our highschoolers are all working towards the Magna Cum Laude Diploma. I love the flexibility offered by Kolbe and that we can continue tailoring our curriculum to our family's preferences and our children's needs.
#2 – The Lukeion Project
Charlotte was the one to introduce us to Lukeion and the live classes my high schoolers have taken have all been excellent. After just completing Wheelock Latin, one of the boys will be going on to take Latin 3 Transition next year and our eldest daughter will begin Latin I after taking (and loving!) Barbarian Diagrammarian this year.

To quote Lukeion: "There are many programs now available for younger students. In our experience, however, these programs demand a lot of busy work but deliver very little in the way of learning the functional nuts-and-bolts of Classical languages. Students are not generally prepared to master these languages until they have reached the logic stage. You will accomplish much more in a fraction of the time if you wait until your student is 12 to 15 before you start formal instruction in Latin and Greek. Better still, waiting to start these logic based languages may mean your student will enjoy them more."
I'm paying the $30 per month for access to all of their recorded classes which the kids can take at their own pace. Some favorites have been science classes with MacBeth Derham, history classes with Philip Campbell, theology and history classes with Christopher Zehnder (he's the author of the history books we use), and some of Joseph Pearce's literature classes. My high schoolers can't get the "Kolbe designation" on the non-Kolbe courses, but they still qualify for high school credit (the high school level courses do anyway, with pre-approval from Kolbe) and they have worked well for us!
#4 – Taylor Science
We opted out of the (semi)local co-op this year for a number of reasons. We started the year using Prentice Hall Biology along with a recorded class from Homeschool Connections, but it wasn't a good fit for us. We switched to Mrs. Taylor's recorded online class and it has been awesome!
"Homeschooling allows you to make the curriculum fit the child, rather than the child fit the curriculum."
.: High School :.
American Literature:
First Semester:
Benjamin Franklin, Autobiography (audio)
Washington Irving, Rip Van Winkle and The Legend of Sleepy Hollow (audio)
James Fenimore Cooper, The Last of the Mohicans (audio)
Mark Twain, Adventures of Huckleberry Finn (audio)
Second Semester:
Mark Twain, Tom Sawyer
Nathaniel Hawthorn, The House of Seven Gables (audio)
Herman, Melville, Moby Dick (audio)
Earnest Hemingway, The Old Man and the Sea (audio)
*with audio books and/or Kindle text-to-speech function, oral narrations, and quizzes.
History – America History:
Lands of Hope and Promise: A History of North America
and
Teacher's Manual
with
Kolbe Academy's Course Plans & Tests
along with recorded class at Homeschool Connections
Mathematics:
Saxon Algebra 2 with Mastering Algebra John Saxon's Way: Algebra 2 DVD Set
Saxon Algebra 2 Solutions Manual and Homeschool Testing Book
1/2 – 1 hour of tutoring each week as needed
Science:
Biology + LAB
with Mrs. Taylor over at
Taylor Science
Fine Arts:
Meet the Masters: Track F
Physical Education:
High School Soccer (Fall)
High School Golf (Spring)
**He has one year of high school latin, but still needs two more years of foreign language for the diploma he's hoping to earn from Kolbe Academy. We've decided that ASL will be the best fit for him. He will either be taking two terms at the community college this upcoming school year or get started this summer on working his way through ASL Level 1 and 2 by the end of his senior year.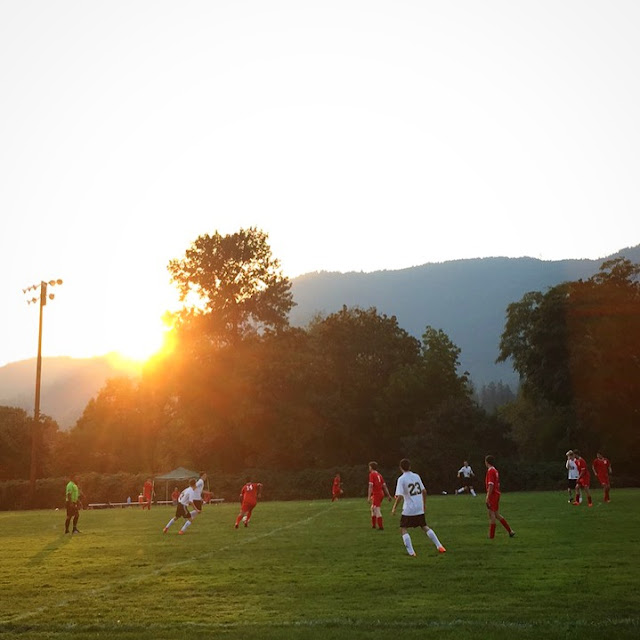 Literature:
First Semester:
Second Semester:
J.R.R. Tolkien's The Hobbit with Joseph Pearce
J.R.R. Tolkien's The Lord of the Rings with Joseph Pearce
History – American History:
Lands of Hope and Promise: A History of North America and Teacher's Manual
with Kolbe Academy's Course Plans & Tests
along with recorded class at Homeschool Connections
Mathematics:
Algebra III with Geometry
Saxon Advanced Math with Mastering Algebra John Saxon's Way: Advanced Math DVD Set
Saxon Advanced Math Solutions Manual and Homeschool Testing Book
1/2 – 1 hour of tutoring each week as needed
Science:
Biology + LAB
with Mrs. Taylor over at
Taylor Science
Foreign Language:
Lukeion Latin II (live online class for the second half of Wheelock Latin)
Fine Arts:
Meet the Masters: Track F
Physical Education:
High School Basketball (Winter)
High School Golf (Spring)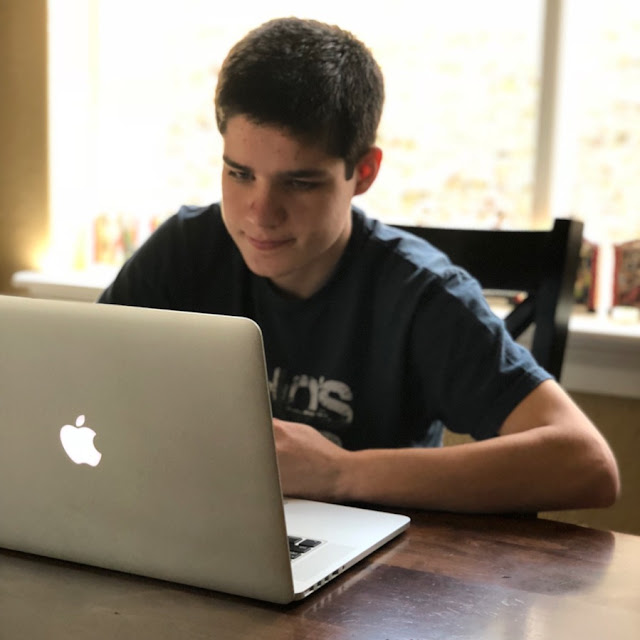 March 12th – He's had a busy few days! Saturday he took the SAT for the first time, yesterday he had his Latin 2b Midterm, and today it's the National Latin Exam! #teststeststests #nationallatinexam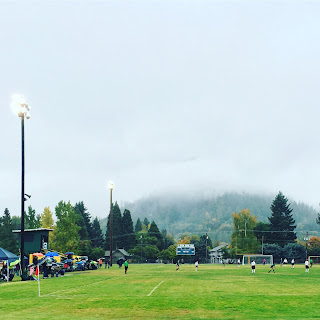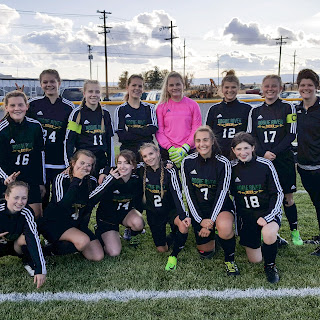 Chiquita :: 7th Grade
Religion:
Saint Joseph Baltimore Catechism No. 2 (with Dad)
Living For Triumph (Living My Religion Series) Book 7
Additional Reading Assignments/Saint Stories
Bible History:
Bible History Workbook
(Units 1-4 this year and will continue on to units 5-8 next year)
Mathematics:
English and Literature:
Following Narnia Volume 2: Aslan's Country
Chronicles of Narnia
:
Prince Caspian, Voyage of the Dawn Treader, The Silver Chair, and The Last Battle
Narnia for Young Adults with Joseph Pearce
recorded class at Homeschool Connections
Course Material: The Chronicles of Narnia
Even though it's intended for high schoolers, she LOVED this course! I plan to buy her a copy of Further Up & Further In: Understanding Narnia for Christmas.
Continuing from last year:
Fix It! Grammar: Frog Prince, or Just Deserts (Book 3) with Teacher's Manual
Phonetic Zoo, Level B
History & Geography:
The Story of Civilization: Volume 1 The Ancient World
with Text Book, Audio, Activity Book, Test Book, Teachers Manual and Video Lectures
Maps Charts and Graphs Level G: The World
Additional Literature for Independent Reading
Science:
The Planets with MacBeth Derham (fall)
Course Material:
The Planets
Introduction to Ornithology with MacBeth Derham (spring)
Course Material: Peterson Field Guide to Birds of North America

These recorded courses taught by MacBeth Derham and available through Homeschool Connections are excellent! There are up at the top of our 7th graders favorites for this school year and really ignited in her a love of science.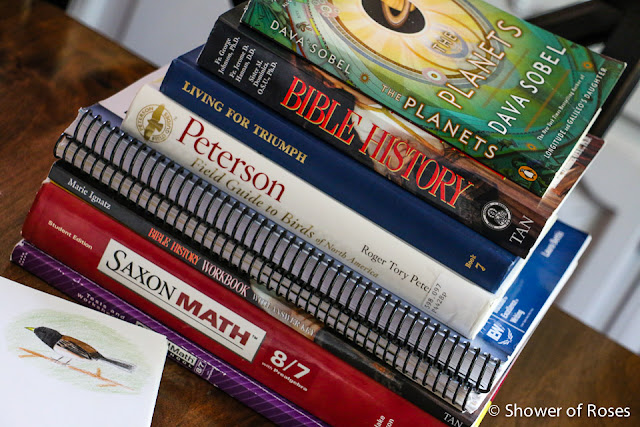 This year it was all I could do to keep up with the essentials… Religion, Math and Language Arts.
I did include some planned history of for 5th grader, but other than that all of our younger students history, science and art was learned alongside their older siblings and through picture books, videos and lots of time spent exploring outdoors. I've deleted my unrealistic plans from the beginning of the year and have just listed what we actually completed. We did learn all about solar eclipses too!
Snuggles :: 5th Grade
Art:
Meet the Masters: Track F
Physical Education:
Soccer (spring)
*like the older boys, we had to take a break from Hockey due to the cost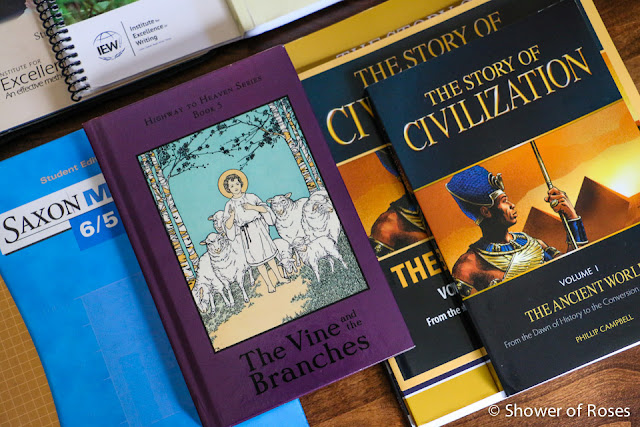 Rose :: 2nd Grade
Art:
Meet the Masters: Track F
plus additional Arts & Crafts projects throughout the year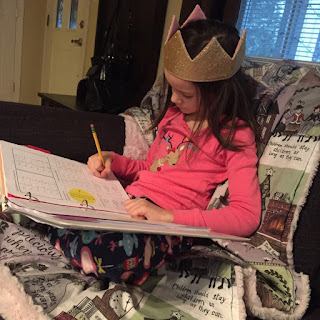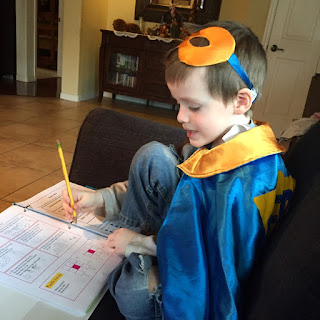 Bud :: Kindergarten
Religion:
St. Joseph First Communion Catechism
(with Dad on Sundays)
The Book of the Holy Child (Highway to Heaven Series Book 1)
Saint Stories from Our Monthly Book Baskets
Additional Supplemental Religion & First Sacraments Books
(the following pictures show some of the catechism resources we use in our home)
Mathematics:
Math Mammoth- Little Blue Series 1-3
Language Arts:
Primary Arts of Language: Writing and Reading
All About Spelling Level 1
Handwriting K for Young Catholics
Supplemental Readers and Additional Literature
Art:
Meet the Masters: Track F
plus additional Arts & Crafts projects throughout the year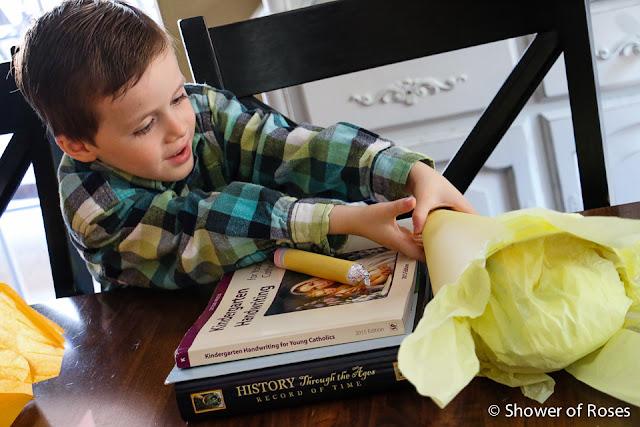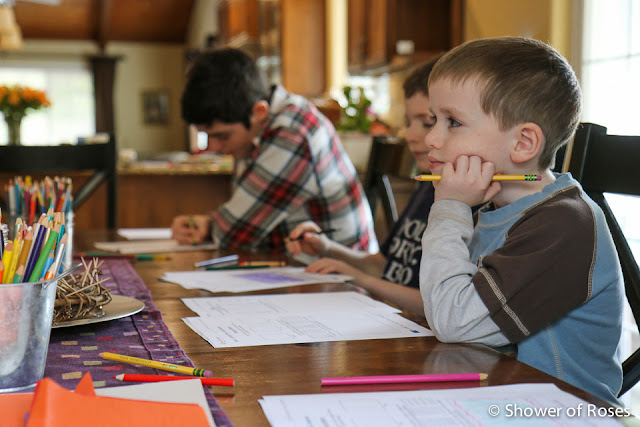 "The struggles of today will one day be a distant memory but your children are only children once. Enjoy them!"
– Jamerrill Stewart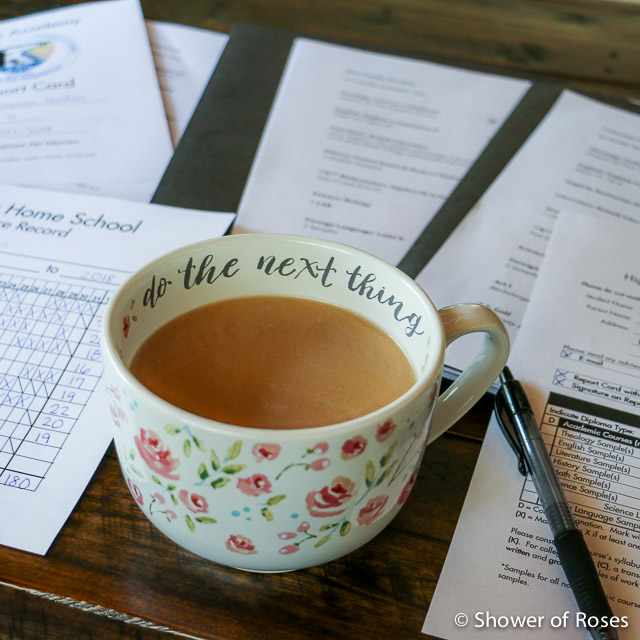 May 26, 2018: Bribing myself with a mug of Slightly Sweet Chai Tea and slowly making progress on pulling together all the graded samples and end of year reports for my three high school students.
#kolbeacademyhomeschool #endoftheschoolyear #soreadyforsummer #trustinGod #dothenextthing