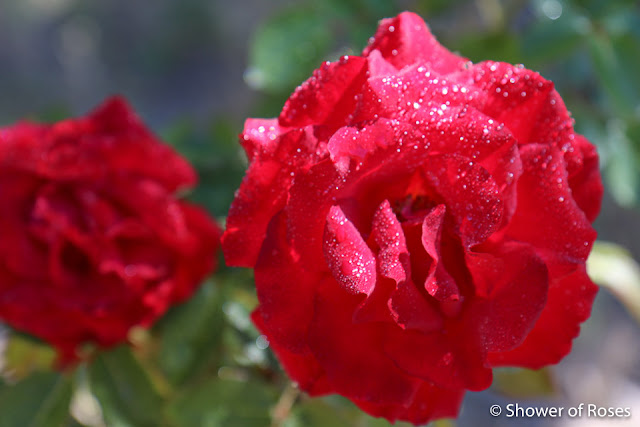 Outside my window…
From my kitchen window I can see the beautiful rose bushes that my husband planted in the garden on Mother's Day a couple years ago. Last year the garden gate was accidentally left open one night and the deer enjoyed all the buds before they had a chance to bloom and gave the bushes a major pruning… I wasn't sure if the bushes would survive the winter, but this year they are covered in the most gorgeous roses.
I am thinking…
We have some very big changes ahead for our family. At the end of May my husband and I were sitting out on the patio, enjoying the lovely spring day, and I said to him that I felt like I could finally breathe… The past two years have been so hard. I'm finally getting a combined total of 5 hours of sleep at night on average each week, up from just 3-4 hours of sleep per day/night on average, the baby is healthy and happier more often each month, and we made it through the hardest school year ever. That peaceful afternoon was just another little calm before the next storm…
The very next week my husband found out that there was a job opening near the area where we had spent years, up through a few years ago anyway, trying to move… My husband has always wanted to live in an area with an Fraternity of St. Peter parish. (All three of my husband's brothers are FSSP priests.) He almost didn't apply for the job but then decided to send in his application and leave it in God's hands. We prayed that if it was God's will for our family to move that he would be offered the job. We asked family, friends, and the dear sisters at Carmel to pray too. A friend suggested we pray to the Holy Face for guidance. On June 1st my husband sent in his application.


"Offer to our Father in Heaven, His Sons Holy Face, and He can refuse nothing to you…"
Towards the end of June we hadn't heard back and started to think that it wasn't going to happen, like all the other times in the past, but then he received the call on June 29th, the feast of Sts. Peter and Paul, and was offered the job! Of the fourteen other foresters from around the country who applied for the job to replace the one and only forester in that office who is retiring after thirty five years, my husband was the most qualified for the job. He accepted the job and will begin on October 1st, the feast of St. Therese!
I am thankful…
So
very
thankful for little consolations from Our Lord… Roses on my bushes
(thank you St. Therese!)
, big changes taking place on special feast days, being able to spend some one-on-one time with my parents, and little notes and phone calls from friends when I've needed them the most. Even though I know the move will be such a great thing for our family, it is still going to be so hard… I spent most of the first week of July crying… and not over a silly
hair cut
this time… The upcoming months will require so much detachment on my part from my home and extended family… Moving away from my parents will be so hard… I'm very grateful for each consolation, little reminders that God loves us all and that He will send us the strength and graces needed. Please keep us in your prayers!
Celebrating the liturgical year…
The feast of St. John Gualbert, patron of Foresters is coming up on July 12th. I think I'm going to bake and decorate some more cupcakes to celebrate my husband's new job. I haven't shared these here or over at Catholic Cuisine yet, but here are the cupcakes we made last year.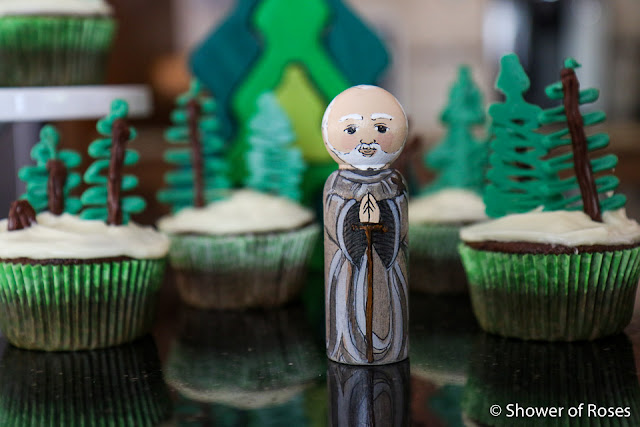 I'll probably make a little something for the feast of Saints Louis and Zélie Martin too. Last year I made a Watchmaker Cake with Cameo in Lace Candy.
From the kitchen…
My kitchen. Why are the kitchens and dining rooms so small in so many homes?! I hope whoever lives here next will love it as much as I have since we finally remodeled it eight years ago.
I am working…
I'm still working part time as the corporate secretary and treasurer for my dad and brother's electrical business. I have loved working these past few years and am especially grateful for all the extra time I've been able to spend with my dad and mom. I'm hoping that I'll be able to continue working remotely for the company once we move. In the meantime I have my work cut out for me as I try to figure out just how I'll accomplish it all and get everything set up.
I am creating…
Lists, lists, lists. If you have any moving tips and suggestions for me I would love to hear them. I have absolutely no experience with this and it is overwhelming to say the least. Thankfully we have a little time.
I am going…
There is a chance that the kids and I are going to be staying here for the upcoming school year. At least that is what we had discussed before my husband even applied for the job. We are keeping all the options open though and it really all depends on how quickly the house sells. The older boys are both getting ready to start their senior year and are really looking forward to hopefully returning to state next spring. Especially after the ordeal we went through this past golf season. Moving out of state complicates things a bit…
I am hoping…
I've been hosting Annual Curriculum Sale Blog Hop for years and am hoping to pull together another one this year. Anyone interested? Hmmm… I wonder just how many thousands of pounds of books we will need to move to our new home. Tons!
I am praying…
the Prayer of St. Theresa of the Child Jesus and of the Holy Face to the Holy Face:
O Jesus, who in Thy bitter Passion didst become "the most abject of men, a man of sorrows", I venerate Thy Sacred Face whereon there once did shine the beauty and sweetness of the Godhead; but now it has become for me as if it were the face of a leper! Nevertheless, under those disfigured feature, I recognize Thy infinite Love and I am consumed with the desire to love Thee and make Thee loved by all men. The tears that thou hast shed so abundantly appear to me as so many precious pearls that I Love together up, in order to purchase the souls of poor sinners by means of their infinite value. O Jesus, whose adorable Face ravishes my heart, I implore Thee to fix deep within me Thy divine Image, to set me on fire with Thy Love, and to make me worthy to contemplate in Heaven Thy glorious Face. Amen.

I am reading…
The Golden Arrow: The Revelations of Sr. Mary of St. Peter (1816-1848 On Devotion to the Holy Face of Jesus) by Sr. Mary of St. Peter which was just given to us from a friend.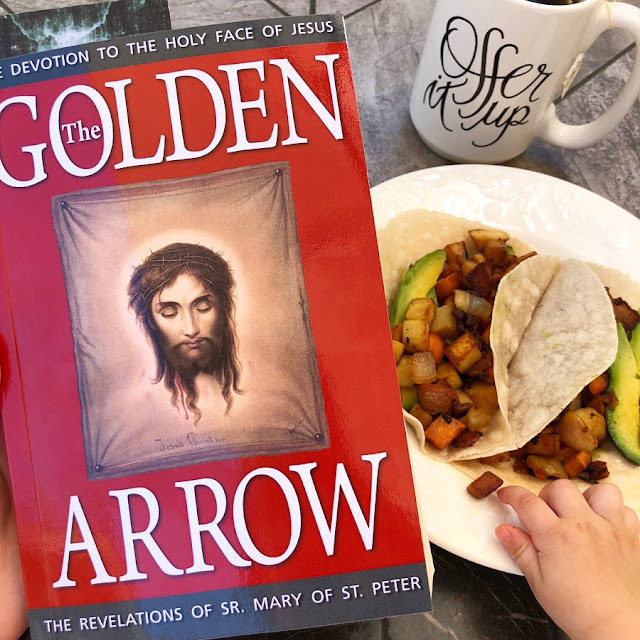 Enjoying a quiet(ish) afternoon outside on the patio with a new book from a friend and cup of roasted dandelion root tea… while the baby tries to sneak a bite of my lunch! #thegoldenarrow #holyfaceofjesus #srmaryofstpeter #offeritup #13monthsold #shelovessweetpotatoes
Pondering these words…
from Divine Intimacy:
"We must not seek the cross in extraordinary sufferings, seldom, if ever encountered; we must look for it in the duties, the life, the difficulties, and the sacrifices of each day and of each moment."
Around the house…
Our home…. Oh how I will miss this home… We have lived here for over eighteen years, by far the longest I've lived in one place. We bought it when I was pregnant and on bed rest with our oldest son. The original "little house with so much potential" has changed so much and grown with our family over the years. I've been searching for new homes online and just can't picture living somewhere new. It will be an exciting adventure, right?
One of my favorite things…
Roses. My husband keeps refilling the vase in the living room with roses from our garden.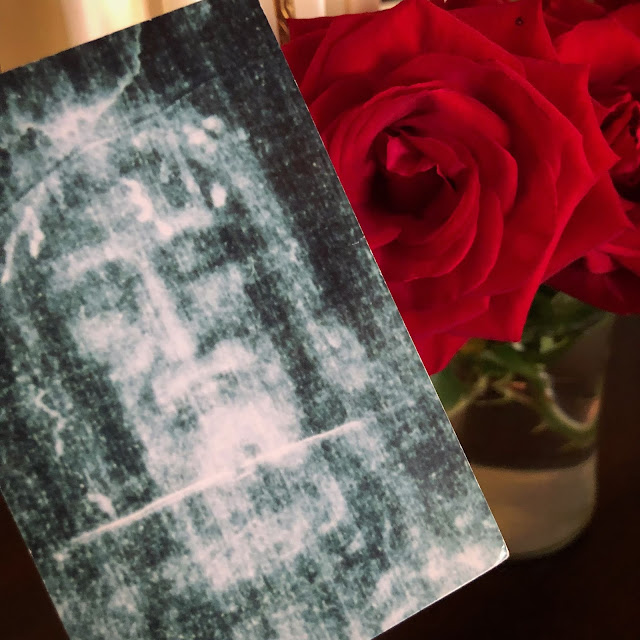 Shortly after my husband was offered the job I went to look for a holy card from my closet to use as a bookmark… This Holy Face holy card was loose next to where I keep all the others. So fitting after praying to the Holy Face for weeks. It also happens to be my bil's ordination card and he is the pastor of the parish where we will be moving.
This week's plans…
The older boys are over on the east coast this week getting to Experience Christendom! Can't wait to hear all about the camp when the boys get home next weekend! Hard to believe that it's been 20 years since I was a student at Christendom… The girls and I are enjoying looking for the boys in the various videos and photos posted over on Facebook.
Our oldest daughter is getting her braces off tomorrow morning. She is pretty excited!
The little boys will be attending a birthday party for one of their friends.
We've all been enjoying summer! Hope you are too!
A little peek at my day…
This blog post was made possible by an afternoon off work and nap time… Shhh!