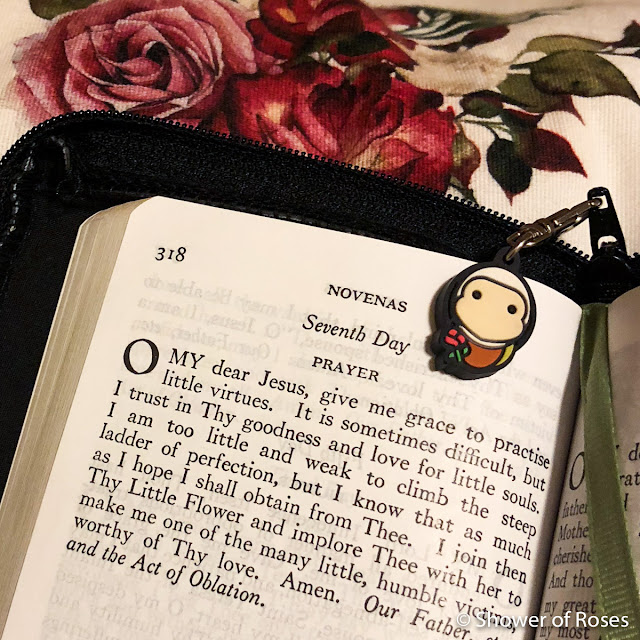 "I applied myself above all to practice quite hidden little acts of virtue; thus I liked to fold the mantles forgotten by the Sisters, and sought a thousand opportunities of rendering them service."
– St. Therese, Story of A Soul, Chapter VII
Novena to Saint Teresa of the Infant Jesus
The Little Flower of Jesus
Prayer for Each Day


O GLORIOUS TERESA of the Infant Jesus, through whose unshaken confidence God was so glorified, obtain for me the same filial trust and love which animated thy innocent heart and soul. Grant that I may practice self-abnegation, patience and confidence, and that my confidence may be a fountain of blessings which God pours out upon me. As confidence was for thee the key to the greatest treasures of God, so it may induce me to throw myself into my Saviour's arms and say with David: "In Thee, O my God, I put my trust, let me not be confounded." Amen.
Seventh Day
O MY dear Jesus, give me grace to practice little virtues. It is difficult, but I trust in Thy goodness and love for little souls. I am too weak to climb the steep ladder of perfection, but I know that as much as I hope I shall obtain from Thee. I join then Thy Little Flower and implore Thee with her to make me one of the many little, humble victims, worthy of Thy love. Amen. Our Father, Hail Mary, and Gloria…
Act of Oblation of Saint Teresa of the Infant Jesus
MY LORD and my God! O Most Blessed Trinity! I desire to love Thee and to make Thee loved by mankind. Since Thou hast loved me so much as to give me the only begotten Son for my Saviour and my Spouse, the infinite treasures of His merits are mine. These merits I offer to Thee with joy, beseeching Thee to behold me only as in the Face of Jesus, and in His Sacred Heart burning with love. Moreover, I offer Thee all the merits of the saints – in heaven and on earth – together with their acts of love, and those of the holy Angels. Lastly, I offer Thee, O Blessed Trinity, the love and merits of the Blessed Virgin, my dearest Mother. To her I entrust this oblation, begging her to present it to Thee. Amen.
Holy Child Jesus, have mercy on us.
Our Lady of Victories, pray for us.
Saint Teresa of the Infant Jesus, pray for us.
Little Flower of Jesus, pray for us.