Nothing happens in the universe without God willing and allowing it. This statement must be taken absolutely of everything with the exception of sin. 'Nothing occurs by chance in the whole course of our lives' is the unanimous teaching of the Fathers and Doctors of the Church, 'and God intervenes everywhere.'
–
Trustful Surrender to Divine Providence
Merry Christmas and Happy New Year! I didn't mean to disappear following my post last month, but there's a good reason, and I would really appreciate prayers!
On December 12th the stomach flu started hitting our family. I was grateful that I didn't come down with it until the following weekend, after we finished celebrating our daughter's 9th birthday and that I felt well enough to bake another cake the following week for our son's 7th birthday… But then, the weekend before Christmas, the stomach flu really hit me. When I didn't fully recover, along with the rest of the family, I went and bought a pregnancy test on December 23rd. I really thought it would be negative.
It's no secret that my last pregnancy was especially hard, between the hyperemesis gravidarum and back/tailbone/hip issues that left me barely able to walk it was a traumatizing pregnancy. After I delivered I told my husband, "I can't do this again. I really mean it this time." He understood. I've joked with friends that there was a good reason God sent us this last baby as #8 instead of one of our first! Despite how difficult it was, and how difficult our darling baby girl has been (she is finally, after 19 months, sleeping a few hours straight each night!), we just can't imagine our family without her. She has brought so much joy and laughter and we all love her dearly! God knew that we needed her. Still, I was too scared to chance another pregnancy.
After over 18 months of 100% abstinence, all it took was once…
I wish I could say that I met those two little pink lines with joy and excitement, but honestly I sobbed. It was Sunday night. I had missed Mass and spent all day sick in bed until going out to the store. I had to get out of the house so I got back in the car to go for another drive. I ended up at the church and thankfully there was still a priest in the confessional following the 5pm evening Mass. I was so grateful for the sacrament and for the advice and encouragement I was given that night. I know God will send me the graces and strength I need to carry this precious baby!
"How can there be too many children?
That is like saying there are too many flowers." – Mother Teresa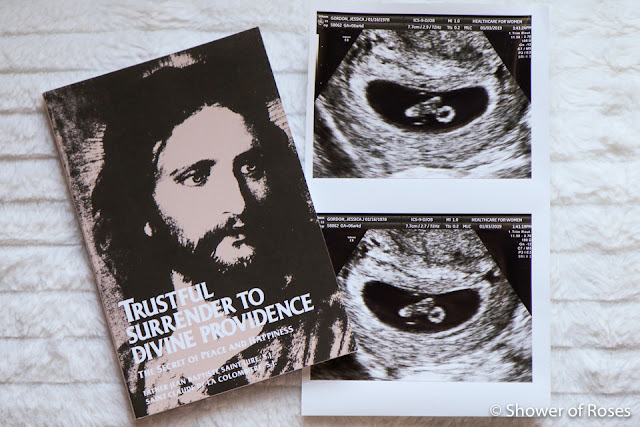 January 3, 2019 – Our Baby at 7 1/2 weeks
Having miscarried a number of times in the past, I was very thankful and relieved to see the baby's heart beating when we met with a new doctor for the dating ultrasound. Apparently I must have ovulated on about day seven and my due date was moved forward a week. Our little one is due August 19th – just before our oldest two will leave for college! So much for things calming down this year. 😉
As of today our little one is 10 weeks old! I will see the doctor again next week, though I caught a cold that seems to have turned into bronchitis so I may be going back in sooner. (I guess one good thing that has come out of this whole government shutdown is that my husband has been home to help… Just as long as they reopen before our savings runs out!) We would be grateful for any prayers you can send our way as we prepare to welcome this new little soul!
Judge then what recompense those persons will receive from Christ who have followed Him along the way of His Cross. On the judgment day we shall understand how much God has loved us by giving us the opportunities to merit so rich a reward. Then we shall reproach ourselves for complaining at what was meant to increase our happiness, for grieving when we should have been rejoicing, for doubting God's goodness when He was giving concrete evidence of it. If such will be our feelings one day, why not anticipate them now? Why not bless God here and now for something we shall be thanking Him for everlastingly in Heaven?
–
Trustful Surrender to Divine Providence