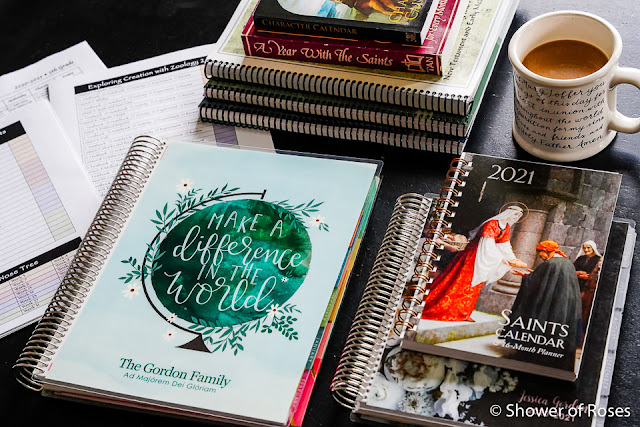 This year I'm once again (officially) home educating five of our children. We have a 12th grader, 10th grader, 8th grader, 5th grader and a 3rd grader … plus two college students, a toddler and a baby. Life is full!
After three challenging years, with difficult pregnancies, new babies, and a move to a new state, I'm really excited about this new school year!
Even though
we just celebrated the beginning of our school year the week before last, on September 8th
, we are actually now in our fifth week. We got started as soon as
the older boys left for college last month
, in an attempt to get a jump start on some of our subjects
(math, Latin, writing)
and have some flexibility to take a longer break when the boys are back for Christmas break. Our high school girls had online classes
(Latin, writing)
begin in August anyway. We've slowly added in additional subjects as backordered books
(science, more writing)
finally arrived! Now that everything has been fine tuned, and we are working on a consistent weekly schedule, I wanted to record and share what we are using this year.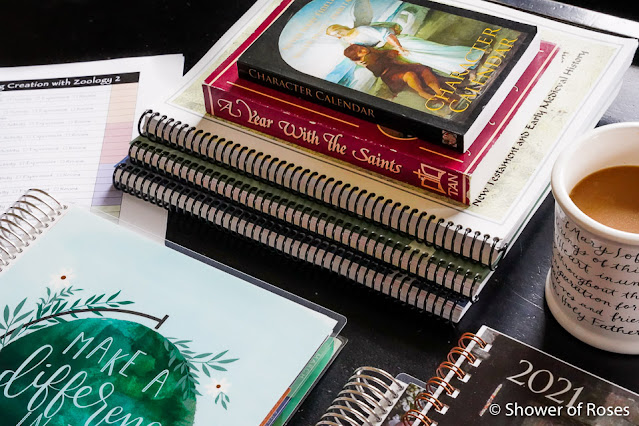 "Next, Catholic home schooling must be schooling. There must be organization, administration, a pattern, a schedule, and a program. Somebody has to be in charge. Mother and father must cooperate in the home schooling. Home schooling must be sacramental. In other words, the Church that Christ founded is the Church of the Seven Sacraments, especially the Sacraments of Eucharist and Confession. You, yourselves, should receive the sacraments of Holy Communion and Confession. Train your children to live a sacramental life. Finally, to be authentically Catholic, home schooling must be prayerful. The single most fundamental thing you can teach your children, bar none, is to know the necessity and method of prayer. You must pray yourselves. Without prayer, all the schooling in the world will not produce the effect which God wants home schooling to give, because home schooling is a communication of divine grace, from Christ to the parents to the children. And the principle way parents communicate from Christ to their children, the grace upon which those children will be saved, is prayer."
– Excerpted from a speech originally given by Fr. John Hardon, S. J.
at a home school seminar in Oct. 1991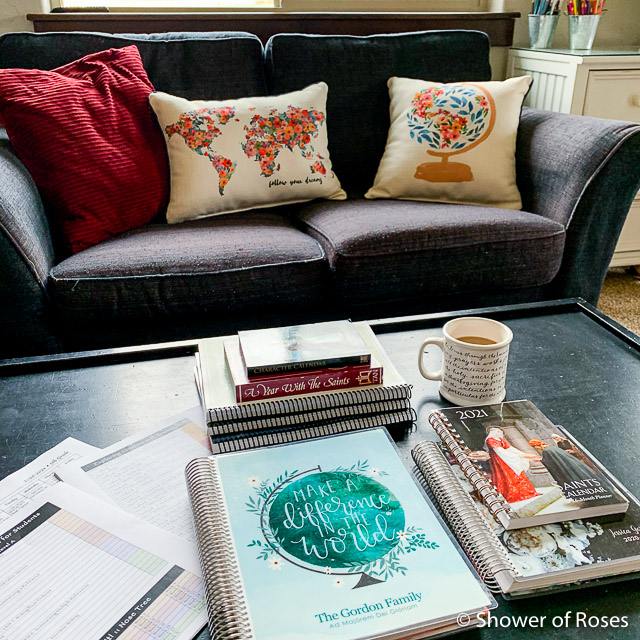 Twinkle Toes :: 12th Grade
Technically she only needs to take Chemistry+LAB, Theology, and just one elective to complete the requirements for the Summa Cum Laude diploma from Kolbe Academy!
Theology: (1 Credit)
Our Moral Life in Christ
with Our Moral Life in Christ Student Workbook
Science: (1 Credit + LAB)
English/Literature:
(1 1/2 Credits)
Muse on the Loose: Survey of Greek Literature in Translation
(Fall)
Muse Re-Loosed: Survey of Latin Literature in Translation
(Spring)
She has really loved taking Dr. Fisher's Latin 1 & 2 the past two years (completing Wheelock Latin) but, rather than move on to translating, decided to take her Literature course this upcoming year.
Additional English/Literature: (1/2 semester each)
The Illiad by Homer with Joseph Pearce
The Odyssey by Homer with Joseph Pearce
using the recorded courses at Homeschool Connections

Mathematics: (1/2 Credit)
Foundations in Personal Finance (Fall)
Possible dual credit Math course in Spring 2021, still undecided
History: (1 Credit)
Government, Democracy, and Citizenship with Ed Rivet (Fall – 3/4 semester)
American Elections:Democracy in Action with Ed Rivet (Fall – Audit Class Oct 1-Nov 5, 2020)
Economics as if people matter! with Philip Campbell (Spring)
using the recorded courses at Homeschool Connections
Fine Arts: (1/2 Credit)
Choir
Physical Education:
(1 Credit)
High School Golf
(hopefully competitive!)


Mathematics:
(1 Credit)
English/Literature: (1 1/2 Credits)
The 19th-Century Novel (Victorian Classics) (Spring)
Emma, David Copperfield, and the Barsetshire Chronicles with Eleanor Bourg Nicholson

using the recorded courses at Homeschool Connections
History: (1 Credit)
The History of the Church
(Core Text for both Theology and History)
Additional literature chosen from Connecting with History, Volume 2 – The Arrival of the King and His Kingdom, New Testament and Early Medieval History:
One Hundred Saints, Their Lives and Likenesses Drawn from Butler's Lives of the Saints and Great Works of Western Art
A Graphic Life of Jesus Christ
Penguin Historical Atlas of Ancient Rome
The New Penguin Atlas of Medieval History
Lives from Plutarch
Mythology
Unit #1: Julius Caesar, Ben Hur (audio)
Unit #2: The Spear: A Novel of the Crucifixion
Unit #3: Story of the Last Days of Jerusalem from Josephus, Quo Vadis
Unit #4: Eagle of the Ninth, The Silver Branch
Unit #5: St. Athanasius, St. Monica, Beowulf: Illustrated Edition, Confessions of St. Augustine
Unit #6: Two Lives of Charlemagne
Unit #7: Hamlet, The Ballad of the White Horse
Foreign Language:
(1 Credit)
Latin II using
Wheelock Latin, 7th Edition
Live online class, Lukeion

Fine Arts:
(1/2 Credit)
Choir
Physical Education: (1 Credit)
High School Golf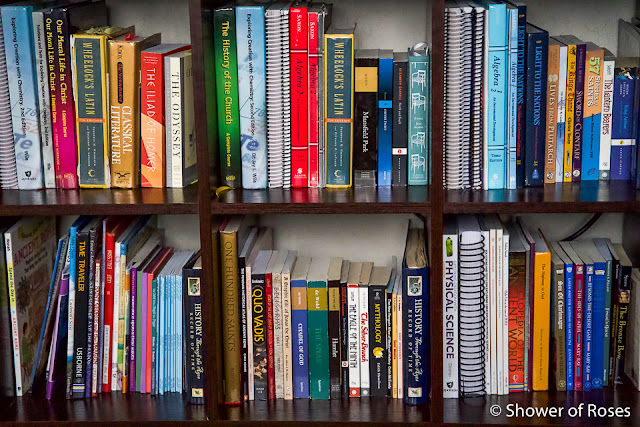 Snuggles :: 8th Grade
Additional literature chosen from Connecting with History, Volume 2 – The Arrival of the King and His Kingdom, New Testament and Early Medieval History:
57 Stories of Saints
Famous Men of Rome
Famous Men of the Middle Ages
Roman Britain
Augustus Caesar's World
A Graphic Life of Jesus Christ
Unit #1: Julius Caesar, Ben Hur (audio)
Unit #2: The Bronze Bow, The Lion, the Witch and the Wardrobe
Unit #3: The Ides of April, Beyond the Desert Gate
Unit #4: The White Isle, Galen and the Gateway to Medicine
Unit #5: Beowulf the Warrior, St. Helena and the True Cross, The King's Thane
Unit #6: Fingal's Quest, King Arthur and His Knights of the Round Table, St. Benedict: Hero of the Hills
Unit #7: The Story of Rolf and the Viking Bow, The Sword of Clontarf
Foreign Language:
Physical Education:
Self Defense / Martial Arts: Jui Jitsu
Golf