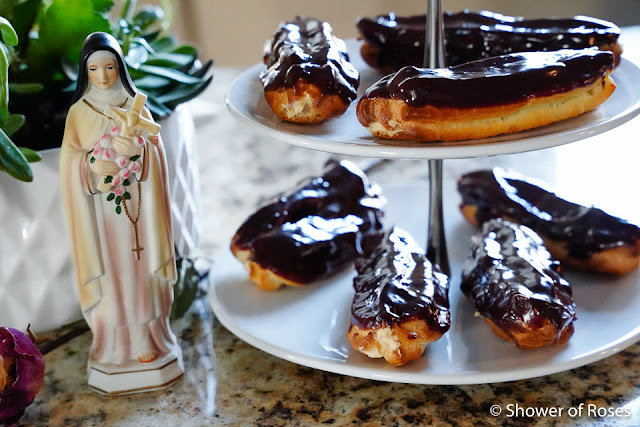 Last Saturday, for the traditional feast of dear St. Thérèse, I had promised my sweet "Rose" that we would learn how to bake Homemade Éclairs. We started the day with attending First Saturday Holy Mass (she was able to participate in the procession and give a flower to Our Blessed Mother), then she and I went out for coffee (for me) and French Vanilla Hot Cocoa (for her), before heading to the grocery store to pick up a couple things. The older girls were at their Maidens of St. Joan meeting but as soon as they got home they wanted to help with filling the éclairs. So fun!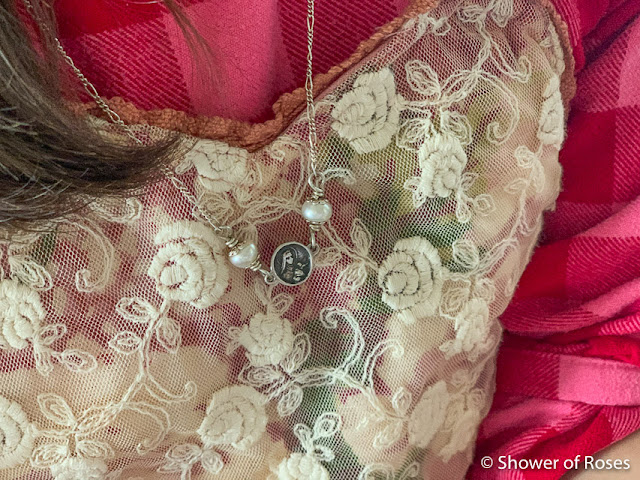 Wearing her Rose apron and favorite St. Therese Necklace…
A First Holy Communion gift from Grandpa & Grandma
They turned out so yummy! So much better than the store bought ones we've purchased over the years. We all could see why these are said to be a favorite treat of St. Thérèse! I had to head back to the church for a meeting so she sent along a few éclairs, one for each of the priests to enjoy too!
St. Thérèse of Lisieux, ora pro nobis!