These were the heartbreaking words that began the text I received yesterday afternoon, February 28, 2020, on the first Friday of Lent, from Veronica's younger sister Victoria. She went on to tell me that Veronica's death was beautiful. We were about to start praying the Stations of the Cross and followed it with another rosary for Veronica's sweet soul and for her suffering family. Veronica was such an incredible inspiration to me and we will all miss her dearly.
May the angels lead you into paradise,
may the martyrs receive you
in your coming,
and may they guide you
into the holy city, Jerusalem.
May the chorus of angels receive you
and with Lazarus once poor
may you have eternal rest.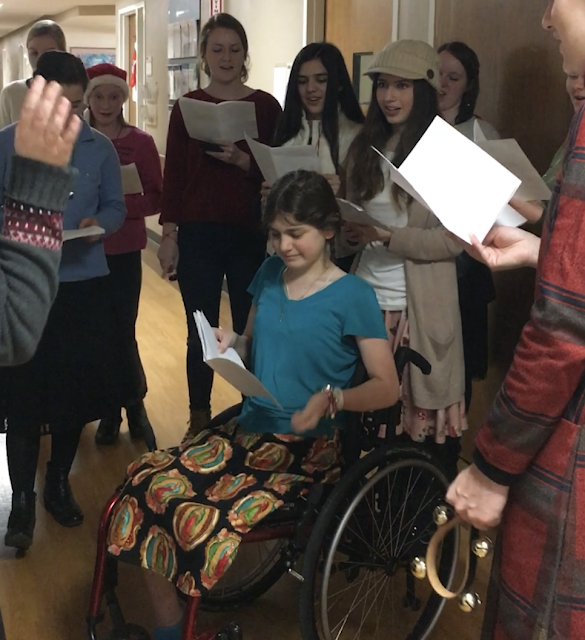 Visiting Veronica in the hospital to sing carols just before Christmas
I just got off the phone Dan Cools, Veronica's father, and he asked me to pass along the news of her death to you all and thank you again for your prayers and support.
Here is the update Dan shared over on their GoFundMe page:
Dear family, friends, benefactors and followers,
Our dear Veronica passed away this Friday in her home with her family around her. When I last updated you we had begun weekly treatments in Bellevue. For two months (according to the lab test) it appeared we were making headway. Then the numbers began to change again. The cancer had begun to grow and paralyzed her from the waist down. After a hospital stay we took her home and did home hospice care. She was charitable as always, caring and sweet to the end. In the 18 months of her illness she never complained. She embraced the Catholic faith. Never doubting the value of suffering when offered to our Lord for the good of others and his church. She prayed for healing but always left it up to God's will as Christ did on the cross. She received the sacraments regularly. She was given the apostolic blessing last Saturday. She was able to recieve the Eucharist daily for the last couple weeks including her last day. Her faith was tremendous. Her resignation to God's will completely trusting and complete. Her faithfulness will surely be rewarded with an eternity in our Heavenly Father's presence. We sincerely want to thank all of you for the gifts and prayers of support. Veronica often said the prayers are what carried her through. She offered her suffering for her benefactors. We ask you for your continued prayers while we go through our grieving at loosing her. She was a treasure God had given to us and has called back home. Yet we also rejoice as her race was run well and she fought the good fight. As our Lord has promised those are faithful to him and follow his way will have eternal life.
God bless, Dan, Debra and family
They have not asked specifically online for help with the funeral expenses, but they would be very grateful if anyone would like to make a donation this Lent. You can still do so through GoFundMe or I can provide you with a mailing address if you'd like to send a check directly to the Cools. Together we can at least help lighten the financial burden on their family as they grieve this tremendous loss.
Please also continue to pray for Dan and Debra Cools, and their family, that God may pour His grace upon them in this time of sorrow. May God reward you abundantly!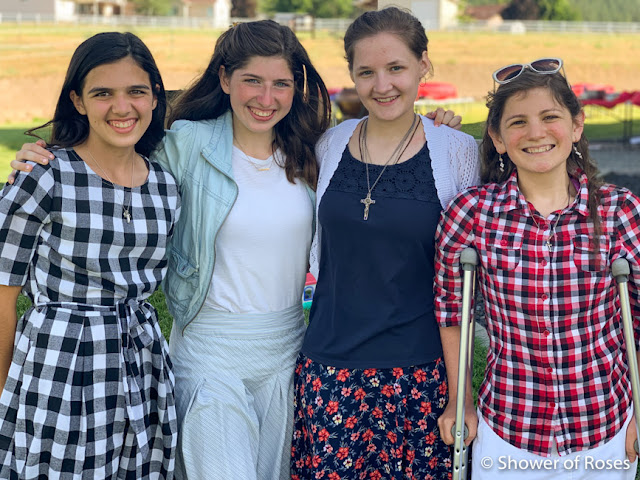 Our girls with Victoria and Veronica Cools last summer
Eternal rest grant unto her, O Lord, and let
Perpetual light shine upon her.
May she rest in peace.
May her soul, and the souls of all the faithful departed,
through the mercy of God rest in peace. Amen.