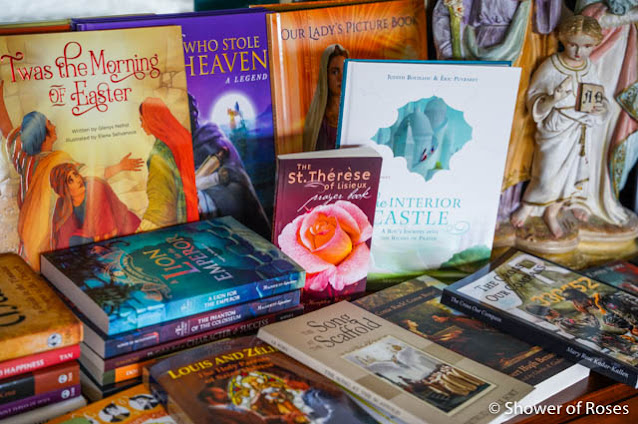 Happy St. Joseph's Day! I can't believe how fast Holy Week and Easter are approaching… I hope you are all having a blessed and fruitful Lent this year. Here is North Idaho we are so grateful to have full access to Holy Mass, and all of the sacraments, unlike last year… So so grateful!
I had hoped to have this post up on the blog weeks ago, but life has been very full and I'm still struggling to find much time to spend online or blogging, but better late than never!
Once again our children's Easter baskets will be overflowing with excellent books for them to enjoy this spring. I always plan ahead and shop local bookstore and publisher sales year round (quick tip:
TAN Books has amazing $5 deals every month
!) and I am also frequently gifted with review copies of new releases from authors and publishers to consider as well. When that happens I ask for extra copies to gift to some of you too, so be sure to scroll to the bottom of this post to enter for a chance to win one of five prize packages!
Note: Before I share the book list, I do want to mention that I haven't read all of these books yet. I made my decisions based on recommendations, reviews, publishers, and the past work of some of the authors/illustrators. As an Amazon Associate I earn from qualifying purchases. P.S. Please purchase directly from publishers when possible!
.: Twinkle Toes – Age 17 :.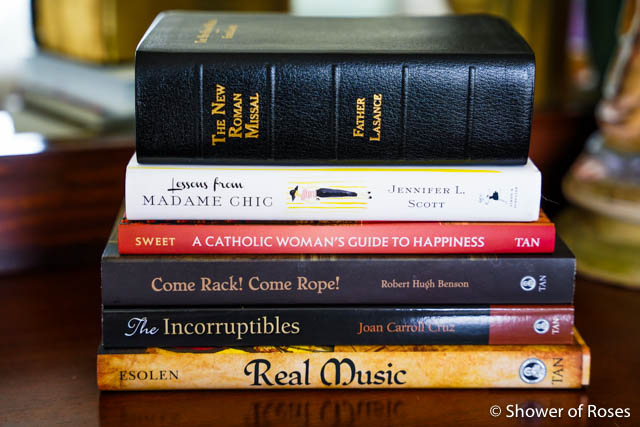 Beautiful reproduction of the original 1945 text of the immortal Latin Tridentine Mass, according to the Council of Trent, with complete Latin and English text for the Ordinary and Prospers of the Mass. There are no revisions, but additions made according to the Papal decrees dating from 1945 to the end of Pope Pius XII's reign include the Mass Propers and the Divine Praise of the Assumption. The binding is sewn with black leatherette covers and gold lettering. The pages have rounded corners and golden edges. Complete with 6 colored ribbon dividers. Also available from the FSSP bookstore.
The girls have and use their Blessed Be God prayer books, but it's time to get them a daily missal. We debated and debated on which to choose, but they ultimately settled on choosing this one. They will also be getting custom missal covers to protect their new missals!
When Jennifer Scott arrived at the doorstep of a grand Sixteenth Arrondissement apartment as a foreign exchange student, she was greeted by the woman who would become her mentor and the inspiration for the way she lived long after her time abroad was over. Madame Chic took the casual California teenager under her wing, revealing the secrets of how the French elevate the little things in life to the art of living. Each chapter of Lessons from Madame Chic reveals a valuable secret Jennifer learned while under Madame Chic's tutelage in Paris—tips you can incorporate into your own life, no matter where you live or the size of your budget. Embracing the classically French aesthetic of quality over quantity, aspiring Parisiennes will learn to master the art of eating (deprive yourself not), dressing (the ten-item wardrobe), grooming (le no-makeup look), and living à la française. From entertaining with easy flair and formality to cultivating allure while living an active, modern life, Lessons from Madame Chic is the essential handbook for anyone wanting to incorporate that Parisian je ne sais quoi into her daily life.
Polish Your Poise with Madame Chic: Lessons in Everyday Elegance and At Home with Madame Chic: Becoming a Connoisseur of Daily Life look great too! I discovered this series while browsing books at Our Lady of Victory Homeschool's bookstore.
A Catholic Woman's Guide to Happiness
What if we held Heaven to be the destination of a lifetime? That super, spectacular, epic place that we want to get to so badly that we'd be willing to do endure anything to make it? In this amazing Catholic book, author Rose Sweet will share her story about how she learned not to let life's ups and downs rob her of joy. Inside: Practical, easy to follow steps and reflection questions that relate to our own day and times. Tips for how to recognize what you may need to reach more for, and what you might be holding onto too tightly. What hidden fears may be sapping your happiness? And how to dig them up! What can the holy friends of God and the mystics teach us about the interior life?
Come Rack, Come Rope is a gripping historical novel which takes place during Queen Elizabeth I's persecution of English Catholics. Based on the real sufferings of a real Catholic family in particular, and Catholics across the country, Robert Hugh Benson's classic novel is one of tragedy and loss, but also heroism and human and divine love. The novel follows Robin and Margaret, a young couple in love who forgo their affection when Margaret realizes Robin is called to the priesthood. Both play a critical role in caring physically and spiritually for their fellow Catholics during this time of terror. Discover their heroism, love, and sacrifice, and be inspired to live it out in our own frightful times in Come Rack, Come Rope.

The Incorruptibles: A Study of the Incorruption of the Bodies of Various Catholic Saints and Beati
Continuously popular since it first appeared in 1977, TheIncorruptibles remains the acknowledged classic on the bodies of saints that did not undergo decomposition after death. Many remained fresh and flexible for years, or even centuries. After explaining both natural and artificial mummification, the author shows that the incorruption of the saints' bodies fits neither category but rather constitutes a much greater phenomenon that is unexplained by modern science to this day. The author presents 102 canonized saints, beati, and venerables, summarizing their lives, the discovery of their incorruption, and investigations by Church and medical authorities. The incorruptible bodies of saints are a consoling sign of Christ s victory over death, a confirmation of the dogma of the Resurrection of the Body, a sign that the Saints are still with us in the Mystical Body of Christ, and proof of the truth of the Catholic Faith—for only in the Catholic Church do we find this phenomenon.

The young adult group at our parish put on a play of this story last Christmas and did an incredible job. So inspiring! The next play will be "Joan the Maid" and three of my teens just auditioned.
In the exciting days of chivalrous knights and wandering troubadours, a young orphaned poet and musician named Loupio travels throughout Italy experiencing many daring adventures. Befriended by Francis of Assisi and accompanied by the wolf tamed by this saintly guide, Loupio's often dangerous encounters help him and young readers learn lessons of faith, hope, and charity. In The Cave, volume 5 of this best-selling series, Loupio encounters prejudice and burglary while learning that mercy and forgiveness are offered to all who sincerely repent and seek God.
Explore the Grand Canyon with John Wesley Powell in the New York Times bestselling graphic novel series! John Wesley Powell always had the spirit of adventure in him. As a young man, he traveled all over the United States exploring. When the Civil War began, Powell went to fight for the Union, and even after he lost most of his right arm, he continued to fight until the war was over. In 1869, he embarked with the Colorado River Exploring Expedition—ten men in four boats—to float through the Grand Canyon. Over the course of three months, the explorers lost their boats and supplies, nearly drowned, and were in peril on multiple occasions. Ten explorers went in, but only six came out. Powell would come to be known as one of the most epic explorers in history! Nathan Hale's Hazardous Tales are graphic novels that tell the thrilling, shocking, gruesome, and TRUE stories of American history. Read them all—if you dare!
The Thief Who Stole Heaven
Just in time for the Lent/Easter season, comes The Thief Who Stole Heaven, the follow up story to The Spider Who Saved Christmas. Once again, bestselling author and broadcaster, Raymond Arroyo provides readers with a cinematic, adventurous holiday story based on ancient legends filled with deeper themes. The Thief Who Stole Heaven introduces audiences to the largely hidden character of The Good Thief. Bridging the gap between Christmas and Easter, this unique story brings to life a compelling redemption story that is destined to be treasured and revisited year after year.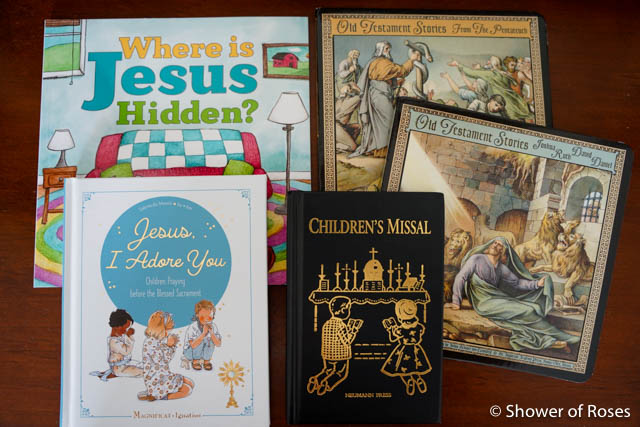 Children's Missal
Help your child connect with the mystery of the Mass and feel like an "official" Mass-goer with this smart-looking, insightful missal. With its sharp black cover, gilt lettering, and white satin bookmark, this Children's Missal looks great in any young Catholic's hands, and its sturdy hardcover and pocket-size ensure that it will also withstand stand long, devoted usage. Its 137 full-color illustrations and engaging text are sure to keep your child's attention focused on following the Mass through each of its steps.
Another copy of an old favorite!
This includes the stories of Adam and Eve, Cain and Abel, the Sacrifice of Isaac, Jacob wrestling with the Angel, Moses and the Israelites overcoming the Amalekites, and the Brazen Serpent.


Old Testament Stories: Joshua, Ruth, David, Daniel
This includes the stories of the spies who scouted out the land of Canaan, Samson and the Lion, Ruth, David and Goliath, Elijah and the Ravens, and Daniel in the Lions Den.
In Where is Jesus Hidden?, award-winning author Maura Roan McKeegan points to the many places and ways Jesus can be found. With a series of clues from Scripture to guide them, young children will learn that if they search for Jesus, he is never far.
Jesus, I Adore You
Jesus, I Adore You teaches children what Eucharistic Adoration is, the ways they can practice Adoration, and suggestions for lovely prayers and words to use in Adoration. It draws on beautiful words from Scripture, and the inspiring words from various saints on prayer.
Saved by the Lamb: Moses and Jesus
In Saved by the Lamb, the fourth book in the Old and New series, author Maura Roan McKeegan tells the story of two baby boys who were born to save their people. Just as Moses grew to deliver his people from slavery in Egypt, Jesus came to rescue all people from sin. Together, their stories reveal God's plan not just for the people of ancient Israel, but for us today. See biblical typology—the Old Testament people, symbols, and events the foreshadow the New Testament—come to life in Saved by the Lamb.
Check out this brand new release by Maura Roan McKeegan! You all know how much I LOVE the other books (The Old and New Series) she has written. So excited to add this new release to our home library too!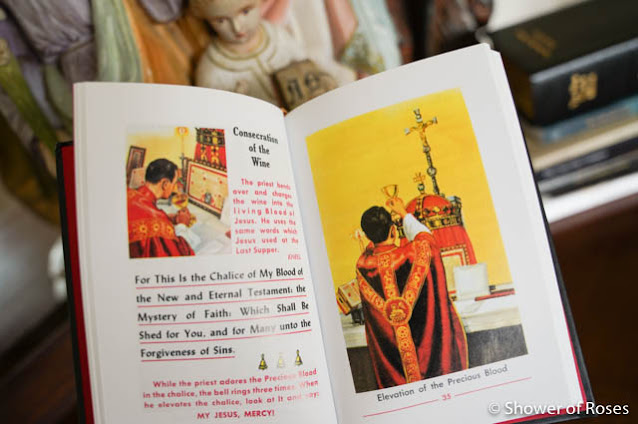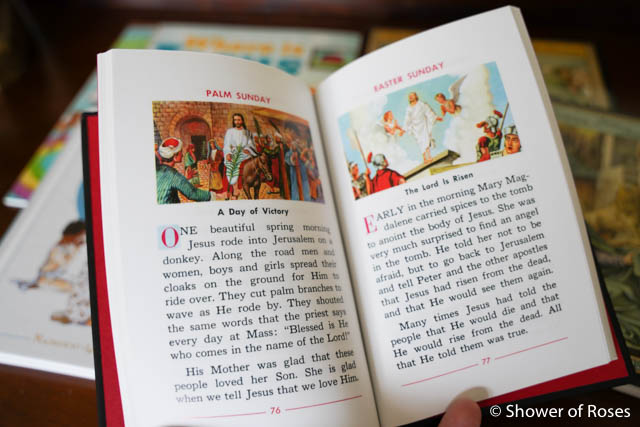 Babies
A charming first look at the soft and sweet world of babies.
Baby Animals
Chubby puppies, furry kittens, fuzzy chicks, downy ducklings: Gyo Fujikawa's lovable baby animals will captivate children. They're big (elephants) and small (mice), plump (piglets), and playful (lambs). With each picture, kids learn a little bit about the animal—the sound it makes, how soft it might feel, and what it can do. Plus, they'll discover something else very important: that very young creatures have to be petted, snuggled, and hugged very gently…just like the children themselves.
A lovely new book in the "My First Words" series for toddlers. "Hello Jesus, I do not see you, but you are here. Very softly, deep in my heart, I talk to you. You are my friend." A beautiful book full of tenderness for children, with windows that open to reveal features of the delightful illustrations. Simple words like hello, thank you, sorry, please, and I love you help you teach a child the essence of prayer, while giving him his first words to pray to God. Combining faith, lovely illustrations, and sweet prayers, this is the perfect gift book for all occasions!
Jane Austen (Little People, Big Dreams)
Discover the remarkable life of Jane Austen, the great British novelist, in this book from the critically acclaimed Little People, BIG DREAMS series. Little Jane was born into a large family with seven brothers and sisters. She grew up reading and writing stories in the English countryside. As an adult, she wrote witty commentaries about landed gentry in a way that no one had ever done before, portraying young women who bravely made their own choices. These novels made Jane one of the most loved British writers of all time. This moving book features stylish and quirky illustrations and extra facts at the back, including a biographical timeline with historical images and a detailed profile of the author's life.
This includes the Annunciation, the Nativity, the Presentation in the Temple, the visit of the Magi, and the flight into Egypt. Several of the beautiful prophecies of Isaiah and Zechariah regarding the Messiah are also found in this book.


New Testament Stories: Jesus Teaches Us
This includes Jesus among the Doctors in the Temple, Nicodemus, Jesus blessing the little children, the parables of the Good Samaritan and the Prodigal Son, and the Sermon on the Mount.
This includes the stories of the Samaritan Woman at the well, Peter walking on water, Jesus' entry into Jerusalem, the Crucifixion, His appearance to the disciples on the way to Emmaus, and the Ascension.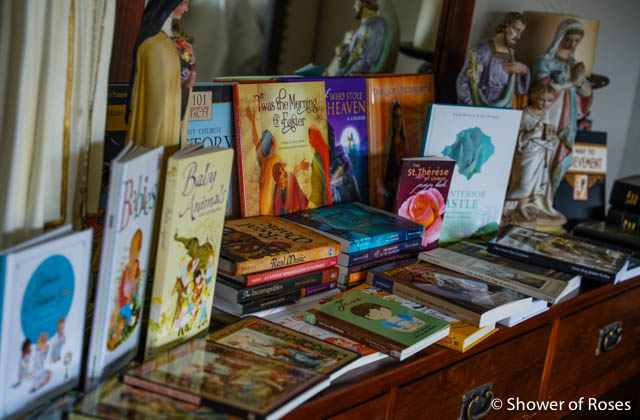 * * * * * * * * * * * * * * * * * * * * * * * * * * * * * * * * *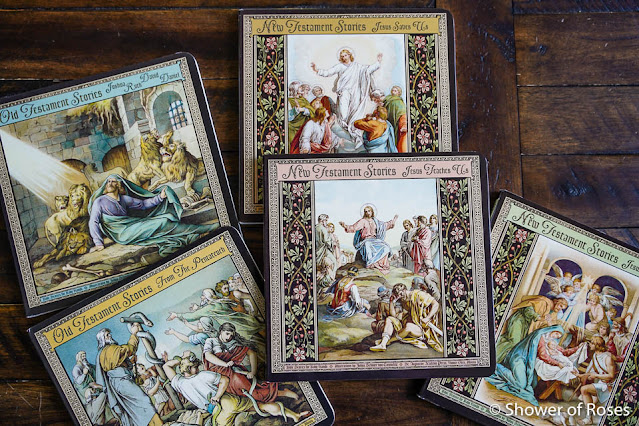 sponsored by St. Augustine Academy Press
(retail value $32.95)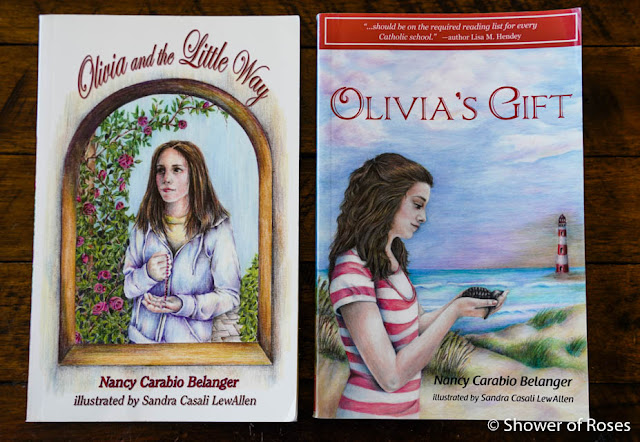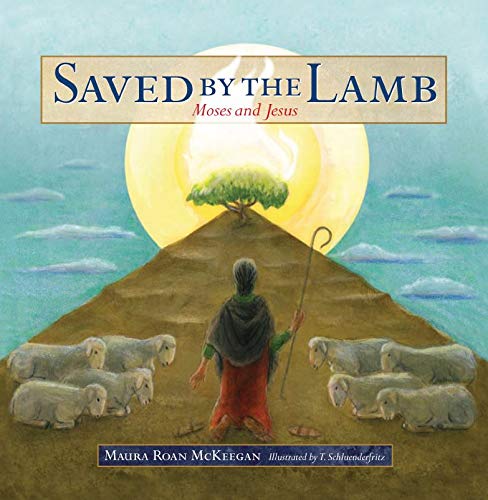 sponsored Emmaus Road Publishing
(retail value $17.95)
Please enter the giveaway using the Rafflecopter box below:
(The five winners will be announced day after Palm Sunday!)
* * * * * * * * * * * * * * * * * * * * * * * * * * * * * * * * *
One of these years I'll make an updated gift guide… In the meantime: