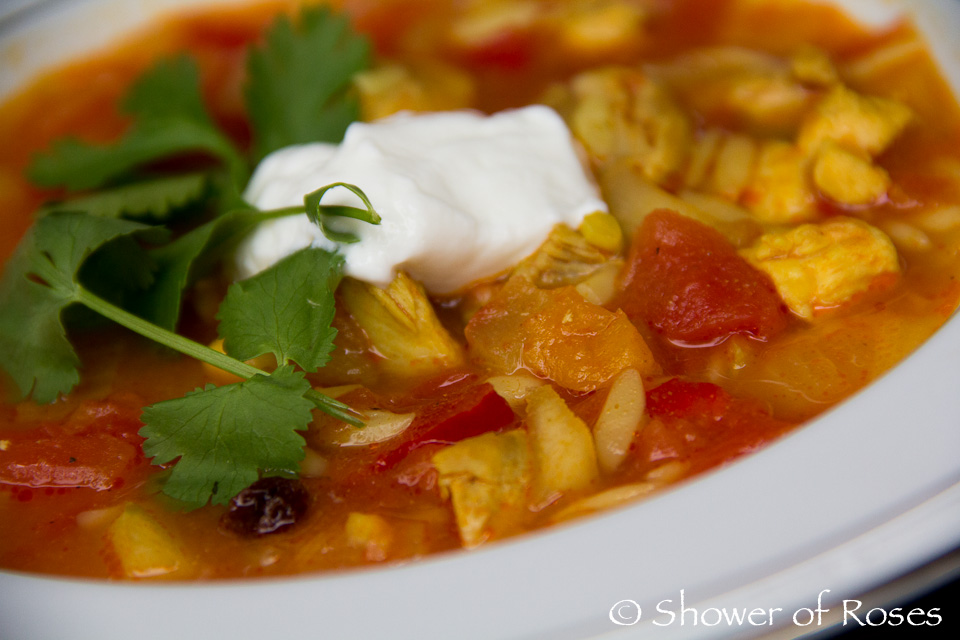 I've had a few requests lately for my mom's Chicken Curry Soup recipe which has been included in some of our past
Palm Sunday or Holy Thursday Lenten Dinners
. It's really yummy and I'm looking forward to serving it again this week!
Garnish with Cilantro & Greek Yogurt

Ingredients:
1 TBS olive oil
1 large onion, diced
1/2 cup red bell pepper, chopped
4 cloves garlic, chopped
6 boneless-skinless chicken thighs, cut into 1″ pieces
1 TBS curry
1 tsp ginger root, fresh, peeled & grated
1/4 tsp crushed red pepper
4 cups chicken broth
2 cups diced peeled tomatoes w/juice (briefly blended)
1 Granny Smith apple, peeled & chopped
1/4 cup orzo
2 TBS currants
Directions:
Heat oil. Sauté onion, red pepper and garlic for 5 minutes. Add chicken, curry, ginger and red pepper. Sauté another 5 minutes. Add chicken broth, tomatoes, and apple. Bring to a boil and simmer for 20-30 minutes. Stir in orzo and currants. Let simmer for another 10 minutes or so, until the orzo has had a chance to cook. Serve with garnishes of cilantro and yogurt.
Note: Sometimes I'll serve it with sour cream if I forget to purchase yogurt. Our children like it with either. I've also been know to substitute the red bell pepper with Trader Joe's frozen Melange a Trois (Red, Yellow & Green Pepper Strips) since I generally have that in the freezer. If our college boys are home I double the recipe. 😉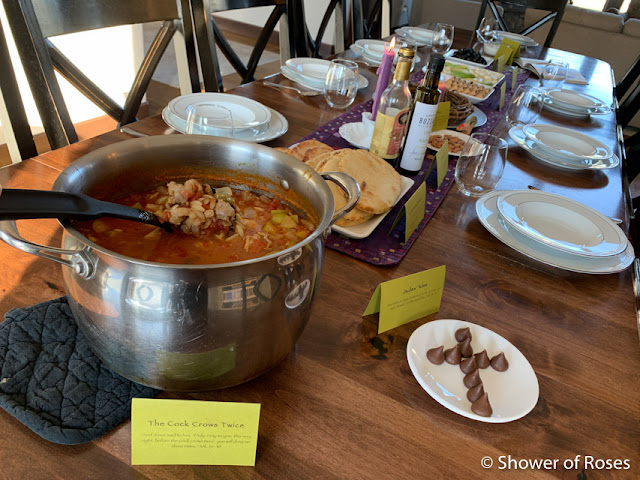 You can read more about how our family has observed Lent in the past here: