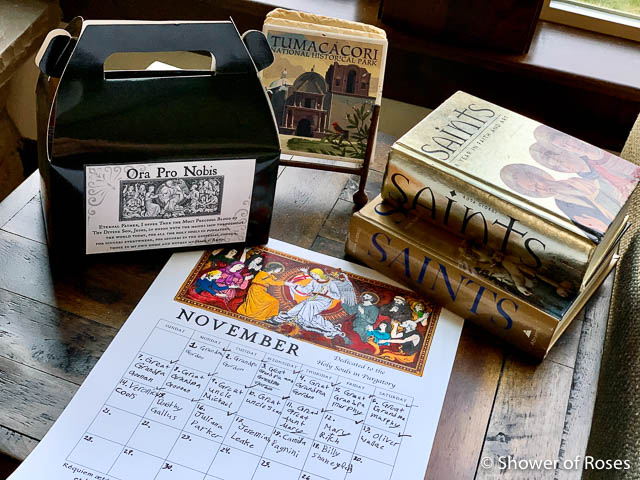 Eternal Father, I offer Thee the Most Precious Blood of Thy Divine Son, Jesus, in union with the masses said throughout the world today, for all the holy souls in purgatory, for sinners everywhere, for sinners in the universal church, those in my own home and within my family. Amen.
– The Prayer of St. Gertrude the Great for the Souls in Purgatory
I love seeing our children's Holy Souls calendars around our home every November and reading through their lists of who they have been praying for each day. Some they remember, others they know from stories or the funeral holy cards we have kept over the years. ♥
Grandma and Grandpa Gordon always start off the month (we miss them so much) followed by Great Grandparents and the souls of other departed family & friends.
Oliver Wallace (composer and conductor who contributed music to over 150 Disney Productions) and his daughter Mary Ritch (one of our neighbors in Oregon) are often included – the children remember the stories Mary would tell them when she'd stop to visit with them at the foot of our driveway while waking her dog each day. ♪
So many new names too… Including those of four of our older children's childhood friends.
Thirty days isn't going to be nearly enough… #praywithoutceasing
Requiem æternam dona ei, Domine;
Et lux perpetua luceat ei.
Requiescat in pace. Amen.