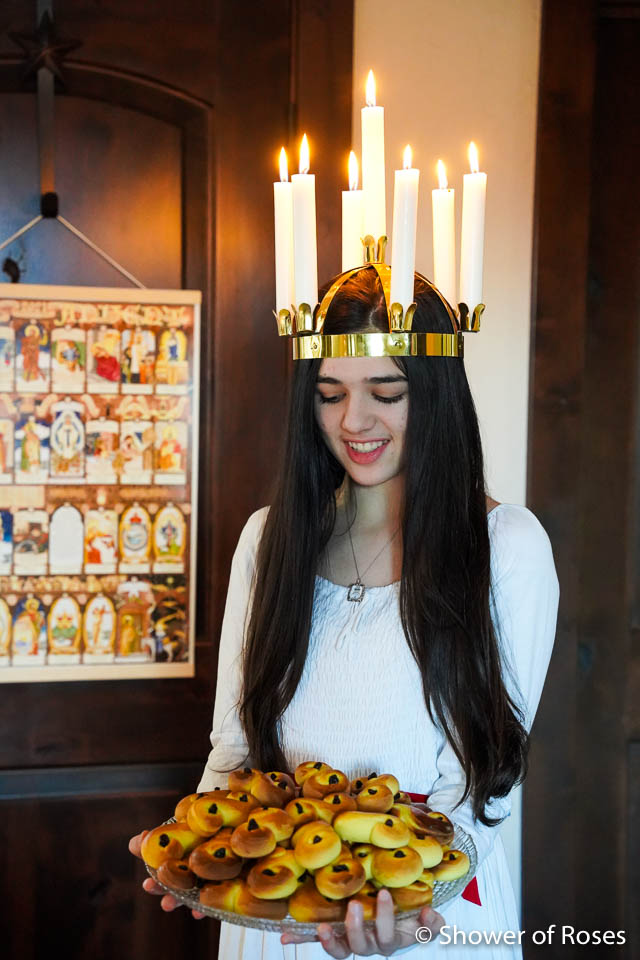 🎶 Night walks with a heavy step
As the sun departs from earth,
Walking with lit candles,
Santa Lucia, Santa Lucia! 🎶
– Excerpt from Santa Lucia Song
The pictures are always so sweet but thankfully you can't hear the coughing. Our little girls came down with croup on December 7th and our two year old is still recovering… I made it through their worst days, and then managed to pull together our annual Our Lady of Guadalupe Bruch, Saint Lucia Day Baking, and then make a "Mary Poppins" cake for our daughter's 12th birthday… next up is our little guy's 10th birthday! Whew… I don't think I would have started the themed birthdays had we had our December babies first instead of numbers six and seven! 😉 
It's hard to have the same enthusiasm on certain favorite feast days, when your oldest sister is gone for the first time and your super fun older brothers are also off at college instead of "asleep" in their bunk beds waiting to get woken up with Lucia Bread and Rolls… We will definitely have to make our annual Saint Lucia's Braided Bread again over Christmas break when everyone is home again!
Santa Lucia, Ora Pro Nobis!