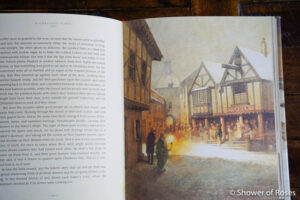 A Christmas Carol Book Review
by Clare Gordon
Christmas is a time of magic! It's the day the Light of the World filled the void darkness we humans had thrown ourselves into through sin. Our Lord shines through the night, not just spreading light, but dispelling darkness all at once; taking away, as He fills. Both Christmas celebrations and mindsets has greatly altered through the years, but one thing has remained from in the stable to under the Christmas Tree; hope. Christmas brings hope of redemption for our souls by giving us a Savior, who will open the gates of Heaven and give us Eternal Life, all of us Eternal Life! Charles Dickens' A Christmas Carol gives us an example of this hope.
Ebenezer Scrooge, a real Mr. Potter, is a greedy, selfish, cruel man, who cares for no one but himself. He cheats workers of their money and doesn't even use the wealth he has. Money is his only security. He has shut out his adopted family, he broke the heart of his beautiful, kind fiancé, and he lacks any sort of religion. Money fills his whole life. He has no one and nothing to turn to, save the "almighty dollar." But there is hope even for him. Every human is made in the image and likeness of God and, even the most miserable of wretches, can reinvigorate his or her hurting, feeble soul. Be a good Nephew Fred and always reach out to those in need around you or help instruct those who are ignorant like the Ghosts of Past, Present, and Future.
A Christmas Carol is one of the most wholesome works of Christmas fiction that has ever been written. It is family friendly and a great read aloud, especially Palazzo's edition (illustrated by Robert Ingpen). This edition is very easy to read and has illustrations on nearly every page to keep the little ones entertained. By reading it aloud, you can have some great family time around the tree, in front of the fire, on a cold dark winter's night. But, though Christmas is the theme, the message is for all year round and can be enjoyed whenever!
And, if you're a fan of the book, the Charles Dickens Tribute Lego Set is a great start to your Christmas Carol merchandise collection and is super cute! It's perfect decoration for a bookshelf and desk. Me, being a pretty big Charles Dickens fan, love it when a big corporation like Lego brings such a traditional work of literature to their magazines in the form of a book instead of a TV screen!