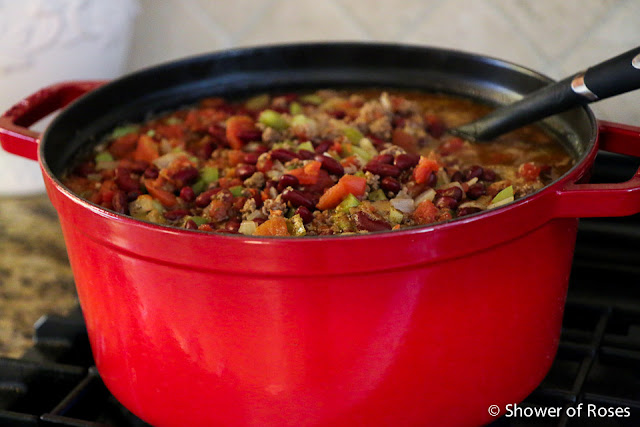 I was searching my blog for this recipe and found that it was still tucked away with a couple hundred other draft posts that have never been finished… Time to finally hit that publish button! It's not a meal that I can eat due to my food intolerances, but our kids love it, especially our teens and young adults. When we hosted the older boys' high school soccer team's end of season party, just before moving out Oregon in 2018, it was the meal they requested, along with cornbread and pumpkin pie. It's perfect for fall weather and I'll be making it again soon for All Hallows' Eve.
Ingredients:
1 1/2 lbs ground beef
2 chopped onions
1/2 cup green peppers – chopped
1/2 cup celery – chopped
1 teaspoon chopped garlic
3 cans (16 oz) diced tomatoes
3 cans (16 oz) kidney beans
1 tablespoon chili powder
1 tablespoon Worcestershire sauce
1 1/2 teaspoons oregano
1 1/2 teaspoons cumin
1 teaspoon sugar
1 teaspoon salt
1/4 teaspoon pepper
1/4 teaspoon cayenne pepper
Directions:
Saute ground beef, onions, pepper, celery and garlic. Drain fat.
Stir in remaining ingredients. Cook over medium heat until it comes to a boil – 5 to 8 minutes.
Reduce heat to low. Simmer 30-40 minutes.
Serves 10.
Note: When I don't have fresh bell peppers on hand, I use the Melange a Trois (Red, Yellow & Green Bell Pepper Strips) from Trader Joe's. So easy and convenient when I'm in a hurry and need bell peppers for a recipe.
I usually follow the recipe as listed for just our family, or double this recipe when we are having company for dinner, and cook it in my beautiful cherry colored Staub Cast Iron 9-qt Round Cocotte.