We have been using
Fix It! Grammar
for many years and really love the program! It's been an excellent way for our children to learn grammar through editing.
Our 4th and 6th graders completed Level 1 The Nose Tree in 2020-2021 and had started working through the first ten weeks or so of the old Level 2 Robin Hood this school year. They had been struggling a bit and so we decided to have them restart at the beginning of February with the new
Level 2 Town Mouse and Country Mouse
. After noticing a trend of the old Robin Hood being a bit difficult for students, even after completing The Nose Tree, they decided to create another level to fit in between the two.
We are so pleased with the new level and all the other updates that have been made to
Fix it! Grammar
making it even better than ever. The fact that our students completed
the whole book
(30 weeks) in less than three months
without any prompting from me
shows just how much they have been enjoying these assignments!
The new full-color
Fix It! Grammar Cards
are awesome too! I need to order a second pack so they each have their own set.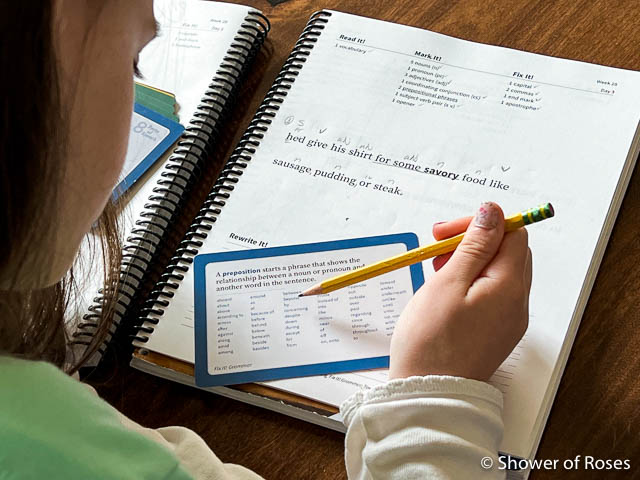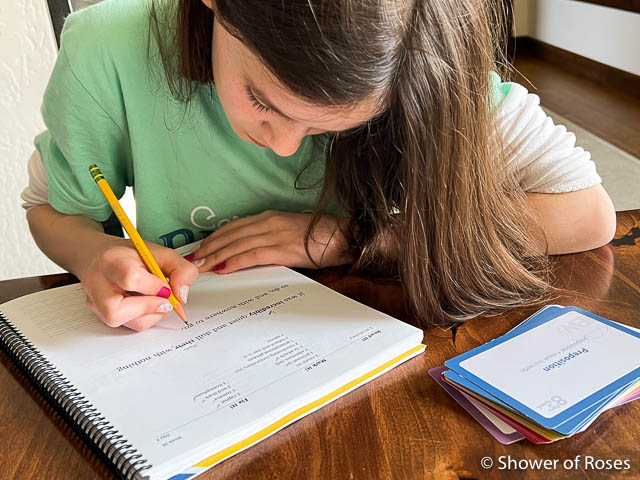 I asked our 6th grader to share few of her favorite updates and this is what she had to say:
– "I love having one page for each day instead of having the sentences for the week all on one page!"
– "I really like knowing how many of each thing I'm supposed to look for each day to mark or correct."
– "It's so nice to be able to rewrite the sentence on the same page and not need a separate book."
– "I love the addition of Review It! pages. They are so fun!"
Our 4th grader added, "Honestly, I think these books are a lot easier to use than the first one! And a LOT more fun!"