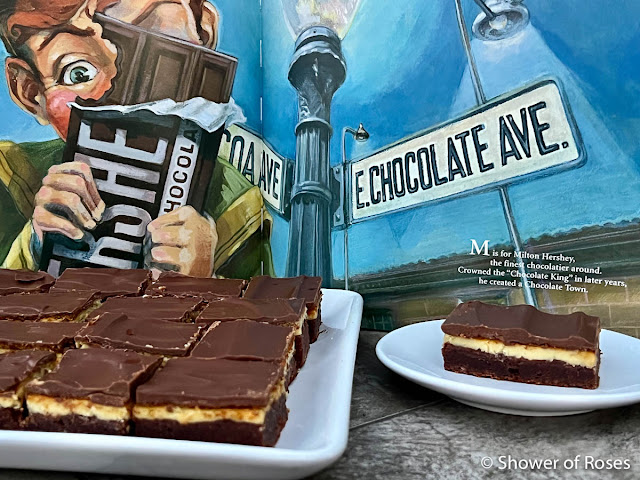 "M is for Milton Hershey,
the finest chocolatier around.
Crowned the "Chocolate King" in later years,
he created a Chocolate Town."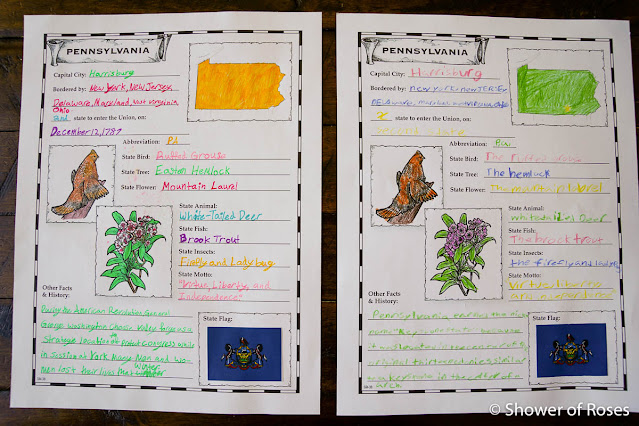 Pennsylvania Notebooking Pages
by Rose (L) and Bud (R)
Pennsylvania – Hershey's Chocolate Cheesecake Brownies
Ingredients:
10 Tablespoons butter
1/2 cup Milk Chocolate Chips
1 cup sugar
2 large eggs
2 teaspoons vanilla
3/4 cup All Purpose Flour
1/4 teaspoon salt
2 tablespoons Unsweetened Hershey's Cocoa Powder
For the Cream Cheese Center
8 ounces Cream Cheese softened
1/3 cup sugar
pinch salt
1 large egg
2 teaspoons vanilla
6 Full Sized Hershey Bars to top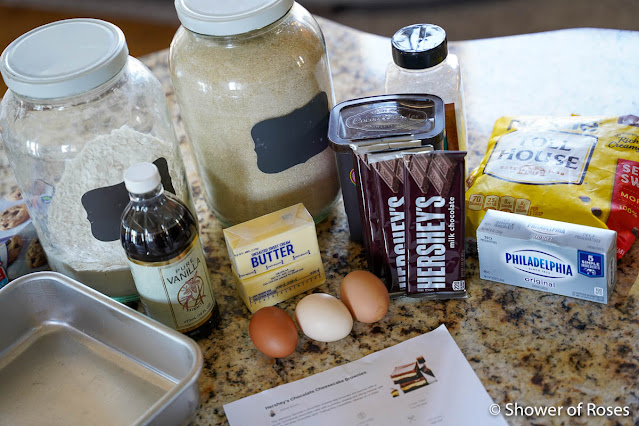 Instructions:
Preheat oven to 350. Prepare 8×8 baking pan with parchment paper long enough to hang over on two sides, making it easier to remove from pan once baked. Spray pan and paper.
Her cute retro apron was part of her costume for her sister's 19th Birthday party this past summer… I really need to share that party with you all. It was another Murder Mystery party and so much fun!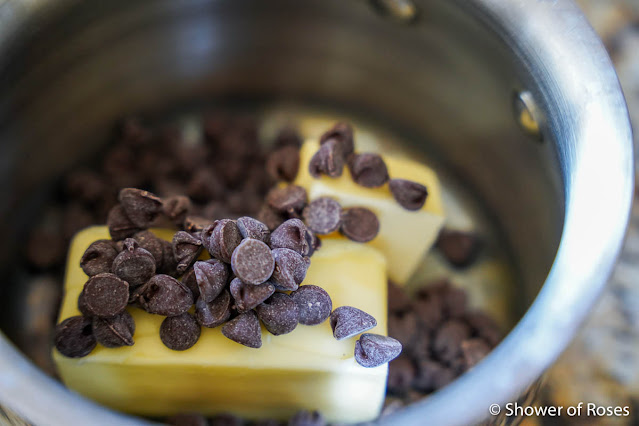 In small saucepot over medium heat, or in the microwave, melt chocolate and butter until smooth. Allow to cool slightly.
In a separate bowl, beat eggs, vanilla with the sugar. Slowly add in chocolate mixture until well combined.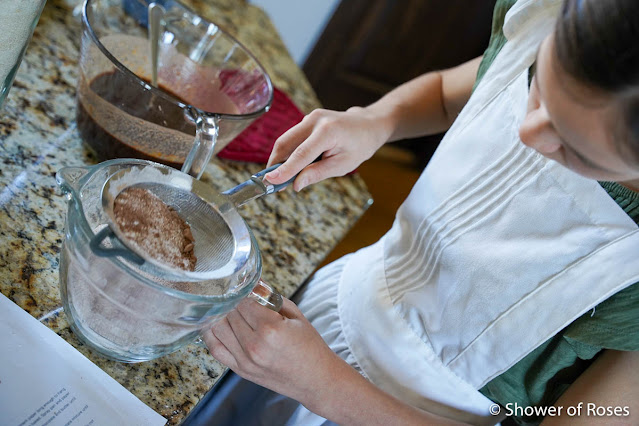 In small bowl, sift together cocoa, salt and flour.
Add mixture to rest of batter. Do not overmix. Pour batter into prepared baking pan.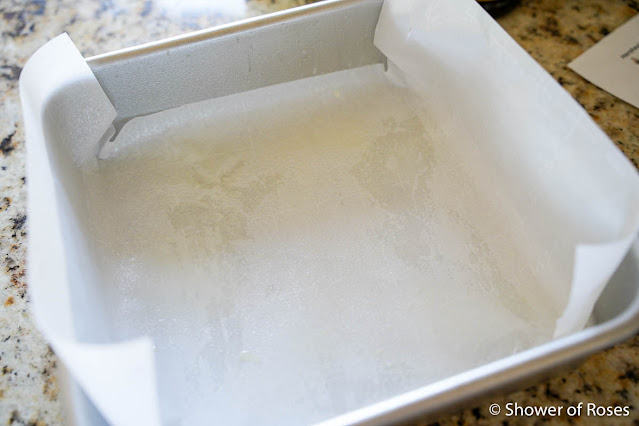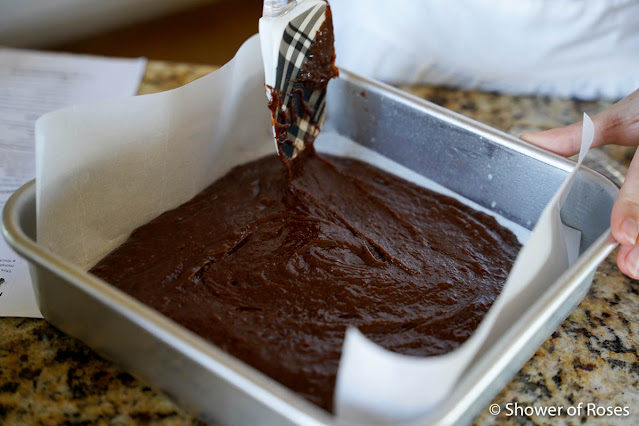 For the cream cheese filling:
Beat ingredients together until smooth. Pour over brownie batter and evenly spread on top.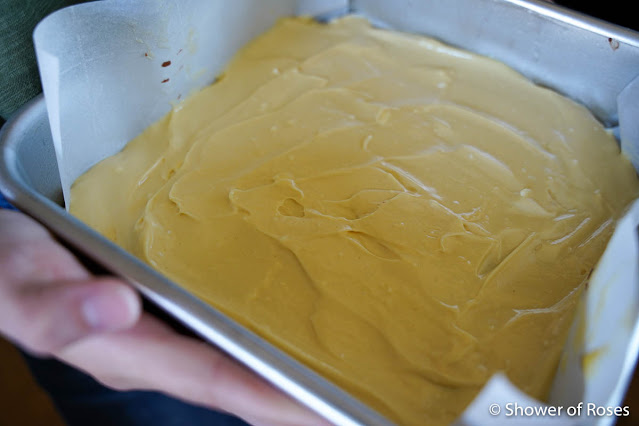 Bake 1 hour to 1 hour 10 minutes, or until just set and toothpick inserted comes out clean.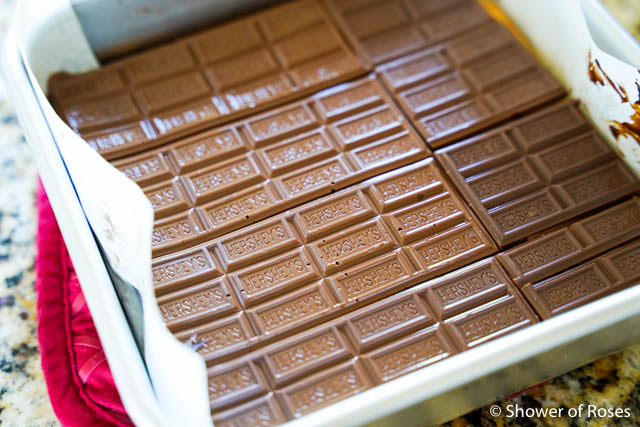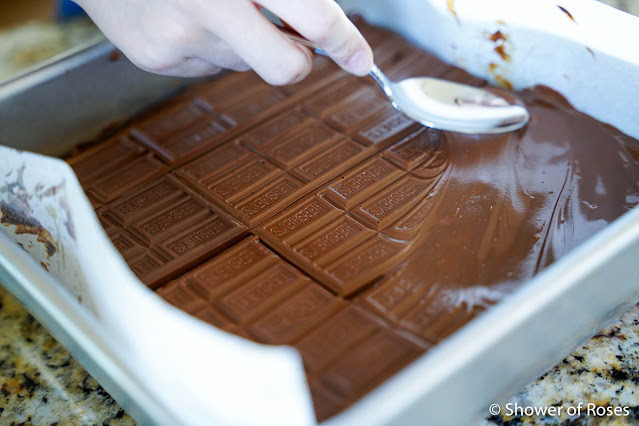 Remove from oven and immediately top with full size Hershey bars. Let melt and spread evenly. Cool completely.