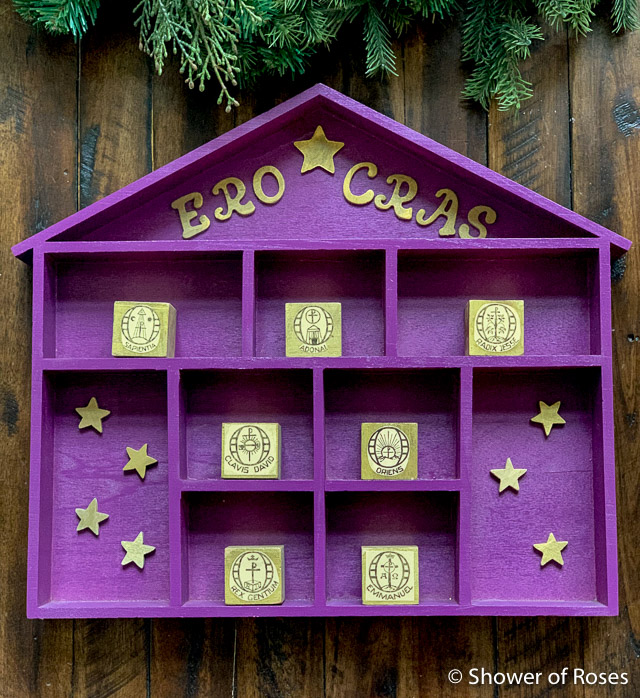 Ever since our oldest children were very little, we have been implementing an old monastic custom in our home by providing special treats, representing each of the "O Antiphons" on the days leading up to Christmas. The O Antiphon prayers begin on December 17th and end on the 23rd, which is the last Vespers of Advent, since the evening prayer on the 24th is the Vigil of Christmas.
The Benedictine monks arranged these antiphons with a definite purpose. If one starts with the last title and takes the first letter of each one – Emmanuel, Rex, Oriens, Clavis, Radix, Adonai, Sapientia – the Latin words ero cras are formed, meaning, "Tomorrow, I will come." Therefore, the Lord Jesus, whose coming we have prepared for in Advent and whom we have addressed in these seven Messianic titles, now speaks to us, "Tomorrow, I will come." So the "O Antiphons" not only bring intensity to our Advent preparation, but bring it to a joyful conclusion.
Each night, following our family rosary, we pray the O Antiphon for the day, sing O Come, O Come, Emmanuel, which was inspired by this ancient tradition, and then give the children a special treat.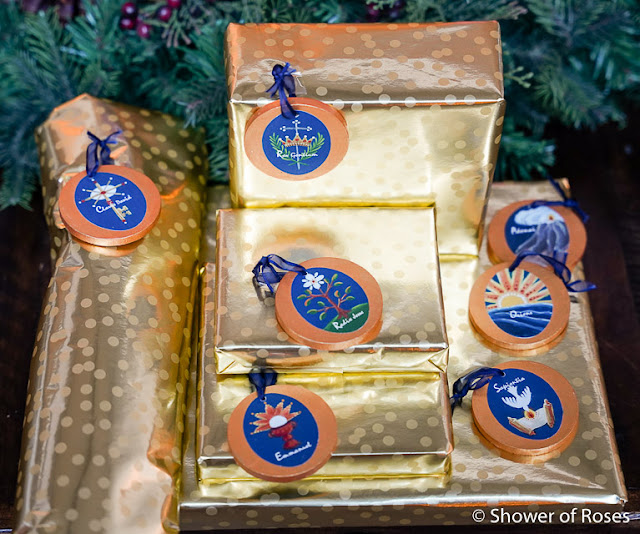 (Picture from a past Advent Season)
The "treats" have varied from year to year. Some years it has been little gifts or activities for the family, some years it is all food related, and some years it is a mix of both, depending on our schedule and budget. It doesn't need to cost much or even anything at all! Be creative!
Sometimes the treats are a bit of a stretch, but my goal is try and find gifts that will either help increase our faith (Catechism books, holy family, saints, prayer, etc) or encourage family time (games, puzzles, going to look at Christmas lights, etc). You can find some of our past O Antiphon treats by scrolling through the archives and visiting Catholic Cuisine.
Our family loves this tradition. It is such a fun way to teach the children about these beautiful prayers of the church and also increase their excitement as Christmas gets closer.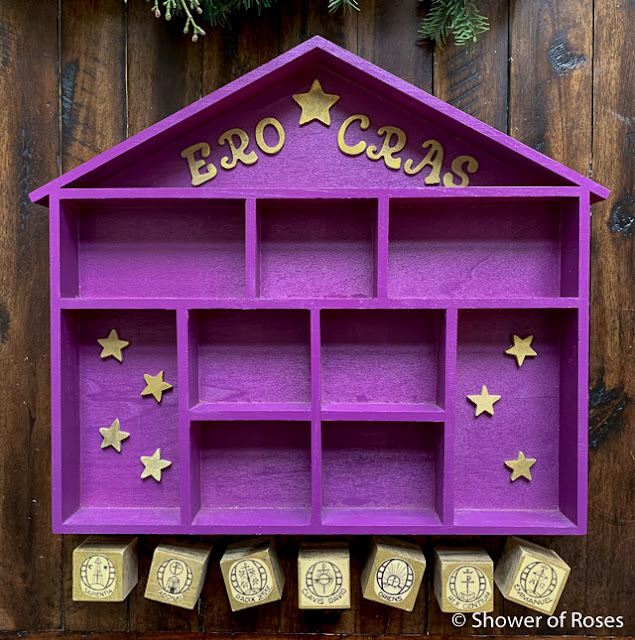 In case you are looking for some inspiration, I've listed some of the treats I've given my family over the years (along with my picks for this year)… Special food ideas, activities and gifts (or you can simply decorate chocolate coins!) for each of the O Antiphons can be found below.
Once again I am hosting an O ANTIPHON GIVEAWAY! One lucky visitor here at Shower of Roses will receive a gift package including seven Cookie Stamps, one to represent each of the seven O Antiphons! Be sure to scroll to the bottom of this post for the details and to enter.
.: December 17th – O Sapientia (O Wisdom) :.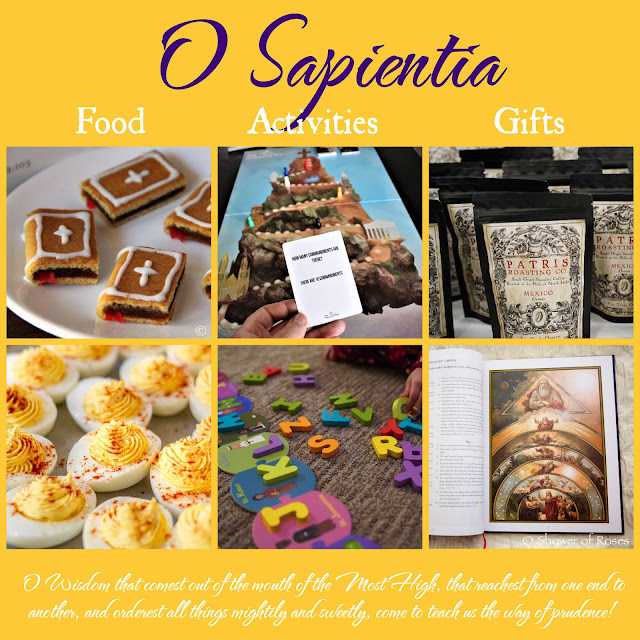 Since the symbol for wisdom is a book, I usually choose a new Catholic book for our family.
O Wisdom Ideas from Over the Years:
O Wisdom that comest out of the mouth of the Most High, that reachest from one end to another, and orderest all things mightily and sweetly, come to teach us the way of prudence!
.: December 18th – O Adonai (O Lord) :.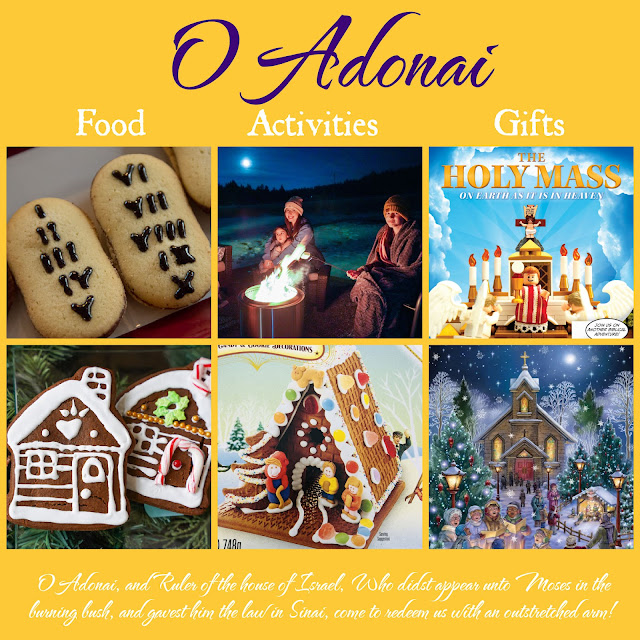 "Burning bush…" or maybe a bonfire! Perfect evening to pray the family rosary around the bonfire and maybe roast some marshmallows afterwards!
In the past we would always emphasize the word "house" in this Antiphon, and have made our Gingerbread Houses or Gingerbread Cookies on this night. Now that we have two birthdays this week (and two birthday cakes to bake and decorate!) we usually wait until Christmas or New Year's Eve, or sometime during the 12 Days of Christmas to decorated Gingerbread Houses.
O Adonai Ideas from Over the Years:
O Adonai, and Ruler of the house of Israel, Who didst appear unto Moses in the burning bush, and gavest him the law in Sinai, come to redeem us with an outstretched arm!
.: December 19th – O Radix Jesse (O Root of Jesse) :.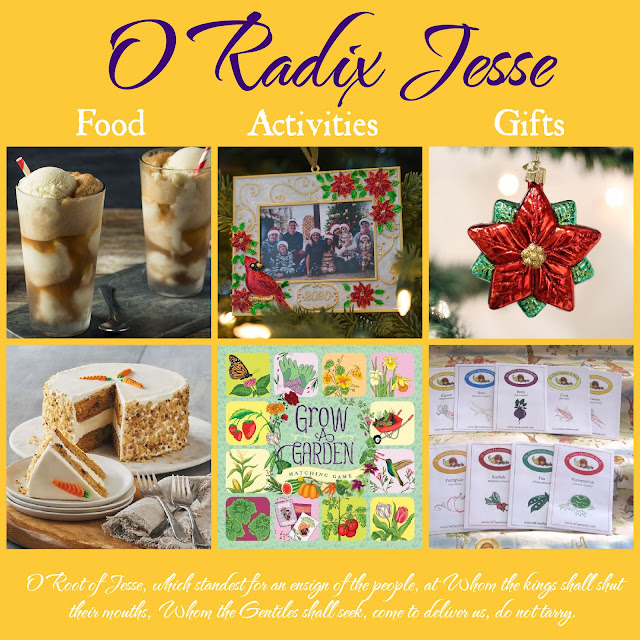 Our 2022 Family Ornament will be wrapped up for the 19th!
O Root of Jesse Ideas from Over the Years:
O Root of Jesse, which standest for an ensign of the people, at Whom the kings shall shut their mouths, Whom the Gentiles shall seek, come to deliver us, do not tarry.
.: December 20th – O Clavis David (O Key of David) :.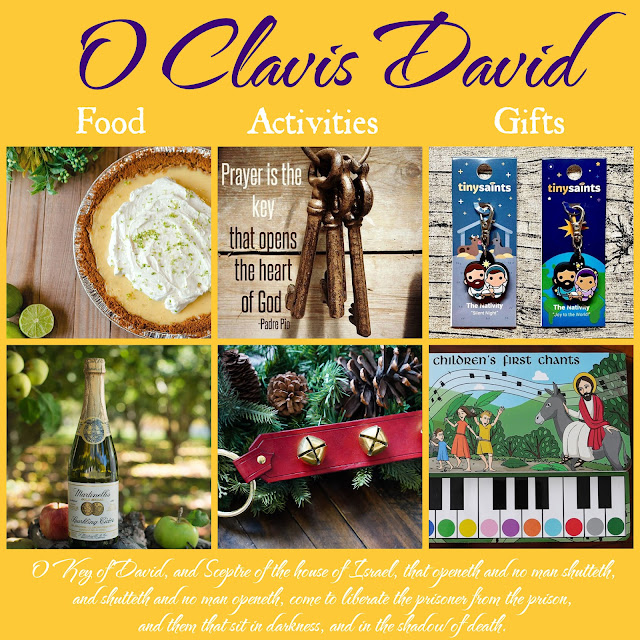 The boys arrive home from college on the 20th this year!!!
As St. Padre Pio, said: "Prayer is the best weapon we have. It is a key opening God's Heart."
We are planning to take our children to Mass or Adoration and then pick up a Key Lime Pie from
Birdie's Pie Shop
to enjoy after dinner with some Sparkling Cider!
O Key of David Ideas from Over the Years:
O Key of David, and Sceptre of the house of Israel, that openeth and no man shutteth, and shutteth and no man openeth, come to liberate the prisoner from the prison, and them that sit in darkness, and in the shadow of death.
.: December 21st – O Oriens (O Dayspring) :.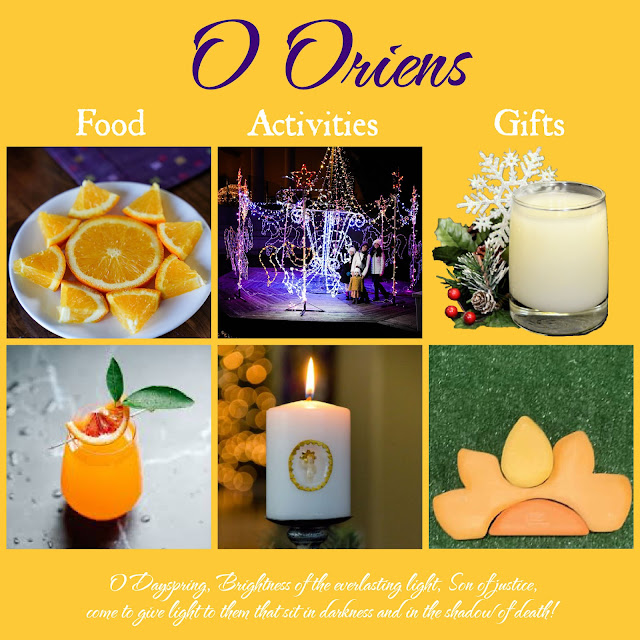 We'll once again make hot cocoa, and we'll pile in the car (or two!) to go look at Christmas lights downtown weather permitting! I might give them their Christmas PJ's (purchased last Jan on clearance or save them for Christmas Eve depending on whether we plan to go to Midnight Mass or Mass at Dawn).
O Dayspring Ideas from Over the Years:
O Dayspring, Brightness of the everlasting light, Son of justice, come to give light to them that sit in darkness and in the shadow of death!
.: December 22nd – O Rex Gentium (O King of the Gentiles) :.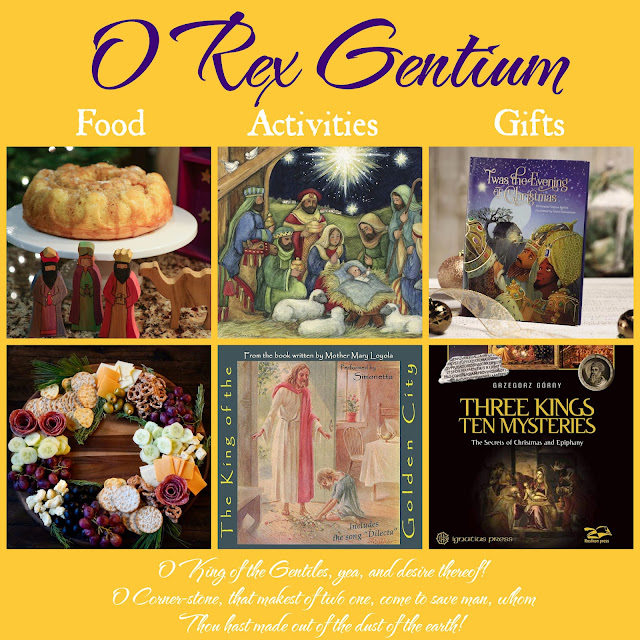 O King Ideas from Over the Years: (many are perfect for Epiphany too)
O King of the Gentiles, yea, and desire thereof!
O Corner-stone, that makest of two one, come to save man, whom Thou hast made out of the dust of the earth!
.: December 23rd – O Emmanuel (O With Us is God) :.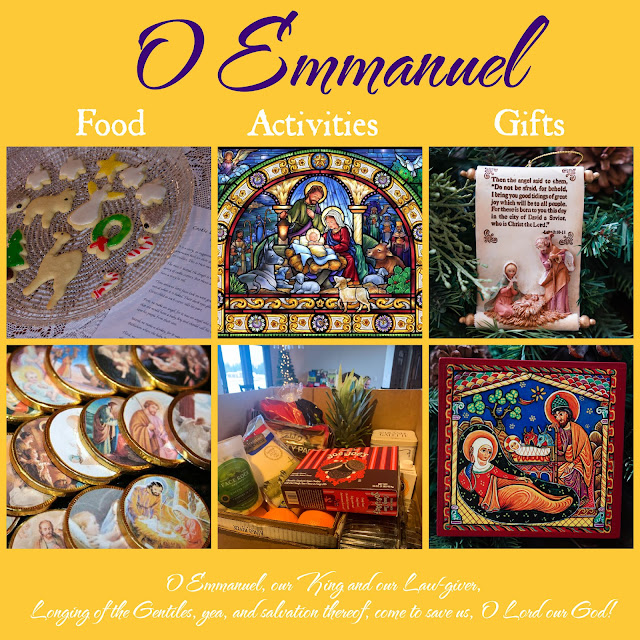 Once again we'll bake our Christmas Cookies, fill a box/basket to take to Carmel, and maybe even pull out another Christmas puzzle (from our now large collection) to get started on!
O Emmanuel Ideas from Over the Years:
O Emmanuel, our King and our Law-giver, Longing of the Gentiles, yea, and salvation thereof, come to save us, O Lord our God!
.: O ANTIPHONS GIVEAWAY :.
Here are the cookie stamps I picked out to go along with each of the O Antiphons.
The winner will receive one of each!
Wisdom: #460 – Triune God
House: #214 – Home Sweet Home
Root of Jesse: #520 – Willow Tree
Key of David: #543 – Key to My Heart
Dayspring: #291 – Moravian Star
King: #448 – Norwegian Wedding Crown
Emmanuel: #368 – Nativity
(7 cookie stamps with recipe booklet @ $12.99 ea = $90.93 value)
Enter the Giveaway using the Rafflecopter Box below:
Once again, send me an email if it doesn't work for you and I'll add you manually!