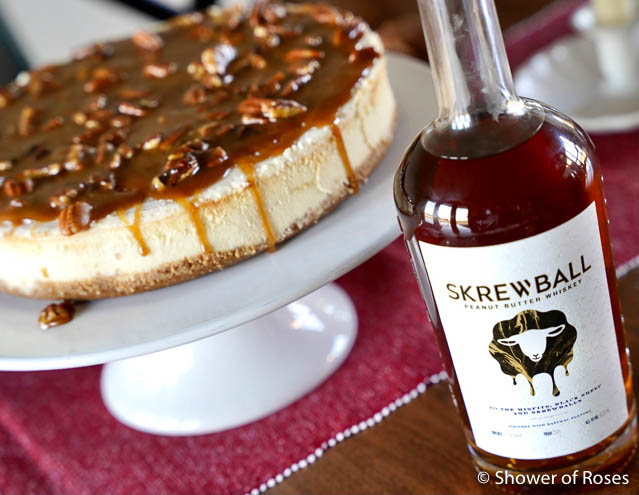 We didn't get the opportunity to have my brother-in-law over for his birthday last month, but I wanted to finally share the cake we made him last year along with the recipe for the topping. I still have some Skrewball in the pantry and might have to make this Praline Pecan Cheesecake again for Thanksgiving.  Everyone loved it and it was the perfect way to transform a store-bought cheesecake on a busy day!
Ingredients:
Cheesecake
2 tablespoons butter
2/3 cup packed brown sugar
1/3 cup maple syrup
1 tablespoon whipping cream
1/4 teaspoon salt
2 tablespoons Skrewball Peanut Butter Whiskey
1/2 cup chopped pecans, toasted
Instructions:

Melt 2 tablespoons butter in a small saucepan over medium-high heat. Add brown sugar and next 3 ingredients (through 1/4 teaspoon salt); stir with a whisk just until sugar melts. Bring mixture to a boil; reduce heat to medium, and cook 5 minutes (do not stir). Remove pan from heat. Stir in Skrewball and toasted pecans. Cool slightly. Drizzle caramel over cheesecake.
Note: I bought a Costco cheesecake and scraped off the top to create a flat surface.  Bourbon would also work instead of the Peanut Butter Whiskey. 
From the archives: