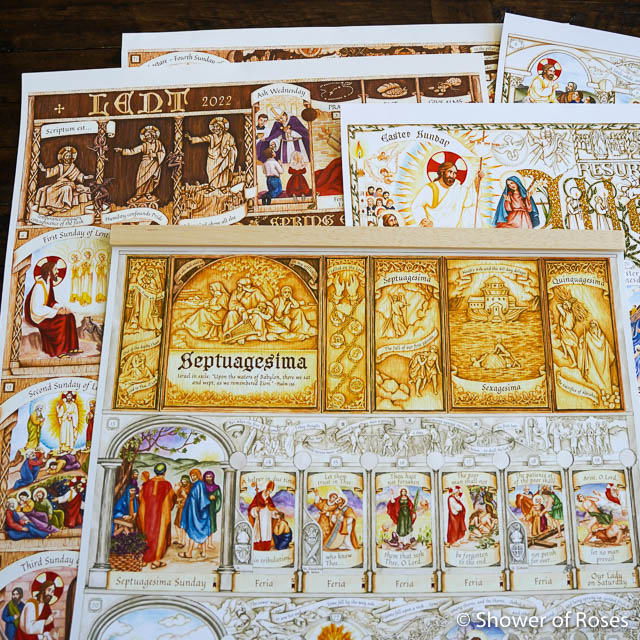 Have you seen the latest set of Liturgical Year Calendars yet?!?
These gorgeous calendars are packed full of meaning and such an excellent aid in teaching children all about the feasts and seasons of the traditional liturgical year. 
For those who prefer to print their own, 
digital access is available to Members over at Liturgy of the Home
. Members will also have access to Companion Guidebooks, Coloring pages for all the Saints, Sunday Gospels, and Feasts, as well as Monthly Dedication Images with sung hymn, text and audio recording! 
"With these posters your family can visualize what the Church asks us to meditate upon during Septuagesima: the Fall, the Flood, and Abraham's sacrifice of Isaac. Lent is shown framed by the wood of the Cross, reaching its spiritual climax in Holy Week and the Triduum. See the events of Our Lord's Passion presented alongside the elegant liturgical traditions of Tenebrae and the Altar of Repose. Then, depicted in brilliant white, see our Risen Lord – walk with Him as He shows Himself to his disciples during Easter. Accompany Him through the seven weeks of Easter, see Him ascend to Heaven, and thrill and delight at the Vigil of Pentecost."
I purchased the 
Wooden Poster Hanger
 from Sophia Institute Press and have been using that to hang our calendars.We will probably trim and glue the two Lent and the two Easter posters, connecting them together, before hanging them up for each season. Aren't they gorgeous?!?
Each set of calendars comes with A Companion Guide. Sophia Institute Press also offers a corresponding 
Liturgical Year Coloring Book
 as well. 
"Each day the calendars feature a Saint, feast, or feria of that day – including the commemorated saints featured in niches or coves. Themes from the breviary and from Dom Gueranger's The Liturgical Year are woven throughout the imagery for each week. All of the information contained in the genius of the liturgy is there for you to see: fast days, the class of feast, even the color of vestments the priest will wear in the liturgy are all available at a glance. The images of the saints are taken from medieval and classical art traditions and are represented together in such a way as to show the communion of the saints in our daily lives. With these calendars on the wall, you will never forget a saint's feast day again!"