Thank you to everyone who has reached out with love, cards, texts and messages and most importantly prayers for the soul of my brother-in-law and for the whole Gordon family. We are so very grateful! For those who haven't yet heard, my husband's brother passed away at the end of April. Father Terrence was the third of the five Gordon siblings, just two year's older than my husband Sean. It was such a heart-wrenching shock to receive the news of his sudden and unexpected death while we were in North Dakota the night before our oldest two sons graduation from the University of Mary… I apologize for my silence here on the blog and social media… I tried to start a post a number of times but it was just too hard to type the words… It still feels hard to believe. We will miss him so much.
Eternal rest grant unto him O Lord. And let perpetual light shine upon him. May his soul and the souls of all the faithful departed through the mercy of God rest in peace. Amen.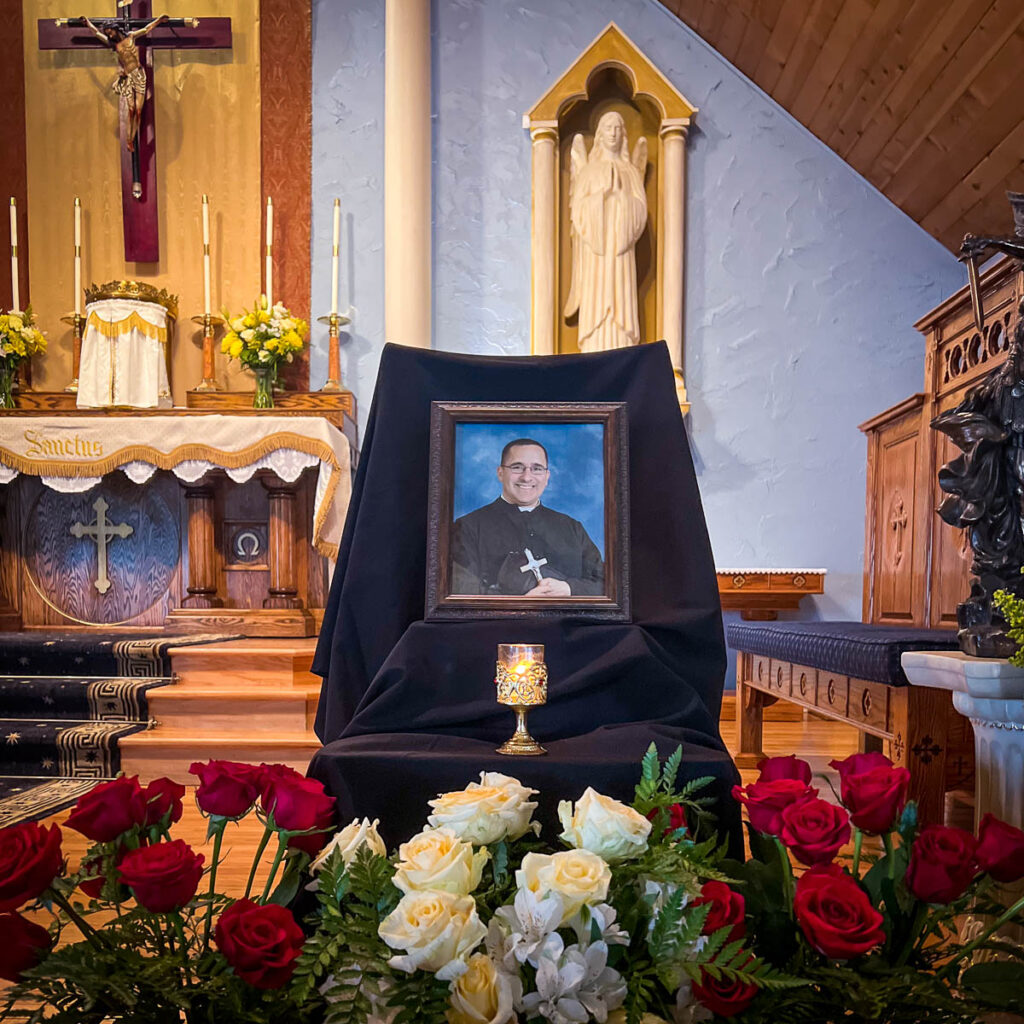 My husband wrote the following for the funeral home. You can also find the FSSP's post here.
Fr. Terrence Gordon, FSSP
The Rev. Terrence Patrick Gerard Gordon, FSSP, 52, passed away unexpectedly Friday evening April 28, 2023 from a heart attack. His brother Father James Gordon was with him and administered Last Rites. Father Terrence was assigned alongside his brother at Immaculate Conception Catholic Church in Colorado Springs, Colorado.
Father Terrence was born on March 17, 1971 in Nogales, Arizona to James Patrick and Beatrice Luz (Tena) Gordon. He attended Salpointe Catholic High School (1989), Tucson, Arizona and graduated from the United States Naval Academy, Annapolis Maryland (1994) with a Bachelor of Science in Computer Science. He served as an officer in the United States Marine Corps in the 24th Marine Expeditionary Unit, attaining the rank of Captain. He was an Anti-Air Warfare Officer, earned the Airborne Parachutist Wings and the Armed Forces Expeditionary Medal. He served at the Marine Corps Air Station (MCAS) Cherry Point, North Carolina and the Marine Corps Base in Okinawa, Japan.
Father Terrence was ordained a priest of the Priestly Fraternity of St. Peter on June 3, 2006. Representing Our Lord as a priest was his definitive calling and upon his ordination, he immediately flourished and throve in generously emptying himself for the people he served. His priestly assignments included St. John the Baptist, Little Rock, Arkansas; Immaculate Conception Church, Omaha, Nebraska; Mater Dei Catholic Parish, Dallas, Texas; St. Joseph's Parish, Richmond, Virginia; and Immaculate Conception Church, Colorado Springs, Colorado.
Father Terrence brought the joyful light of Christ to people's souls as a humble servant of God. Throughout his priesthood he was known for his holiness, humility, kindness, and spiritual depth. He never wavered from God's Eternal Truths and held us all to this higher standard, not for his benefit, but for ours and for God's glory. The greatness by which he will be remembered wasn't achieved in human superiority, but rather in the humility of Christ, which we are all called to follow.
Father Terrence was preceded in death by his parents James (1934-2017) and Beatrice (1937-2019) and is survived by his sister Melissa (Gordon) Steenson (Thomas) and his brothers Rev. James Gordon, FSSP, Sean Gordon (Jessica), and Rev. Dennis Gordon, FSSP; many Gordon and Steenson nieces and nephews; and many faithful parishioners whom he served devotedly across the country.
A Rosary and viewing will be held Monday, May 8, 2023, 9:00 AM at St. Mary's Cathedral in Colorado Springs, Colorado, followed by a Solemn Requiem Mass at 10:00 AM, also at the cathedral. Reception will follow in the cathedral hall.
On the day of burial, a viewing will be held Thursday, May 11, 2023, 1:00 PM at Immaculate Conception Church in Omaha, Nebraska, followed by a second Solemn Requiem Mass at 2:00 PM, also at Immaculate Conception. Interment will follow at Our Lady of Guadalupe Seminary in Denton, Nebraska.
"The Lord led the just man through the right ways, and showed him the kingdom of God, and gave him the knowledge of holy things; He made him honorable in his labors, and has finished his labors."
– Chapter from the Office of None on April 28, 2023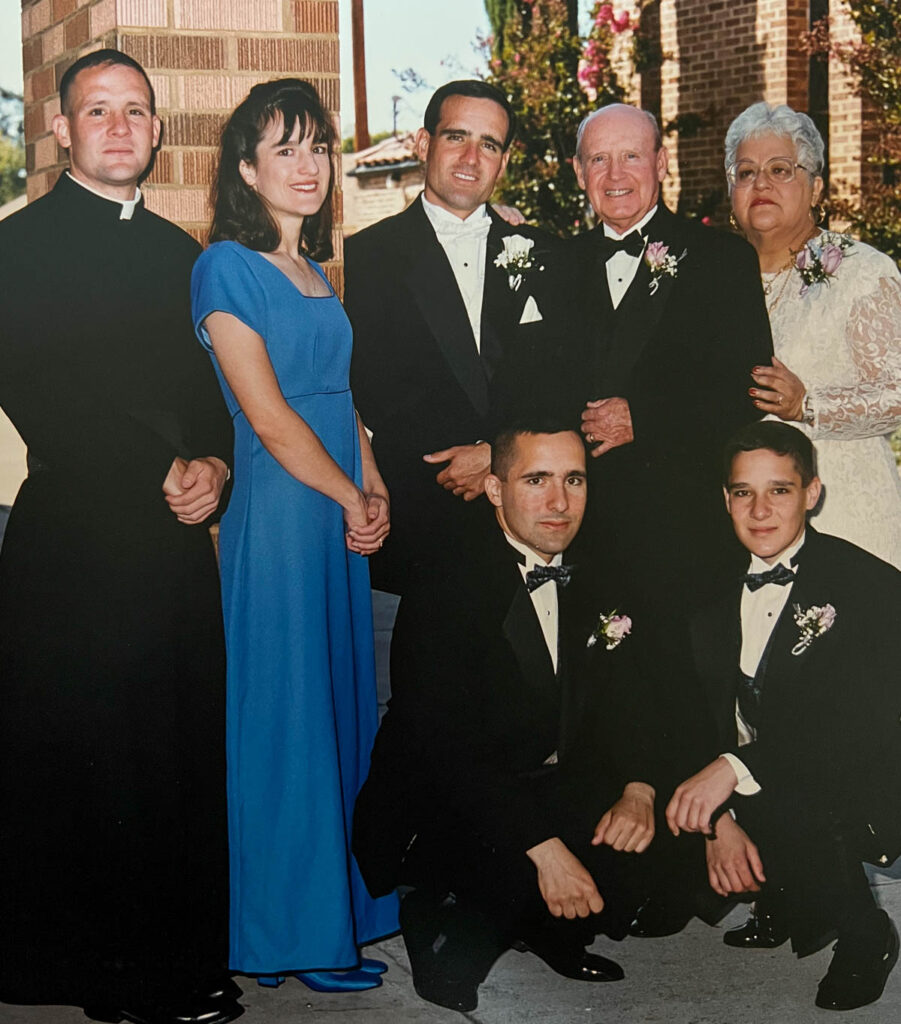 October 2, 1999 – The Gordon Family before mine and Sean's wedding at Sacred Heart in Southern Oregon. Pictured on the bottom left, Fr. Terrence was a first year seminarian at the time and still able to be one of our groomsmen.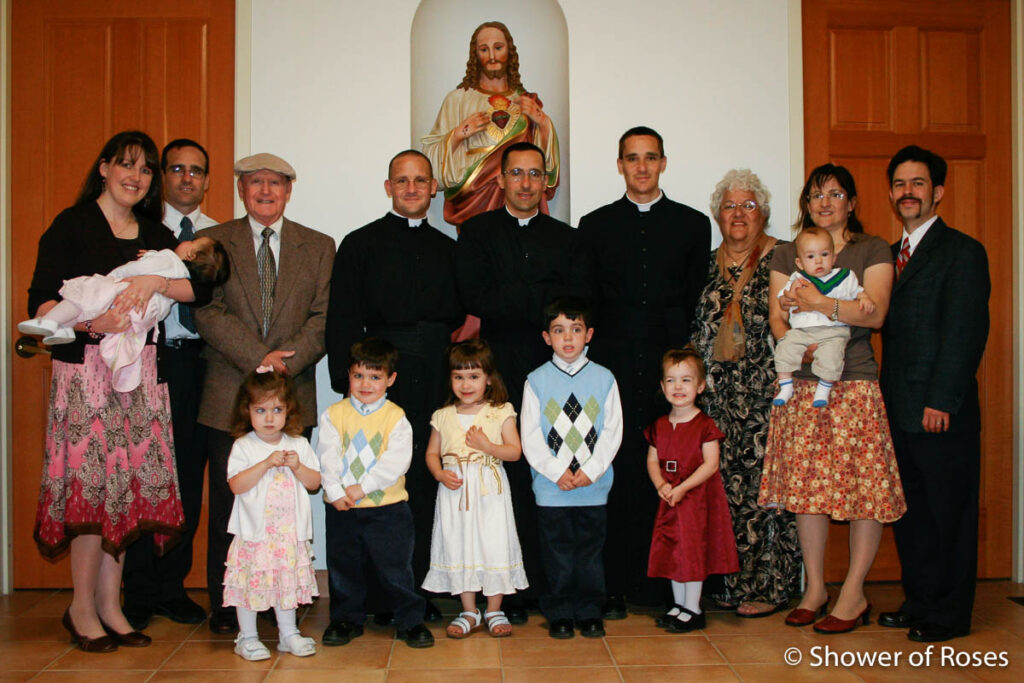 June 4, 2006 – The Gordon Family at Carmel following Fr. Terrence Gordon's first Holy Mass.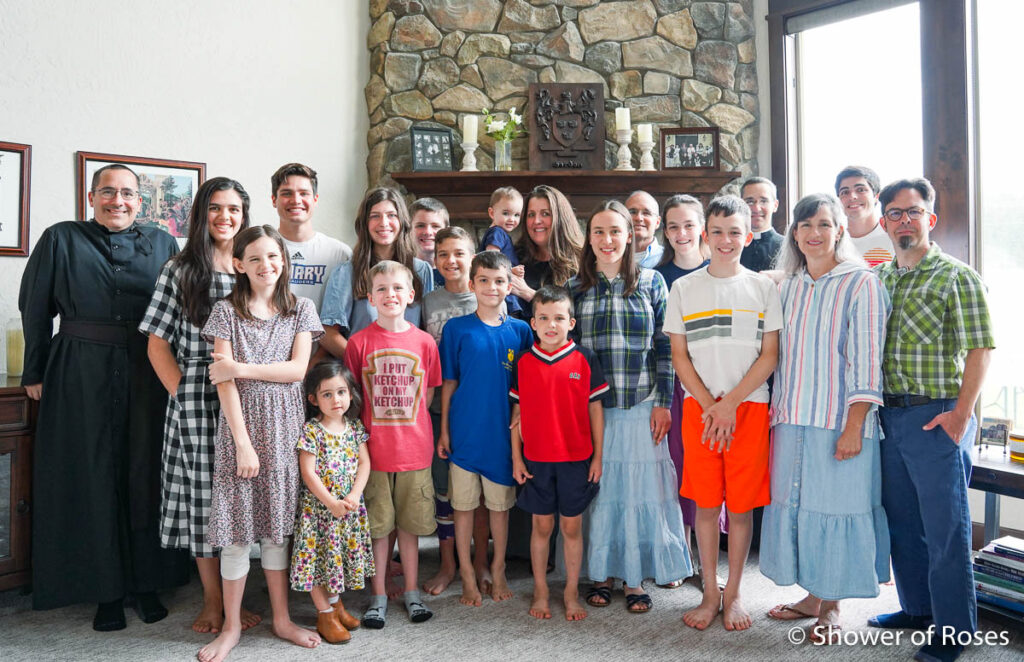 July 27, 2021 – All the cousins together one last time before my niece Miriam (now Sr. Lucia) entered the Carmel of Jesus Mary and Joseph. This photo was taken just before Fr. Terrence returned to his parish in Colorado Springs so that Fr. James Gordon (not pictured) could come up to North Idaho and join us for the rest of the visit.
I'll be back with more pictures to share and updates from the rest of this year.
Thank you all again for your prayers! May God reward you!