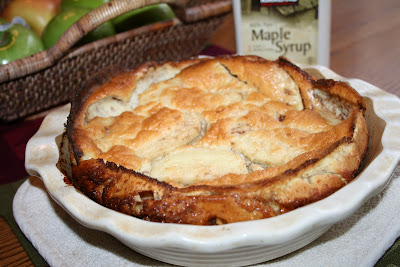 Early this morning, before my children woke up, I was catching up on a few posts in my Google Reader and ran across Kimberly's Apple-y Goodness. Oh, it looked too yummy! I quickly clipped
the recipe, realized I had everything I needed to make it (yay!), printed it out, and headed to the kitchen to get started.
It was very easy to make and was SO SO SO delicious!! In fact, my children kept asking if I could make it again Saturday morning so that their Daddy can have some. I think we will!
The recipe was originally from The Farm Chicks Cookbook. (Oh, and I doubled the recipe, using two pie pans, for our family.)
1/4 cup unsalted butter (1/2 stick)
1/4 cup packed brown sugar
1 teaspoon ground cinnamon
1 apple, peeled, cored and thinly sliced
5 large eggs
1/2 cup milk
1/2 cup all purpose flour
Dash of salt
Maple syrup or confectioner's sugar for serving
Heat the oven to 425 F. Place the butter, brown sugar, and cinnamon in a 9-inch pie pan.
Heat in the oven until the butter is melted and bubbly – 5 minutes. Remove from the oven, stir well and mix in the apple slices. Return to the oven and bake for 2 minutes.
Meanwhile, combine the eggs, milk, flour and salt in a blender or food processor and process until frothy – 1 minute.
Pour over the apple mixture. Bake until the cake is puffed and the center is set – 18 to 20 minutes.
Serve warm with maple syrup or sprinkled with confectioner's sugar.
Enjoy!