I can't tell you how excited I am to be able to host a couple giveaways sponsored by Catholic Embroidery!
CatholicEmbroidery.com, a special branch of Precision Embroidery LLC, was founded in 2007 as a family-owned and operated business in order to provide customers with high quality embroidery and monogramming. What started as a sewing hobby for the oldest daughters in our family has turned into an enterprise that, we hope, will continue to help provide for them as they work in a positive, Christ-centered fashion with a passion! Thank you for sharing in their endeavor.
One lucky visitor will win this beautiful Catholic Tote Bag:
Stitched with our beautiful Cross and Lily/Wheat design, this brown bag is made of durable microfiber material and has the added plus of heavy-duty handles and an inside zip pocket. Measures 18″ by 12″ by 3″.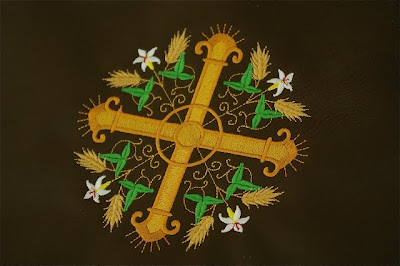 To enter this give-away: Please leave a comment on this post before Midnight (PST) on Monday, September 7, 2009. I will randomly draw a name and announce the winner on September 8th, the Blessed Mother's Birthday!!
Next: Head on over to Catholic Cuisine for a chance to win a lovely "Catholic Cuisine" apron!
Also, Be sure to visit Catholic Embroidery: Mary Serafino, the founder of CatholicEmbroidery.com, in addition to sponsoring this awesome giveaway, has generously extended the following offer as well.
I would also like to offer your readers a coupon code, so everyone can walk away a "winner". If they use the coupon code: STTHERESE I will give them FREE SHIPPING on any order. This coupon is valid until the feast of St. Michael, September 29th.
I've already placed an order for a few ribboned aprons which I am planning on giving my girls for Christmas. (As well as another one for myself!) There is so much to choose from including: beautiful Bookmarks, Handkerchiefs, Totes, Mass bags, and so much more!