… Please pick for me a rose from the Heavenly gardens
and send it to me as a message of love.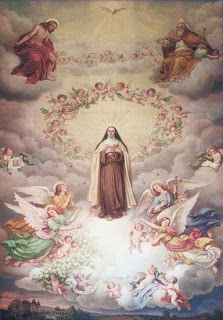 Today was the last day of my Novena to St. Therese. I was praying this novena for a special intention — particularly that this coming Christmas I will have a safe (and hopefully not too painful) delivery and a physically healthy baby which I will get to bring home to love and to hold. Yes, I was a bit more specific this time! Remembering "Love's Delay, I wondered if I would receive a rose or not. I also wondered just where St. Therese would find a rose to send since I didn't have plans to leave the house today, and the roses on my blog "don't count!" 😉
Anyhow, early this morning, after finishing my novena to St. Therese, I found an email in my inbox from Gymboree. This is nothing out of the ordinary, considering most of my girls' clothing comes from this particular favorite store of mine and that I am on their email notification list. The interesting thing about this email was that it was saying I could use my Gymbucks today, ONE DAY EARLY, since I recently signed up for their rewards program. This was a first! I hadn't even started thinking about what I wanted to purchase with my Gymbucks… I had even made a "quick" trip to the Mall last night, but with less than an hour before closing, and Motherhood being my destination (on the other end of the Mall) to try and find a new outfit or two for this coming weekend, I didn't have a chance to take a peek at their new Christmas lines.
Well, imagine my surprise and smiles when I clicked over to peek at the newborn baby clothes for Christmas and found that their whole newborn Classic Holiday Line was covered in ROSES!!!! I went on to look at the older girl lines to find that it is only the newborn baby girls clothing with the rose theme!
Thank you St. Therese!!!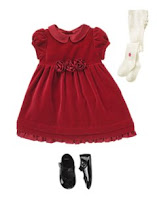 I did have a super hard time deciding which dress to choose for our little "Christmas Rose" but finally settled on the Roses are Red collection with a Rose Cardigan.
"With sweet rosettes and a rich color, your baby girl is looking beautiful for her first holiday. Velveteen dress is layered with a rose ruffle tight and shiny patent shoes for an elegant finish."
Won't her little Rose Hat match perfectly!?! Now she is all set for Christmas Mass, that is if she is born before Christmas. (I have yet to make it to my due date…) Now that is one more thing I can cross off my Christmas list. =)
I also had enough Gymbucks to purchase a darling Rose Footed One-Piece as well.
Well, I had better get off the computer and get our day started… I just had to share my excitement with you all!!!