… on this Traditional Feast of the Little Flower!
~ For the beautiful "Shower of Roses" Afghan ~
Congratulations to
Lenetta
!!
Don't forget that Mary is offering free shipping to anyone else who would like to purchase this afghan. You can find the details in the original post. I would just LOVE to order one for our family!
~ For the Painted St. Therese Doll ~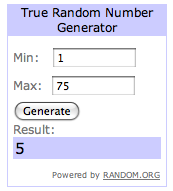 Rascal had the pleasure of "drawing" this number, aka clicking "generate! 🙂
You can "like" St. Luke's Brush over at
Facebook
if you'd
like updates when they have new merchandise. They are also planning to do a few promotions this fall before Christmas.
Please email me your addresses so we can get your gifts in the mail!
THANK YOU to Faith Folders for Catholics, Catholic Embroidery and St. Luke's Brush for sponsoring these giveaways this year. I really enjoyed hosting them here at Shower of Roses, leading up to the feast of St. Therese! Be sure to keep them in mind when looking for Catholic gifts this Christmas.