Back when our oldest three children were babies (ages 4, 2, and 1), a couple friends and I started organizing an annual All Hallows' Eve / All Saints' Party each year on October 31st, as an alternative to trick-or-treating, for our Homeschool Group.
In 2008 I shared a number of posts with ideas and suggestions for costumes, games, food and Saint-O-Lanterns. I've been noticing that some of you have been looking for these posts in the archives so I thought I would re-post the links here, since the feast of All Saints is quickly approaching!
(I checked some of the links in the above posts and updated a few that were broken, but, if you notice any others, let me know and I will try and fix them as well.)
This year I am not organizing our party, however each family will be asked to bring one game for the children to play. I've been trying to decide what our family will choose for this year, and remembered all the great game and decoration ideas that Anne, at Under Her Starry Mantle, posted last year:
You can also find all sorts of ideas in Lacy's All Saints Day Link up!
Also, while I was looking back through the archives, we all really enjoyed seeing the various costumes the children wore in the past years. I've gathered them all here into one post, and scanned in a couple pictures from our 2004 party!
~ 2004 ~
~2005~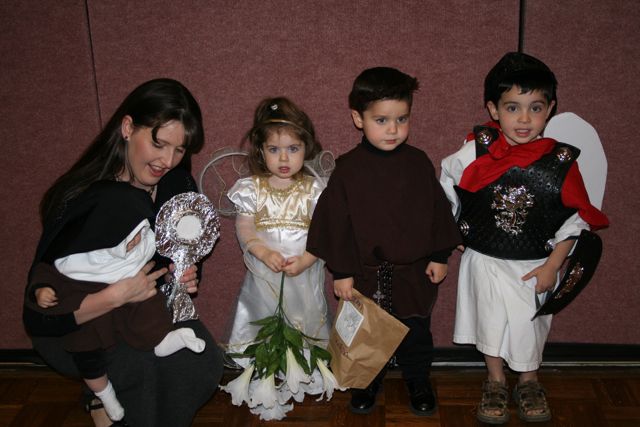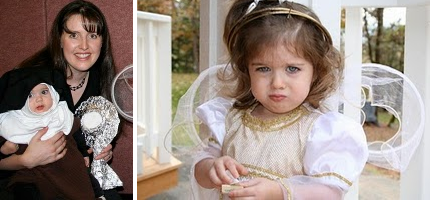 St. Clare, St. Gabriel, St. Anthony, and St. Michael
~2006~
~ 2007 ~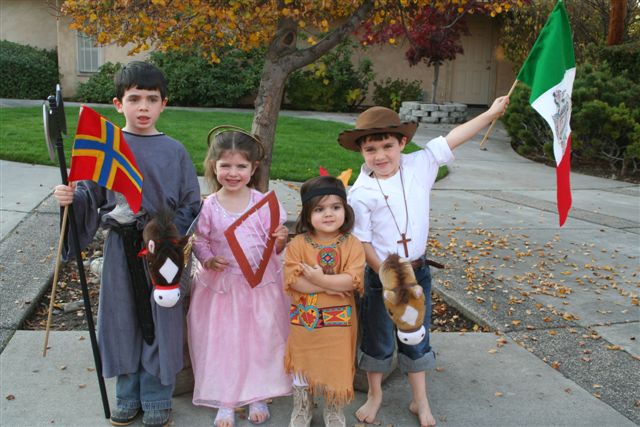 St. Magnus, St. Cecilia, St. Kateri, Blessed Jose Sanchez del Rio
~ 2008 ~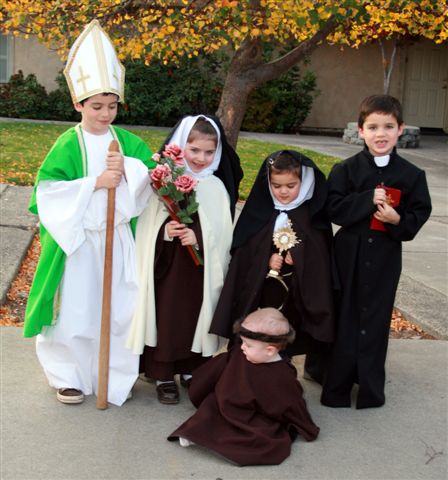 St. Patrick, St. Therese, St. Clare, St. John Berchmans, St. Francis
~ 2009 ~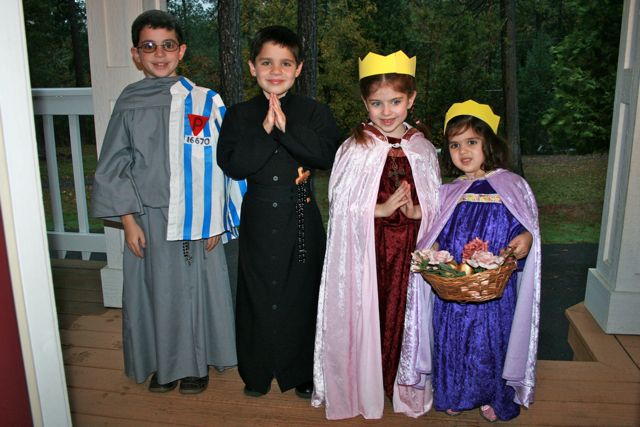 St. Maximilan Kolbe, St. John Bosco, St. Margaret of Scotland, St. Elizabeth of Hungary, and St. Patrick refused to be photographed!

You can find more detailed posts from each year in the archives…
Our Cast of Saints:
2006
,
2007
,
2008
, and
2009
And going way… way.. back!
Here are a couple pictures from my own childhood!
~ 1991 ~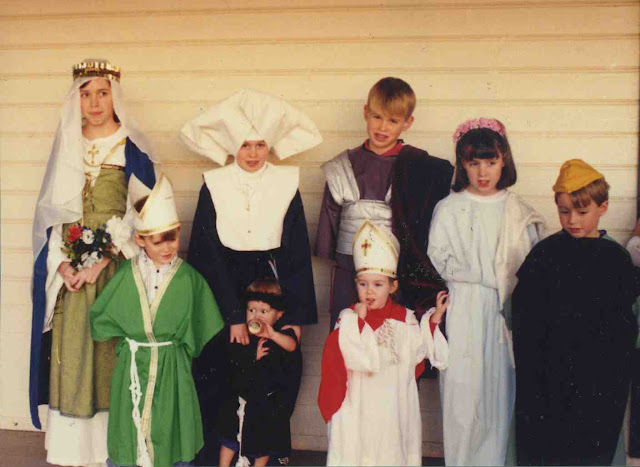 Back Row (Left to Right): Me as St. Elizabeth of Hungary, Jennifer as St. Catherine of Laboure, Sean as St. George, Jamie as St. Lucy, Paul as St. Isidore the Farmer
Front Row (Left to Right): Brian as St. Patrick, Scott as St. Anthony of Padua, and Julianna as St. Nicholas
Back Row: Mary as St. Catherine Laboure, Scott as St. George, Julianna as St. Elizabeth of Hungary, JoAnn as St. Lucy
Front Row: Kevin as St. Isidore the Farmer and David as St. Francis

This year our oldest four children have decided to dress as St. Isaac Jogues, St. John the Apostle, Mother Teresa, and St. Therese. The youngest two are still waiting for mom to pull out the costumes and make a few "suggestions!" undecided!