This was our 5th annual All Souls Mass at a local cemetery. (Here are pictures from the 2nd, 3rd, and 4th years!)
Unlike every other year, the weather was just gorgeous today and actually even WARM! Unfortunately our friend Marc wasn't there to video and take pictures this year, so I only have a few to share from the Mass.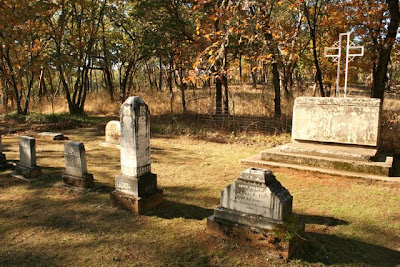 Altar in the Catholic section of a local historic cemetery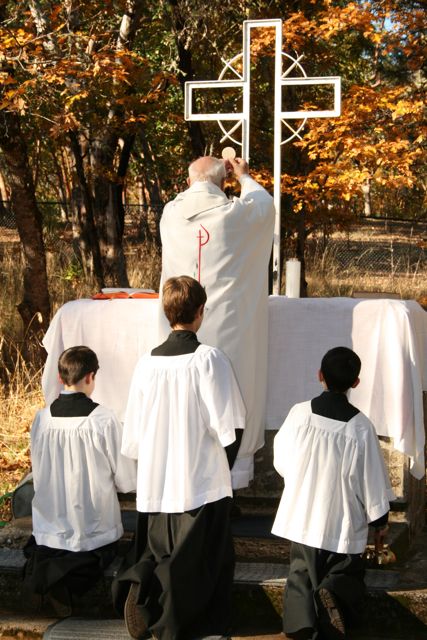 As always, it was such a beautiful Mass! We are so blessed to have such a wonderful "retired" priest in our area! Thank you Father Carmelo!!
My children were excited to see Uncle David!
He is my youngest brother and oldest godson. Isn't he cute! 🙂
We spent some time reading headstones and praying for the souls of those buried beneath.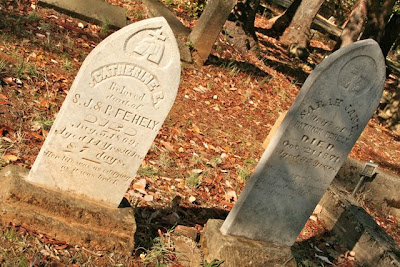 These headstones belonged to a mother and daughter. The mother died in 1871 at the age of 35, just over 2 years after her daughter died at only 14 years of age. How hard that must have been for the husband/father…
The headstones read:
Catherine E.
Beloved daughter of S.J. & P. Fehely
Died Aug. 5, 1869 Age 14 yrs. 6 m. & 7 days
Her life was as edifying as it was brief.
Sarah Jane
wife of Patrick Fehely
Died Oct. 21, 1871 Aged 35 years
She was a good wife, a loving mother, a sincere
friend, and a useful member of society.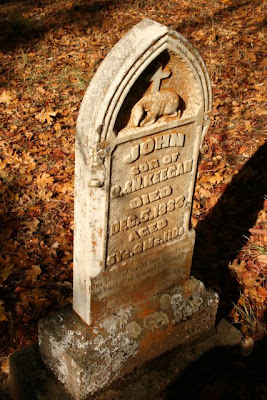 John son of O.&N. Keegan
DIED Dec. 5, 1883
Aged 5yrs.3Ms.11Ds.
Our blessed angel has gone to rest
God has called him and He knows best
I'd love to go back some time and explore some more of this beautiful cemetery!
Eternal rest grant unto them, O Lord, and let perpetual light shine upon them. May the souls of the faithful departed, through the mercy of God, rest in peace. Amen.