Outside our window… the squirrels have been busy! We've been enjoying watching them from the windows, in our new dining room, as they prepare for winter.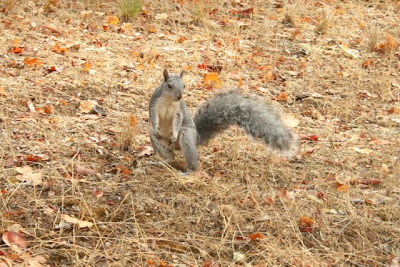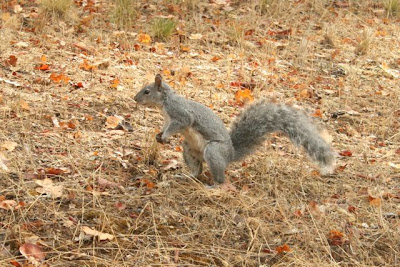 I am We are listening to… The Story of Bach
. We are studying four composers this year, one each term, beginning with Bach. It is playing on the laptop while the children complete a couple worksheets at the table and I work on this post at the counter. Now that we have so much room in the kitchen and new dining area, we are rarely using our schoolroom.
I am thinking… about my inbox and how I could possibly get so behind in responding over the past year(s). I currently have just under 200 emails from the past 13 months which I "saved to respond to later." At what point is it just too late to email back??
I am praying… for the soul of LTC Robert Balwin, his wife (my friend Danielle) and their four precious children. Thank you to all of you that contributed to the Spiritual Bouquet for them. Please continue to remember their family in your prayers.
I am thankful… that the construction is coming to an end. I am finding it SO hard to keep up with school when the contractors, inspectors, or pretty much anyone, is here during school hours.
From the kitchen… creative cooking… I've been postponing grocery shopping for a couple weeks now and am coming up with all sorts of interesting meals. I'm hoping that I can make it till next week before I absolutely have to go to the store. I just haven't had the time while Hubby has been home, or the energy to go with all six children.
From the learning rooms… It has been somewhat of a slow start this year, but we have been plugging away and, despite my lack of planning over the summer, everything seems to be falling into place. I know many of you have emailed and are curious as to what we are using this year, so I will try and post more soon. Real quick, my favorite change this year has been with English/Writing (this was a weak point for my boys on their testing last year). We are now using Writing with Ease
and First Language Lessons
, in addition to Winston Grammar
with Captain.
Living the Liturgical Year at Home… Now that we are finally able to sit down and eat all together once again, Hubby has resumed reading a little about the saint of the day each night at dinner. The girls have completed their St. Therese Lap Books and the boys are just about finished with theirs. We are also looking forward to our upcoming All Saints Party!
I am creating… plans for our first Little Flowers Meeting for the year, which will be at my home on Friday afternoon.
I am wearing… warm socks and slippers. It is cold this morning!
I am reading… Small Steps for Catholic Moms
(I finally have a copy and love it!), Smart Martha's Catholic Guide for Busy Moms
, Island of the World
, and The Guernsey Literary and Potato Peel Pie Society
. I am also reading quite a few books to the children: Twelve Bright Trumpets
and Founders of Freedom
each night after dinner for History; Exploring Creation With Botany (Young Explorers)
for Science; Paddle-to-the-Sea (Sandpiper Books)
and G is for Granite: A New Hampshire Alphabet
for Geography; and quite a few picture books about the Vikings (more History), various Saints, and Bach (Music) as well. It has left little time for reading anything else, particularly blogs.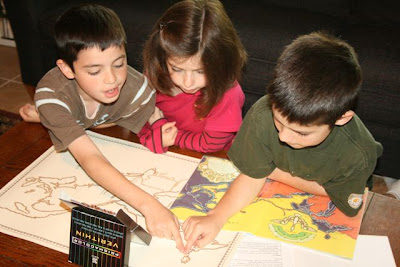 On my iTouch… Words with Friends! Now you know the real reason that I haven't had much "extra" time for blogs, including my own! 😉
Pondering these words… found in my new book
yesterday afternoon, which had just been delivered while I was at the track exercising for the first time since my fall this summer and in desperate need of getting back into shape, when I opened it up to the page for October 19th:
"But truly, you cannot at first arrive at such consolations without struggle and labor that must precede. Your old habits will somewhat forestall you, but better habits can overcome the old ones." Thomas A Kempis
Our little Rose… is 10 Months old! How did that happen so fast?!? She has been a bit cranky this week, but, if you look close, you can see a third bottom tooth breaking through. Poor baby!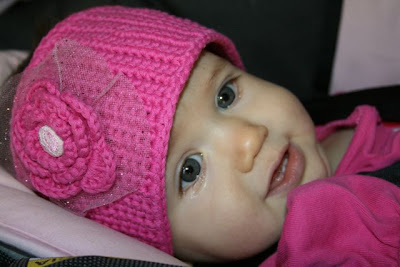 I purchased her cute head wrap when it was offered at Kid Steals last month!
Noticing that… our little Rose had another little tooth break through on the bottom yesterday, which explains her recent crankiness. Poor thing!


One of my favorite things… my dishwasher!!! I am still learning how to use it, and already ruined my favorite bibs (I picked up more asap!), but even still, I LOVE it!! (Any tips on soaps, etc? This is all so new to me!)
A few plans for the week:
Monday :: My Dad & Brother were here finishing up most of the Electrical and we got the final Electrical Inspection!
Here is my Monday Morning Facebook status for your entertainment: 😉
Next time, Brian (aka my brother), you might want to make sure that no one is in the shower, with their hair completely lathered up with shampoo, before cutting the power to the water. There is nothing like a brain freeze, from the ice cold water that your husband finds in the garage and pours over your head to attempt to get the soap out, to start the week!
Yes, Monday was a long day…
Tuesday :: Meet sister (home for Fall Break!) and sister-on-law at the track to walk. Rose enjoyed "visiting" with her little cousin! Also, stopped by library to pick up our books on hold.
Wednesday :: Final Building Inspection. (We are getting closer to being completely finished!)
Thursday :: Cabinet Maker coming back to install knobs and pulls. (Yay!) Hopefully he will have the last couple shelves and the front for the bathroom cabinet, as well.
Friday :: Mass and our first Little Flowers and Blue Knights Meetings for the Year
Saturday :: Trip to the Pumpkin Patch followed by an Ocktoberfest Dinner at our Church
Sunday :: Mass
Somewhere in there we need to squeeze a full week of school, planning for Little Flowers, and (hopefully!) Grocery Shopping!
A Picture thought I am sharing: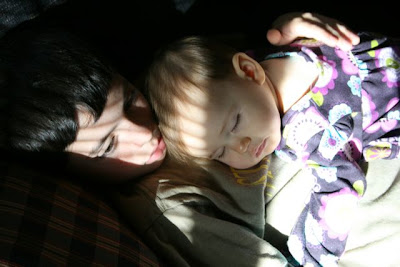 Rose is getting a bit spoiled by her afternoon naps.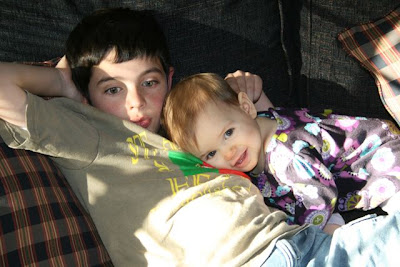 She sure loves her big brother… And he loves her just as much!