The Winner of the St. Therese the Little Flower Faith Folder from Holy Learning (previously Faith Folders for Catholics) is…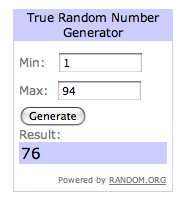 Congratulations
Blair
!
Please email me (jessica.showerofroses[at]gmail[dot]com) with your email address, and I will forward it on to Lindy at Faith Folders for Catholics so she can send you the Faith Folder.
What a week full of blessings Blair has had! Head on over to her blog, Blair's Blessings, to also congratulate her on her latest blessing, Thomas William, who arrived yesterday! I can't wait to see pictures of her little guy who happened to be born on my own momma's birthday!
Thank you all for your participation! I really enjoyed hearing from you all and reading all the comments! There is still plenty of time for the rest of you to purchase this great Faith Folder to make for the upcoming feast of St. Therese. My children and I started ours this week!