I have been given the opportunity to host another giveaway, in honor of the upcoming feast of St. Nicholas! This giveaway is for a beautiful hand painted St. Nicholas Doll from St. Luke's Brush!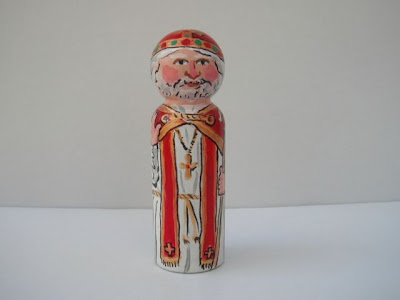 St. Nicholas is a 3.5 inch wooden peg doll hand painted with non-toxic acrylic paints and sealed to preserve this keepsake toy.
Head on over and check out the Etsy Shop, St. Luke's Brush, and then come back and leave a comment here at Shower of Roses for your chance to win this little hand painted doll! All these beautiful little saints would make wonderful stocking stuffers!!
Comments will be open until Midnight on Monday, December 6th, the feast of St. Nicholas. The winner will be chosen with a random number generator and announced on Tuesday, December 7th. Be sure to leave your email address, or have it linked in your profile, so that I am able to contact you.
"God of joy and cheer, we thank you for your servant, the good bishop Nicholas. In loving the poor, he showed us your kindness; in caring for your children, he revealed your love. Make us thoughtful without need of reward so that we, too, may be good followers of Jesus."
~ From St. Nikola an der Donau, Austria