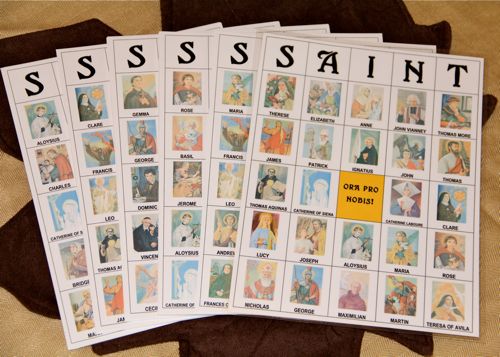 In preparation for this year's All Hallows' Eve Party, I have been working on a few new games. This year, instead of organizing and/or attending a homeschool party, we will be hosting one at our home and inviting some of our close friends and family. It is going to be so much fun!
We've decided not to do any of the carnival style games this year, but rather some fun outdoor group games. I have also been working on a few indoor games, in case the weather isn't very cooperative, or for after it gets too dark to stay outside.
One of the games I created was this All Saints Bingo Game! I thought about ordering the Saint Search Game from Illuminated Ink, or downloading the 14 Saint Bingo cards from Catholic Mom, but I really wanted at least 30 variations of the cards so I decided to create my own set.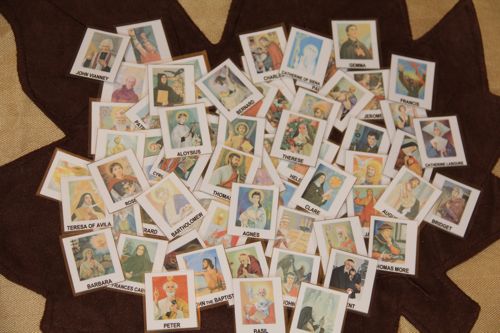 Of course I had to do so in the most difficult way (without the help of an online bingo generator) since I really had a specific idea in mind and wanted to include pictures of all the saints with a free space in the center.
Here is a sample of one of the cards that I came up with: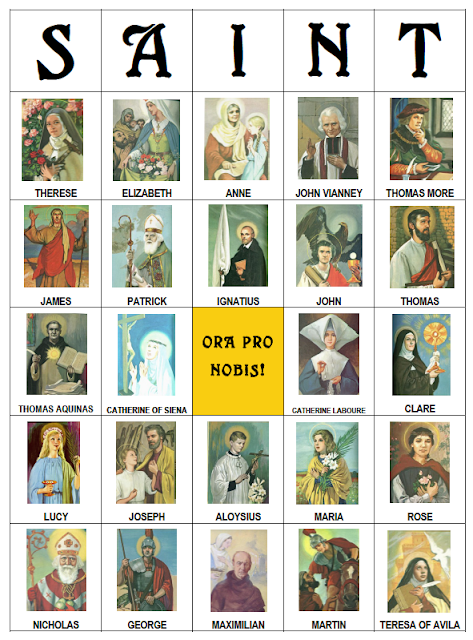 All of the 67 saint images that I choose to include are from the Picture Book of Saints by Father Lovasik and will be easily recognized by my children. I titled each card with "SAINT," listed each saint's name under their picture, and then put "Ora Pro Nobis!" (Pray for us!) in the free space. For markers I decided to use clear and gold glass gems.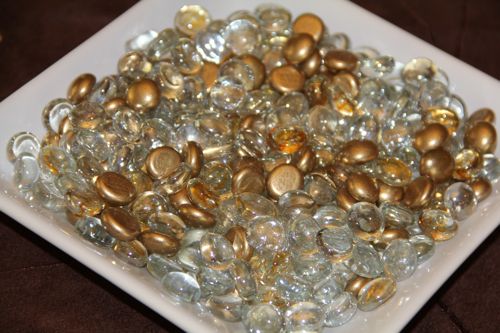 I printed the cards on 8.5″x11″ white card stock and, trimmed them (though that wasn't really necessary, and then started laminating them, along with all the small bingo call cards. Tomorrow I plan to laminate the rest, just as soon as I have some more laminating pouches… I ran out!
If you'd like, you can download my documents here:
(Includes 30 original cards)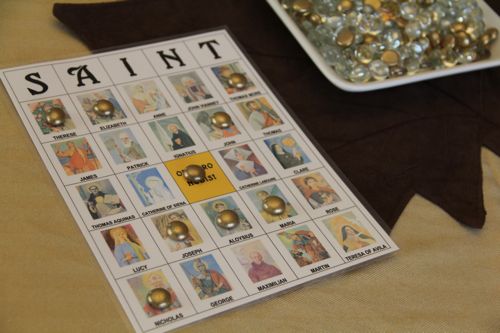 Update: You can see pictures of All Saints Bingo being played at our Annual All Saints' Party in 2011, 2012, 2013, and 2014.