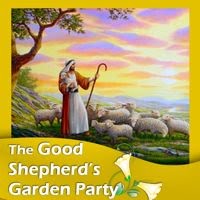 I'll be back sometime soon with pictures from our Easter Sunday Celebration, but first I wanted to post a few links and a giveaway!
Since 2008 our family has been celebrating the Easter Season with The Garden of the Good Shepherd
. The first few years we did daily activities corresponding to the symbols and bible readings for each of the 50 days. You can find all of our old planning posts on this page.
Last year Charlotte and I worked together once again, this time creating a set of plans we named "The Good Shepherd's Garden Party!" My children really loved this and are looking forward to having our Garden Parties once again this year.
I purchased our copy of The Garden of the Good Shepherd: A Sticker Calendar to Count the Fifty Days of Easter
from Amazon (and laminated the stickers, to make it more re-useable), but it looks like it is currently sold out. It has been selling out frequently over the past couple months, so keep checking and you might be able to find a copy. It is also available at Liturgy Training Publications and Aquinas and More.
For those that would rather not purchase the calendar, Charlotte illustrated a wonderful printable version to color!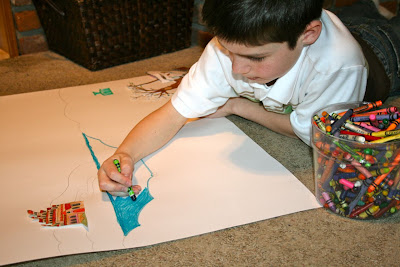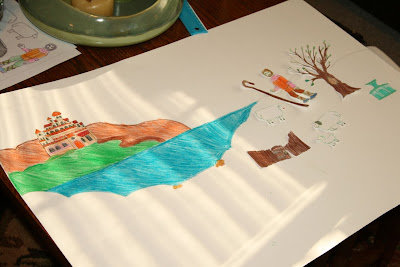 Last year a couple of my children asked if they could create their own posters using the printables in addition to our calendar. I never did get around to posting any pictures last year, but they really loved this addition as well.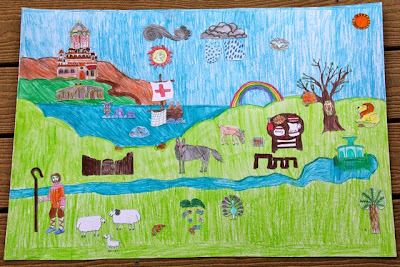 by Rascal (2010)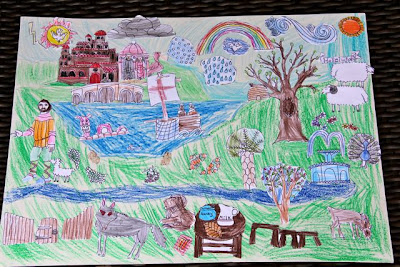 by Twinkle Toes (2010)
We did make a couple additions to the last two Garden Party Plans for this year (adding the Edible Thrones and the Peacock Cupcakes we came up with at the last minute), and you can download the revised documents, in addition to all the other documents, at Scribd:
(Note: These plans are just our suggestions. You can customize the plans for your family. We loved seeing all the variations that were shared last year in the link-ups!)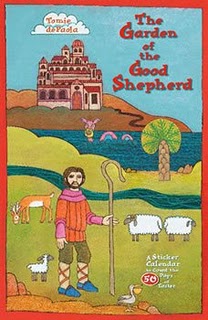 Also, I DO have an extra calendar set that I would like to giveaway! Please mention in the comments below if you'd like to be entered into the drawing. I'll draw a name on Thursday night, so I can get the calendar in the mail on Friday morning when I am in town. At least the Easter season lasts for 50 days, and you can "catch up" the stickers for the first week or two if you win the calendar!
The First week of Easter's Garden Party Link-up will be posted at Catholic Cuisine on Monday, May 2nd! Is anyone planning on joining us this year?
UPDATE: Comments are now closed for the giveaway! Thank you everyone for participating!! I will announce the winner soon. 🙂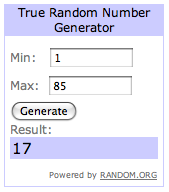 Please email me your address as soon as possible, so I can get it on it's way to you and your family!!
Thank you all for participating. I had no idea there would be so much interest! Additional copies of the Sticker Calendar
are still available at Amazon.
Happy Easter!!