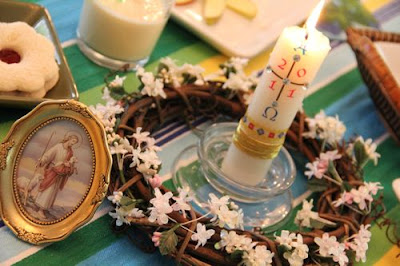 "The tree of life my soul has seen, laden with fruit and always green.
The tree of natures fruitless be compared to Christ the apple tree.
I'm weary with my former toil. Here I will sit and rest awhile.
Under the shadow I will be of Jesus Christ the apple tree."
Hello again, after that unannounced and unexpected "break" from blogging! I am still here
(thank you to those of you who were concerned)
and hanging in there with my
(very noticeable)
pregnancy symptoms… This past week, by the time I would finish all the daily chores, schoolwork, errands, appointments, dishes, meals, baths, etc, I just didn't have the energy to sit down at the computer. Thankfully my husband is safely home again from his two week training session in Michigan and
I was finally able to take a much needed nap
life is back to normal! It is sure nice to have him home!!
It's funny, but despite the fact that I have been spending very little time in the kitchen, all I have been blogging about lately is food… Bleh! I so wanted to skip this week's Garden Party, but my children were really looking forward to it, especially since their Daddy missed the last two, and I just couldn't disappoint them. Instead I decided to modify the menu, only using things that I already had in the fridge or pantry. I suppose a trip to the store would have been a little LOT easier in the end, but everything turned out great. It's amazing what you can come up with at the last second, without any extra pre-planning. . . Here are some pictures I took to share:
~ The Tree of Life's Leaves ~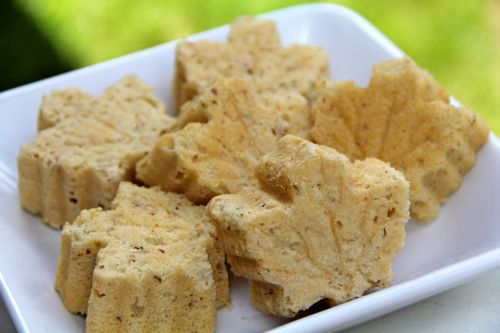 Almond Butter Leaves
I made these amazingly delicious little Almond Butter Leaves using my Nordic Ware Maple Leaf Pan
for the first time, with the recipe on the back of the package.
~ The Tree of Life's Flowers ~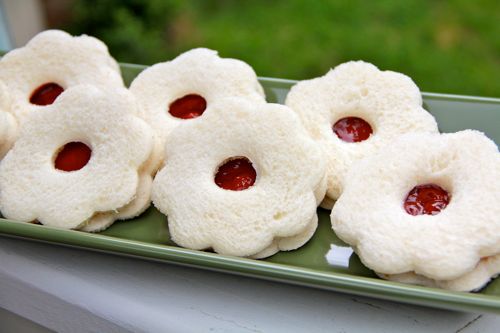 PB&J Flower Sandwiches
I made these with a flower cookie cutter, spreading peanut butter and strawberry jam on one side, before topping it with another flower with a whole cut out of the center (created with a little ring from one of my frosting tips).
~ The Tree of Life's Fruit ~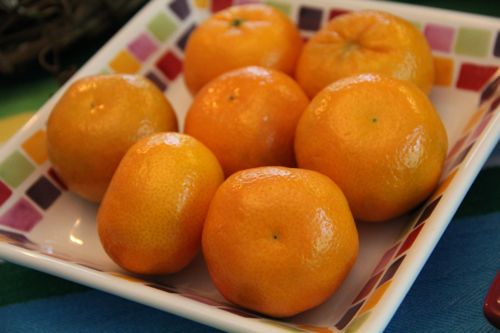 T
hese little
Cuties
were our
Fruit
.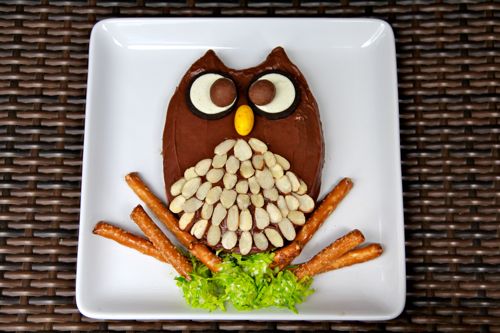 Even though the owl cupcakes are so super cute, I decided to skip them this year and make a cake instead. I actually made a
Gluten-Free Chocolate
Zucchini Cake, baking 2/3 – 3/4 of the batter in a square pan to save for later and the rest in my
smallest oval pan
(7.75×5.5 in) for our owl.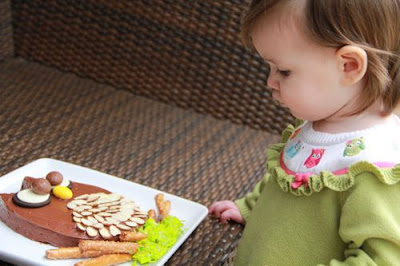 I cut out a little curve at the top to create his ears, added Oreo halves and Chocolate Macadamia Nuts for the eyes, a Double Bubble Easter Egg Bubble Gum for the nose, and a whole bunch of slivered almonds for his feathers. He is sitting in a nest of pretzel rods dipped in melted white chocolate and rolled in green coconut.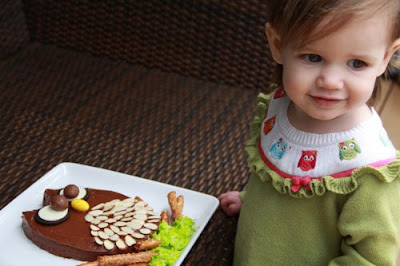 I thought he turned out pretty cute and so did Rose, in her matching owl dress!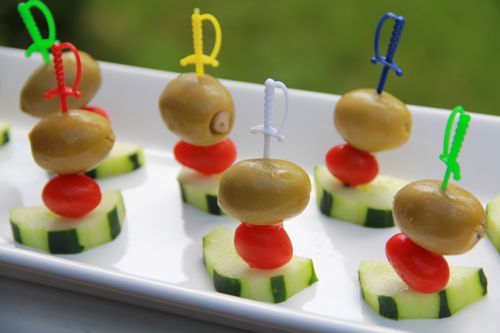 These little Olive Skewers were so quick and easy to put together. I assembled them with our favorite Double Stuffed Jalapeno/Garlic Olives, Sweet Cherry Tomatoes, a slice of Cucumber and a fun little sword. A couple of my children wouldn't eat the olives, but they loved the rest and there were plenty of others to take those "extra" olives. 😉
~ The Palm Tree ~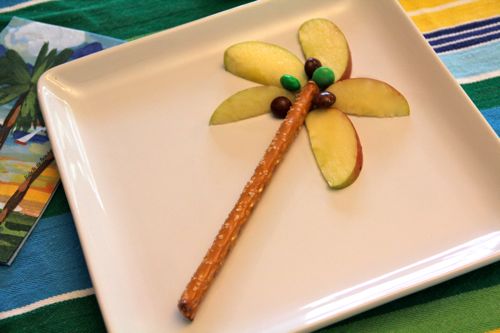 Palm Tree Napkins and Snacks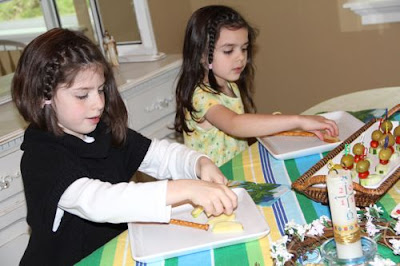 We made a similar palm tree Snack last year during T Week, and the girls remember just how to assemble them for me. This time we used a Pretzel Rod, Apple slices and some Coconut M&M's

.
(How perfect that the M&M's even had little palm tree's printed on them!!)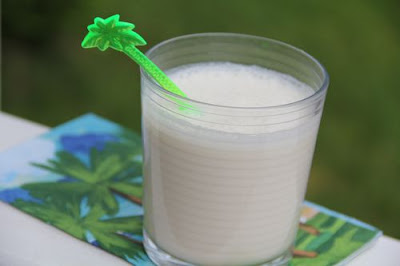 I also served Pina-Colada Milkshakes, complete with Palm Tree Stir Sticks and served with Tropical Umbrella Straws. For the milk shakes, I used this recipe as a starting point, first quadrupling it and omitting the nutmeg, then adding a bit of coconut extract and a half of a pineapple, before blending it in my vitamix. YUM!!!!
~ Roses and Lilies ~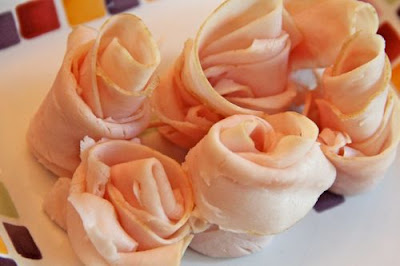 Turkey Breast Roses
These were HARD, and didn't turn our anything like Charlotte's… I really didn't even want to post a picture, and was wishing I had "forgotten" to take one!! 😉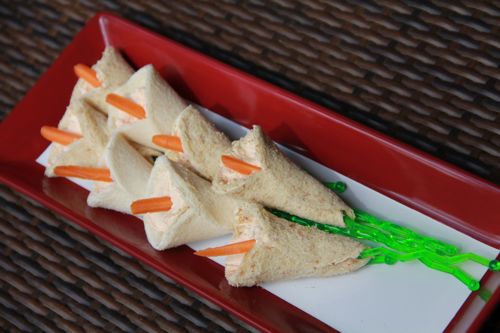 Lily Sandwiches
Like I said before, I was using what I had and that meant using up some wheat bread along with the white, in case you are wondering why some of the lilies look dirty! I should have made these first, before the flower sandwiches!
~ A Few More Pictures ~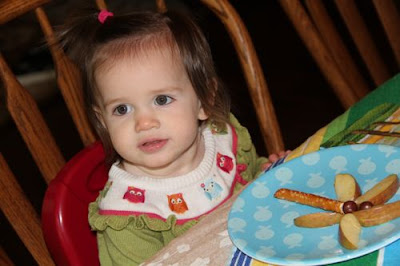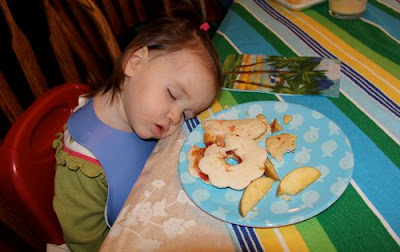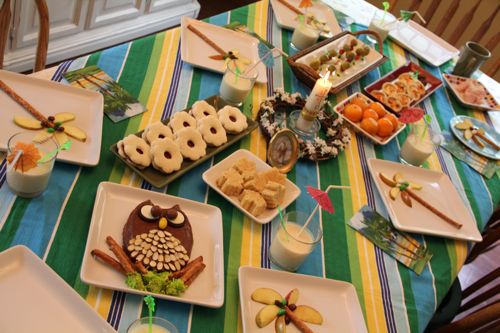 The link-up will be up sometime tomorrow
(probably in the afternoon)
over at
Catholic Cuisine
!