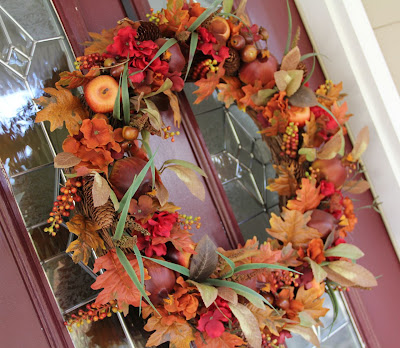 Outside my window… we have leaves everywhere. Or as Twinkle Toes has been quoting:
"Dull November brings the blast,
Then the leaves are whirling fast."
I am thinking… about Christmas gifts. I would really love to have all of my planning and shopping completed, and all the gifts wrapped, by the first Sunday of Advent, which is coming up way too quickly!
I am thankful… for extra help. I hired an affordable cleaning lady for the very first time last month! She came for 3 hours to deep clean the bathrooms, dust, vacuum, and mop the floors. It was amazing! Of course I "cleaned" (or should I say de-cluttered) all morning before she arrived and was so happy to have such a shiny house when she left. Now, three weeks later, if I could just get her to come back!
From the kitchen… leftover pizza for dinner. I haven't felt like cooking much lately. If I could just find the motivation and extra energy to double some yummy recipes and stock up the freezer during the next couple weeks! I am going to look up the recipes that Barbara shared with me during my last pregnancy for some inspiration. If anyone has a great freezer recipe to share, I'd love some suggestions.
Learning all the time… Right now we are studying Colonial Life, which is just perfect with Thanksgiving coming up next week! I've been struggling to find time to work with Snuggles much, but he does love to join in with whatever the big kids are doing, so I don't feel too bad. Still, I'd love to get back to Little Saints!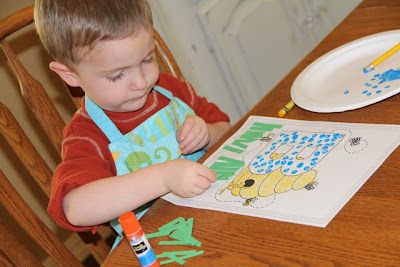 *Also, for those that have emailed, I will try and share more on All About Reading, once we have just a little more experience with it, and life slows down a little… So far it is going great and Snuggles loves the program!
Living the Liturgical Year at Home… It's almost Advent!!! I spent some time updating my Links for Advent Planning from the Archives this past week, adding all the new posts from last year. The feast of St. Elizabeth of Hungary (one of the saints I choose for my confirmation) is also coming up this week. I'm hoping to make St. Elizabeth's Crown (or some variation) for dessert!
I am creating… a checklist for Advent and Christmas. Hopefully it will help me feel a little more like I "have it all together" this year… Even if I really don't! 😉
I am wearing… warm socks and a thick sweater. It is COLD today!
I am reading… history and science books to my children. That's about all I've had time for lately, but I'd like to get back to The Happiness Project: Or, Why I Spent a Year Trying to Sing in the Morning, Clean My Closets, Fight Right, Read Aristotle, and Generally Have More Fun.
Pondering these words… from yesterday's readings, which weren't exactly comforting after a couple days of struggling from anxiety and panic attacks. Hubby glanced over at me, and I couldn't help smiling:
When people are saying, "Peace and security," then sudden disaster comes upon them, like labor pains upon a pregnant woman, and they will not escape.
Yes, I have been a little nervous about delivering again… pretty much since the moment Rose was born…
Noticing that… I really miss being able to share posts through Google Reader, not that I've had much time for reading blogs anyways, but still! Why did they have to change that?!?
Towards personal care… I've been trying to stay off my feet as much as possible, since walking seems to trigger contractions. It is much easier said than done!
I am listening… to the Felicity Books with my girls, as part of their Colonial History study.
Around the house… there are quite a few partially finished projects. The next on the list is to finish assembling the drawers for the "closet" organizers in the babies room so I can finally have a place to put his clothing, once I get it all washed. Hubby has been working constantly, and has only had Sundays off since I got back from Texas. Maybe this next weekend?
I am hoping… that this baby takes after all of his siblings and arrives a little early. Looking ahead at my calendar for December, it looks like the the 16th would probably work best for me… 😉 And goodness, that is just a month away!
I am praying… for the Hadley Family. We attended a dinner/fundraiser for their sweet children this past weekend and I am always so inspired by this amazing family. Please continue to remember them in your prayers, as they continue to search for a cure for their children, and all the other children suffering from Neimann-Pick Disease known as "Childhood Alzheimer's." For those of you that have so generously donated to Hadley Hope in the past, here is an update on Peyton and Kayla:
One of my favorite things… Amazon and Prime Shipping. The Nativity Fabric Advent Calendar I ordered arrived and it is even nicer than it appeared in the picture. I just LOVE it and can hardly wait to surprise the kids with it on the first Sunday of Advent!
A few plans for the rest of the week:
Hockey Skills and Drills Tonight (Hubby came home early to take the boys so I could stay home! Yay!!)
Try and schedule a Hair Cut for myself and the girls
Tutor and Piano Lessons on Wednesday
Hockey Team Practice on Thursday Night
Daily Mass on Friday
Hockey Game on Saturday Morning
Mass on Sunday
Musical with the older kids, hopefully!
Throw trying to keep up with schoolwork in the mix and it is looking like another really busy week….
A Picture thought I am sharing:
Since Sarah asked for an updated belly photo, I had Rascal take these while we were waiting for Hubby to get home from work Saturday night. I figured it would be a good opportunity, since I was all dressed up for the Benefit Dinner.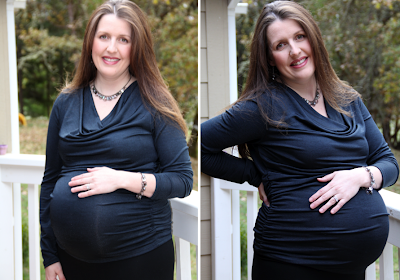 Thankfully the pictures were all slightly blurry, which helped hide the bags under my eyes from a very difficult Friday afternoon and night. Our little guy is sure growing fast! 🙂