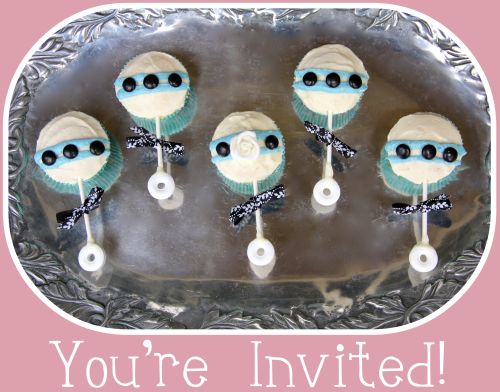 I sure wish I lived in Texas and could host a baby shower for
Charlotte
and her precious new "
Cupcake
." Especially since this little one will be the very first baby they bring home in over 7 years! As fun as it would be, I just don't think it is possible for all of us to meet in Texas, so I decided to host a "Virtual Baby Shower" here instead.. Won't you please join us?!?
I thought this would be such a nice way to show Charlotte how much she means to all of us and how much we all appreciate the
endless
inspiration
,
coloring pages
, and just
everything
she shares so freely through her blogging!
So, go bake a batch of your favorite cupcakes (or maybe make a quick 5 minute chocolate mug cup cake), grab your favorite drink, and then come and join the fun below, including a group gift, games, and even door prizes!
Whether you contribute to the group gift, or just offer a quick little prayer for Charlotte to have a safe delivery and a healthy baby, you are all welcome to join the fun and help celebrate the life of this sweet little one!
I know that Charlotte and her family have been given some hand-me-downs from friends and they are planning on purchasing/making whatever else they need. However, when I heard that they were going to order a new crib
(to replace the 30-year old crib they had been loaned for their older children and had since given back) I asked if I could please organize it's purchase as a group gift from all her friends here online. Those of you that know me personally, know just how much I love coordinating group gifts for friends and family!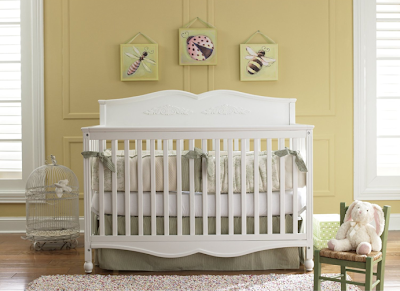 If you are interested in contributing to the crib for Cupcake, you can do so by clicking on the Paypal "Donate" button pictured below. I know that these are not great financial times for many people, so please don't feel like you need to contribute much to participate in this group gift. Any amount is welcome and more than appreciated.
For those of you that do not use Paypal, yet would still like to go in on the crib, please send me an email at jessica(dot)showerofroses(at)gmail(dot)com and I will be in touch with my mailing information so you can send a check.
I will be sending Charlotte a card to go along with the crib, signed with the names of everyone that contributed. If by chance we all contribute more than enough for the crib, I will pass on the extra funds to Charlotte and her family to put towards crib bedding and other nursery decorations! It sounds like the baby's room is going to be darling!!
Now for those games I mentioned!!
I sent out a few emails this past week and was so thrilled at the positive response and support I received for this Baby Shower! My wonderful contributors at Catholic Cuisine were all more than willing to help. I even had some amazing prizes donated by a few of the wonderful Catholic businesses online. Thank you all!

I've been having so much fun collecting baby pictures from most of my contributors over at Catholic Cuisine!
So, do you think you can identify who is who?!? 🙂
The first person to correctly identify each of the bloggers pictured above will win a beautiful St. Therese apron donated by
Catholic Embroidery
! Mary just created this new design inspired by this Baby Shower!! I think it is perfect! If anyone would like to order one, it is also
available for purchase at Catholic Cuisine
.
Thank you Mary!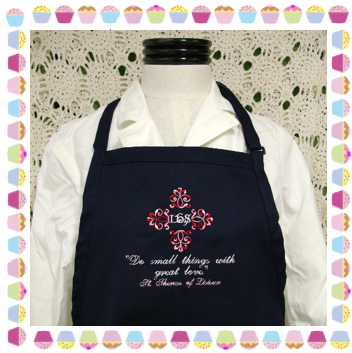 If we end up having more than one correct answer, the apron will be given to the first contestant to answer correctly, and the remaining correct guesses will be entered into a drawing for a second place prize, a set of Measuring Cup Matroyshkas, which I will send to the winner!
I posted larger images in a separate post which you can find here:
Name that Baby :: Catholic Cuisine Bloggers Edition
Please leave your guesses in the comment box of that post.

Did you bake that batch of cupcakes yet? If so, we want to see them!!
Post a picture on your blog, along with the recipe if you'd like, and add your post to the linky:
(Please be sure to link back to this post!)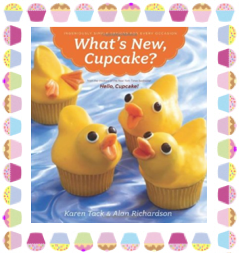 I'm going to leave it up to Charlotte's girls, Sunshine and Shortcake, to choose their favorite at the end of the Shower, and I will send a copy of
What's New, Cupcake?: Ingeniously Simple Designs for Every Occasion
to the winner!

Now click on over to ExpectNet to guess Cupcake's gender (here's a hint), birth weight, length, and actual birth date and time.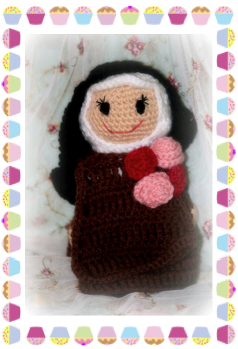 However, it will be so worth the wait, and the winner will receive an original St. Therese Doll, handmade by Knit Together Designs! Thank you Amy!

For a chance to win one of the door prizes pictured below, just let us know you "attended" this Baby Shower by leaving a comment on this post, including some loving advice (if you'd like) for the expectant mother!
1. A gorgeous Mary, Flower of Flowers Tenner donated by Anne at Under Her Starry Mantle and All Beautiful Catholic Beads. Thank you Anne!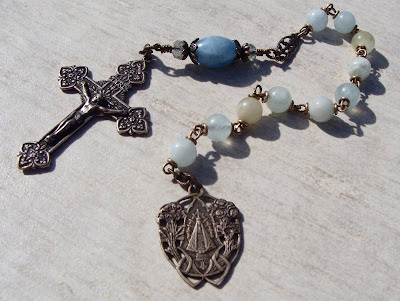 "Mary, flower of flowers all, Hath born a child in an ox stall, That Lord and Prince is over us all; Puer natus est nobis."
2. A beautiful bracelet and earrings set, handmade and donated by Barbara at Praying for Grace and Prayerful Beads. Thank you Barbara!

Miraculous Medal Bangle and Bobbles
3. This lovely Our Lady of Mount Carmel Doll donated by St. Luke's Brush! Thank you Garry and Amy!
With the feast of Our Lady of Mount Carmel coming up on July 16th, now would be the perfect time to add her to your collection!
4. A variety of adorable Hair Bows donated by Cecilia at Hair Bows 4 Life. Thank you Cecilia!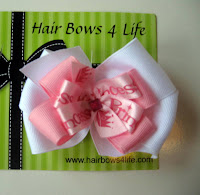 5. A cute little Fleur Di Lis Finders Key Purse Key Hook from me 🙂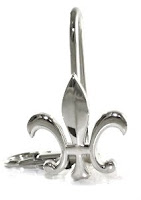 Comments will close at midnight on June 23rd, and on June 24th, Charlotte's birthday, I will announce the winners of all the games and door prizes!
Thank you all for attending this Virtual Baby Shower hosted here at Shower of Roses!!

Father in heaven, grant us the grace to appreciate the dignity which you have conferred on us. Let us realize that not even the Angels have been blessed with such a privilege—to share in your creative miracle and bring new Saints to heaven. Make us good mothers to all our children after the example of Mary, the Mother of your Son. Through the intercession of Jesus and Mary we ask your continued blessings on our families. Let us all be dedicated to your service on earth and attain the eternal happiness of your kingdom in heaven. Amen.