It ended up being much harder to guess the Catholic Cuisine Contributors in the Name that Baby Game than I thought it would be, but thank you all for playing along despite the difficulty! No one was able to guess everyone correctly, though a couple of you got pretty close…
I thought it was interesting to see that only half of you guessed my baby picture correctly! I was the one holding the statue of Mary on my parents bed as a baby and I did have blond/light brown hair, at least for awhile. Most of my siblings had light hair as babies, and it was such a surprise when our first son was born with nearly black hair! 🙂
Also, not one person guessed Mary Ellen correctly. She was the cute baby siting in the highchair. Anyhow, here are all the answers: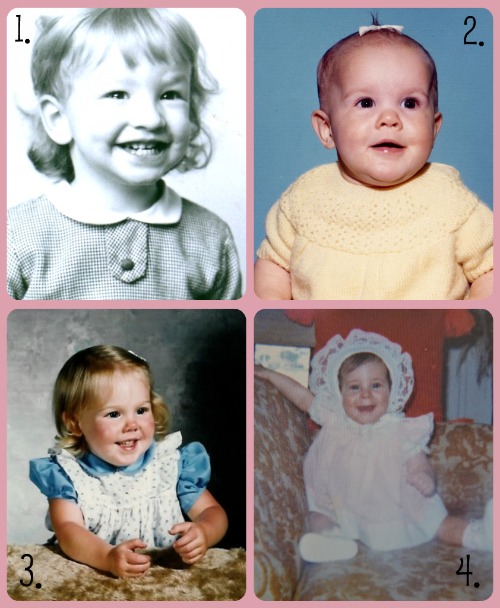 1. Anne from Under Her Starry Mantle
2. Amy from Knit Together
3. Robina from Motherly Loving
4. Kelly from The Careless Catholic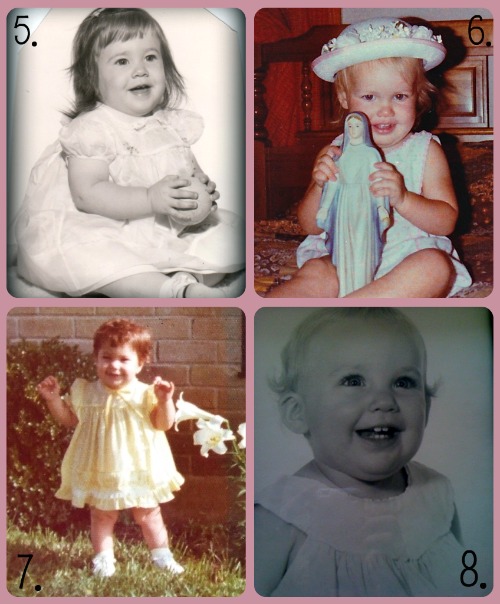 5. Margaret from Minnesota Mom
6. Jessica from Shower of Roses
7. Our guest of honor, Charlotte from Waltzing Matilda
8. Tiffany from Family at the Foot of the Cross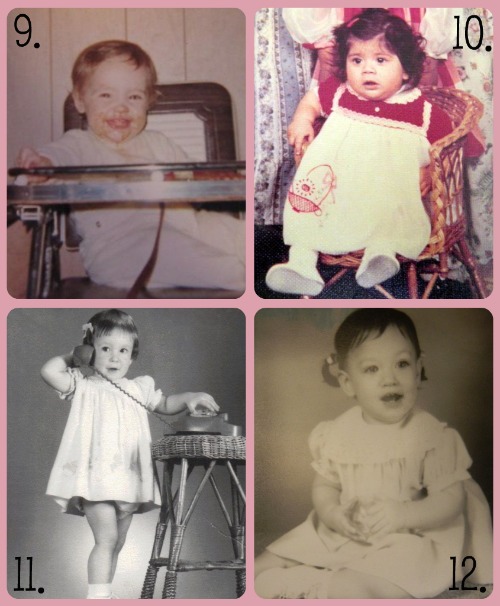 9. Mary Ellen from Tales from the Bonny Blue House
10. Lena from JOYfilled Family
11. Mary from Our Domestic Church
12. Jamie from Lord, Make Me a Saint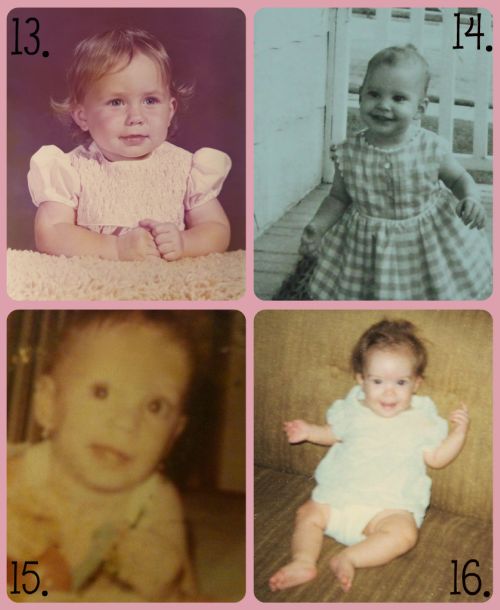 13. Emily from God's Canvas (Did you notice her beautiful smocked dress?)
14. Barbara from Praying for Grace
15. Ruth from Just Another Day in Paradise
16. Jennifer from Family in Feast in Feria
A Graph of Answers

(Click on picture to see a larger version)
Kelly at The Careless Catholic was the first person to have the most correct answers, so she is the winner of the lovely apron from Catholic Embroidery! If anyone else would like to order one, it is also available for purchase at Catholic Cuisine, along with a number of other beautiful designs.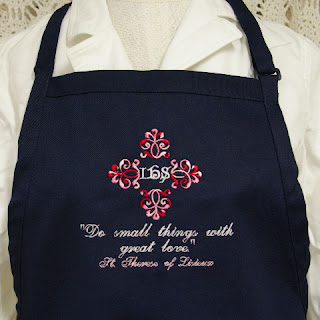 My little sister JoAnn also had 12 correct guesses, earning her the second place prize – a set of measuring cups! Since she is a college student, getting ready to head to Rome for the first semester of her sophomore year at the University of Dallas, I think she might prefer the $10 I would have spent on the measuring cups instead.
Congratulations to Kelly and JoAnn!
I'm headed out the door to take the kids to Golf Camp and then back home for our Little Flowers Meeting this afternoon, so I won't have time until this evening to announce the rest of the winners from our Virtual Baby Shower Games… I hope you have a wonderful day and don't forget to stop by and wish Charlotte a very Happy Birthday!