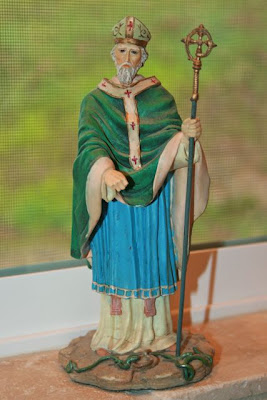 Hail, glorious Saint Patrick! We honor thy name,
Tho' Erin may claim thee, the world knows thy fame.
The faith of our fathers is our treasure, too.
How holy the thought, that they learned it from you.
Thru crosses and trials its fire burns bright,
they show us the way, and the truth, and the light.
Great Saint! Intercede that we always may be
devoted and loyal, true children of thee.
Our love and devotion be ever like thine,
our thought be of Jesus, our heart be His shrine.
And when to the end of life's path we have trod,
be near us great bishop, anointed of God.
It's been a fun morning, complete with magically delicious cereal and shamrock cinnamon rolls! Right now I am printing out some Life of St. Patrick Coloring Pages while my little ones watch our St. Patrick DVD.
Later this afternoon the kids are planning on reading some of our books and making a few treats, while I bake some Irish Soda Bread and prepare our Irish Beef and Guinness Stew. Yum!! I'll be back sometime with pictures, but we have company coming tonight, and they may end up staying until tomorrow, so in the meantime. . .
HAPPY ST. PATRICK'S DAY!!!