"There shall come forth a shoot form the stump of Jesse, and a branch shall grow out of his roots. And the Spirit of the Lord shall rest upon him, the spirit of wisdom and understanding, the spirit of counsel and might, the spirit of knowledge and the fear of the Lord."
~ Isaiah 11:1-2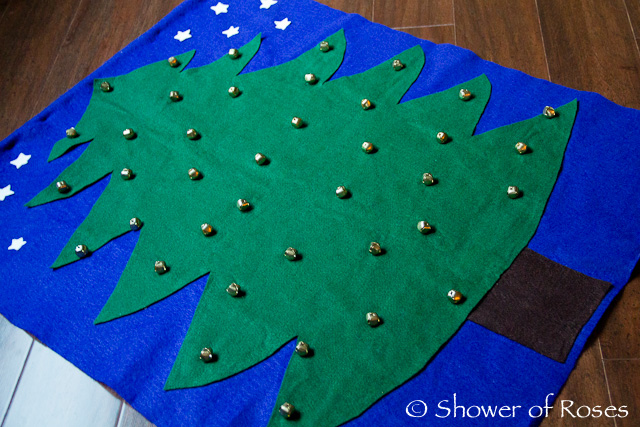 Advent is quickly approaching and I have been promising you all (for years!) close-up pictures of our Jesse Tree and Ornaments! Well, with the long holiday weekend, I finally pulled out all the ornaments and spent some time taking pictures of each of them.
I can't remember exactly when I made this, it was a long time ago, before I had a blog (or a digital camera) and started documenting every craft we make. 😉 It was either in 2003 or 2004, those first few years of our marriage, with three babies in three years, are somewhat of a blur… Anyhow, it is around 10 years old now and has been well-loved by my little ones.
My goal, when making the Jesse Tree was to have something that I would be able to use every year, but wouldn't cost much or require any sewing. I had considered
the kit from Leaflet Missal
, but even that was out of the question at the time. Since I already had a collection of colored felt, I ended up picking up some blue and green felt from the fabric store for just a few dollars and made my own!
SUPPLIES:
Blue Felt for Sky/Background (mine measures 36″ x 28″)
Green Felt for Tree (mine measures 28″ from top to bottom and 25 1/2″at the widest)
Brown Felt for Stump (mine measures 4 1/2″ x 5″)
White Felt for Stars
Various Colors of Felt for Ornaments (most of my circles are 2 3/4 – 3″ in size)
Scissors & Hot Glue
Jingle Bells
Safety Pins or Needle/Thread
Hole Punch & Gold Ribbon or Thread (to hang the Ornaments)
The felt ornaments I made for our Jesse Tree were mostly inspired by the coloring pictures found in Advent and Christmas for the Christian Family which is part of the Celebrating the Faith in the Home Series from Emmanuel Books.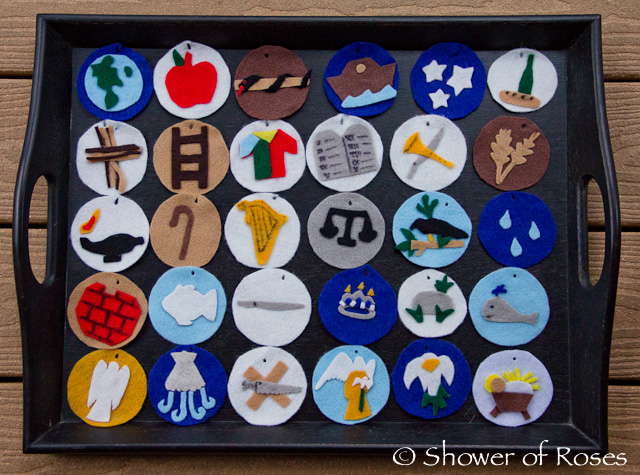 Both the tree and the ornaments are made from felt, so really the ornaments "should" just stick to the tree. However, I wanted my children to be able to hang the ornaments on our Jesse Tree so I came up with adding the "jingle bells!" They are so fun and add such a festive look and sound to the tree. (Plus the ornaments end up staying on the tree, rather than falling off and
getting shoved down the air ven
t!)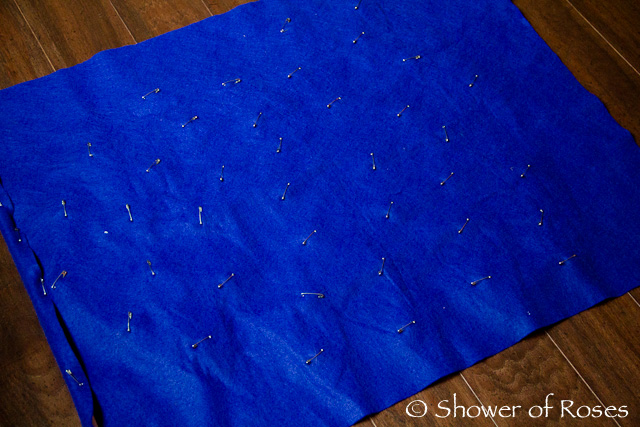 I suppose you could just sew the jingle bells onto the tree, but I wanted to (keep it as quick and easy as possible) be able to change the number of bells to coordinate with the actual days of Advent each year, unlike most Advent calendars.
Advent varies in length from 22-28 days, beginning with the Sunday nearest to the feast of St. Andrew the Apostle (November 30th) and embracing four Sundays. The first day of Advent can fall as early as November 27th or as late as December 3rd. I currently have 30 ornaments, which leaves quite a few extra each year. Some years I set aside the extras and other years I'll double up and read two stories, giving the children two ornaments, on various days so that we can use them all before Chirstmas.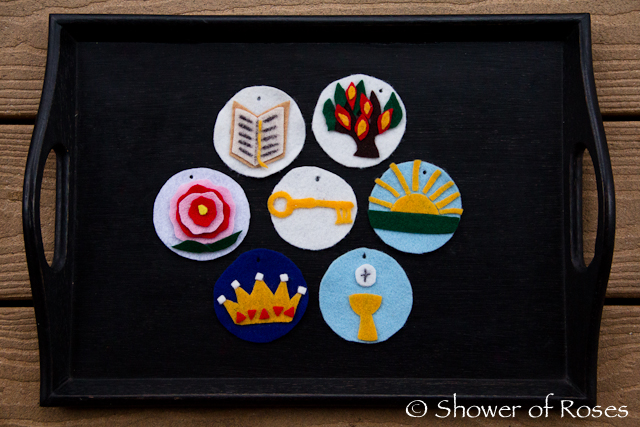 We also have an additional 7 for the various
O Antiphons
, which we add on the days from December 17th to December 23rd.
The first year I just tacked the felt banner to the wall, but now I have it pinned on to a long dowel, and hang it from a ribbon. (I made the ribbon long enough to hang over and below a picture on our wall, using the same nail that the picture hangs on. Does that make sense? You can see an example in these pictures.)
We always use the
New Catholic Picture Bible
for our daily readings, though this year I will have my older children read them directly from the Bible. (
UPDATE
: I rearranged the ornaments below to more closely reflect the order in which we add them to our tree, following the readings in this book.)
The Jesse Tree provides a meaningful way for us to count down the days until Christmas. Moreover, it increases our understanding of this portion of salvation history and is an effective way to prepare spiritually for Christmas.
Here are some additional Jesse Tree Books,* Resources and Activities:
*Note: I do not own all these books, they are just various ones I've run across online.

Also for those of you that would like a beautiful pre-made set of Jesse Tree Ornaments, I highly recommend Jesse Tree Treasures.

This year I am considering ordering the Jesse Tree DVD from Holy Heroes.
1. Creation
Symbol: Earth
Readings: Gen .1:1-31; 2:1-4
NCPB: The Story of Creation, Pages 8-9
Symbol: Apple
Readings: Gen. 2:7-9, 18-24
4. Noah
Symbol: Ark
Readings: Gen. 6:5-8, 13-22; 7:17, 23, 24; 8:1, 6-22
5. Abraham
Symbol: Stars
Readings: Gen. 12:1-3
6. Melchisidek
Symbol: Bread and Wine
Readings: Gen. 14:17-20; Ps. 110:4; Heb.20
7. Isaac
Symbol: Bundle of wood
Readings: Gen. 22:1-14
8. Jacob
Symbol: Ladder
Readings: Gen. 25:1-34; 28:10-15
11. Joshua