Congratulations Sarah, to you and your whole family!
The swimming lessons themselves are such an incredible blessing for which I am so thankful!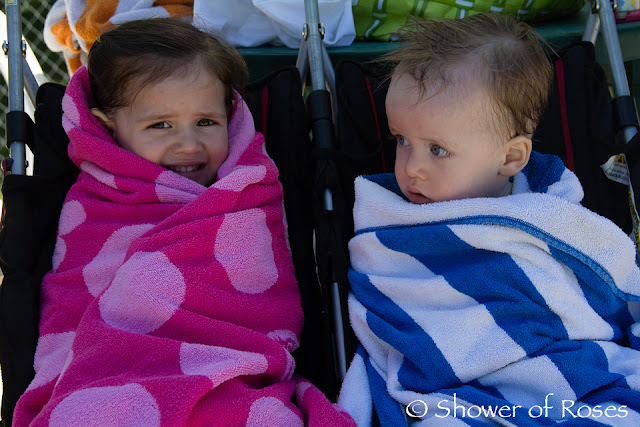 Since then the kids have grown and we've added another little man to the mix. It's also hard to believe that my "baby" isn't really a baby any more… and this is officially my longest gap between pregnancies! It is also the first time (as of last week!) that I haven't been pregnant or nursing (other than for the few months following my miscarriage) in nearly 14 YEARS!
Since Rose already refuses to sleep in her toddler bed most nights, and has claimed Twinkle Toes bed (the bed on the right) as her own, we will move her into that bed when the big girls move back across the hall and into their new bunk.
We considered having all three girls share one room, and give Snuggles and Bud one of the rooms, but after trying to merge all of their clothing/toys/etc, it was just too much stuff for one of these smaller rooms. Plus, we really like the idea of keeping the boys at the other end of the hall (and having them share the laundry room bathroom) and the girls down at this end.
The tall white dresser was one we were given last year which I had painted white! Isn't it pretty? I think it is going to match the new bunk bed nicely. I'd still love to figure out a way to "hide" all the clothing/closets…
Up until our yard sale we also had a wooden hutch in this room, with the table and chairs in the center. Now all the books are on the closet shelves (in the other room) for the time being.
The bedrooms aren't usually this clean and decluttered, I've just been working a little bit each evening this week getting everything moved from one room to the other. In the process I did box up all the Little People and Kitchen Toys into two big plastic tubs for now. Those tubs, along with others filled with clothing, baby blankets, and other items, are all in my living room, where the old entertainment center use to be until they can be moved to the attic and/or I can find a place for them in the house.
I still have a lot to do, to get these rooms functioning as well as the boys' bedroom, but it's a start and I am excited about the changes… Now we just have to wait for those beds to arrive in a couple more weeks!