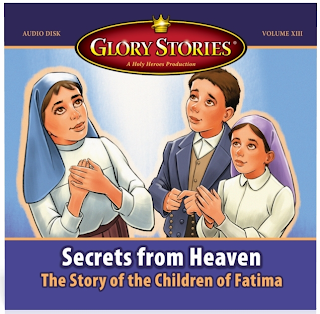 I always try to have my Christmas shopping completed (at least mostly completed) before Advent begins and am currently working on checking off a few last items as I start to pull out and set up all of our Advent Decorations and Book Baskets! This year I've broken the "three" gifts for each of our children into three categories: something fun, something faith based, and something to read.
We already had gifts/ideas for most of the children, but I was having a difficult time coming up with something faith based to put under the tree for Chiquita… (I already have one of the Shining Light Dolls for her stocking.) I was so excited to hear that Holy Heroes has just released a brand new Glory Story CD: Secrets from Heaven – The Children of Fatima! (If you buy it today you can also choose a free Holy Rosary CD!) It will be perfect for her!
I have decided to wrap the two CDs along with a copy of the St. Mary's Messenger 2013 Summer Issue (which she hasn't seen yet and which featured one of her past birthday parties!) and a St. Mary's Messenger Subscription as her "faith based" gift. She is going to love it!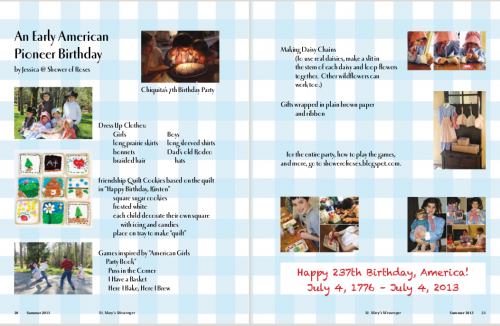 St. Mary's Messenger is a full-sized, full-color, standalone, 32-page, quarterly Catholic magazine for kids, ages 7 to 12! The yearly subscriptions (4 issues) are available for $19.95. I've posted more about St. Mary's Messenger here.

St. Mary's Messenger has generously offered to give complimentary subscriptions to TWO of my visitors here at Shower of Roses! If you would like to be entered in the giveaway, please use the Rafflecopter entry box below: