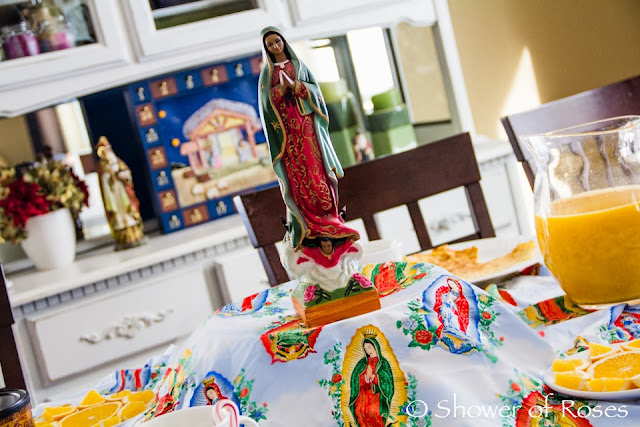 Happy Feast of Our Lady of Guadalupe!
I hope you all had a blessed feast! Originally our plans for the day included the tutor here for five hours followed by a trip into town for a fundraiser/dinner at Chipotle for some dear friends. . . Due to the weather, and hazardous driving conditions, the tutor wasn't able to make it and we stayed home all day. I was still able to pull together a fun brunch for the children in honor of today's feast, while we all listened to the beautiful Mañanitas CD from Sister Servants and Matins for the Virgin of Guadalupe!

The brunch ended up being such a great alternative to what we have done in the past! (here and here)
We made my Grandmother's and Mom's "crepes" cut into the shape of tilmas with maple syrup, whipped cream and Marionberries for the roses, Aztec hot cocoa with Star shaped marshmallows, Bacon, Ham and Cheese Crescent Rolls, Oranges and Orange Juice. It didn't take long to pull it all together while the children set the table. And I enjoyed a hot cup of coffee and read The Story of Our Lady of Guadalupe: Empress of the Americas while they enjoyed the feast.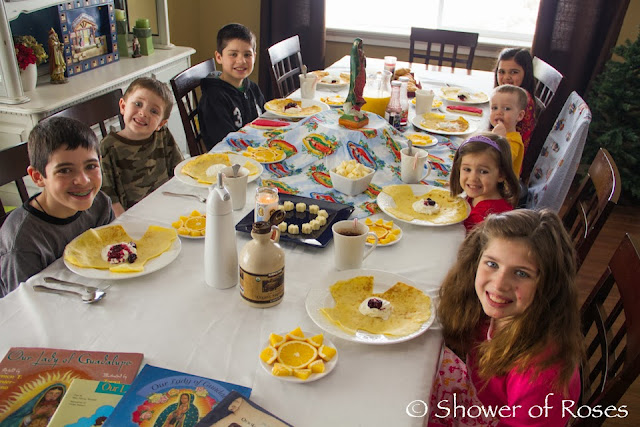 Morning Offering to Our Lady of Guadalupe
Immaculate Heart of Mary, Heart of my Mother, Our Lady of Guadalupe, I unite to thy purity, thy sanctity, thy zeal and thy love, all my thoughts, words, acts, and sufferings this day, that there may be nothing in me that does not become through thee, a pleasure to Jesus, a gain to souls, and an act of reparation for the offenses against thy Heart.