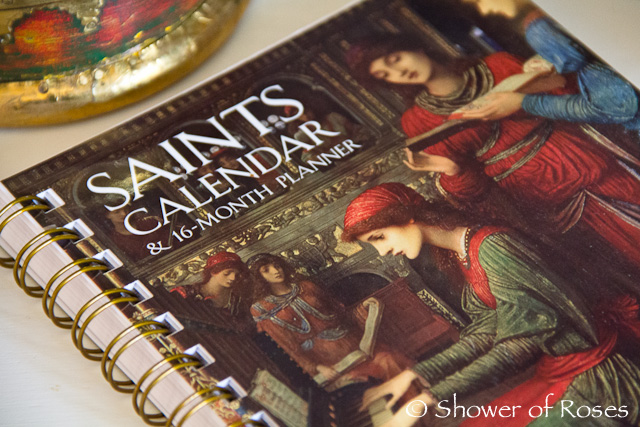 I have
mentioned before
that I use a few different planners each year… One for school work and plans, one for our out of the home appointments and schedule (which stays in my purse most of the time), and
this Saints Calendar
that resides on my desk next to the computer which I use for looking up saints feasts days and planning our
upcoming feast day celebrations
. Every Christmas my dear father and mother-in-law send both Sean and I a new copy of this planner.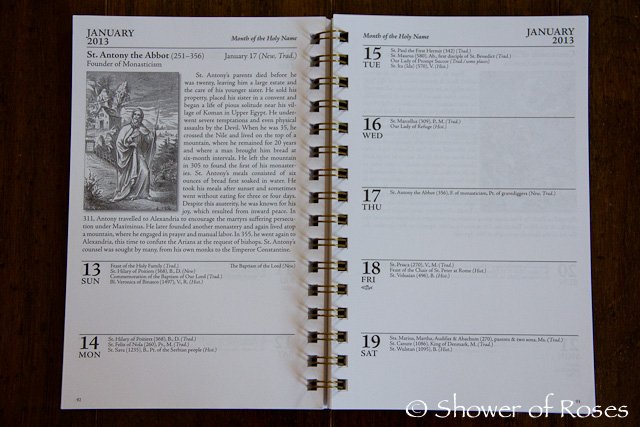 This past year I ordered an extra with the intention of offering it to one of my dear visitors here at Shower of Roses as a Christmas/New Year's giveaway and never did have the opportunity to write the post. (Which is usually the case with about half of the posts I have swimming around in my head at any given time…) Even though the year is already well underway, and even though this planner really begins back in September, I'm still going to offer it as a giveaway. That is, if anyone is interested.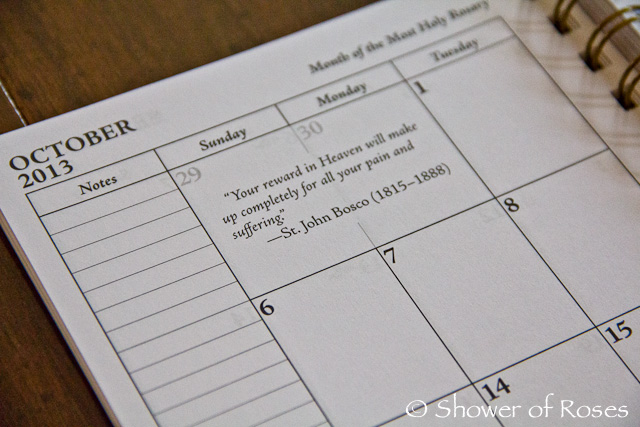 Not only does it include the calendar for Sep 2012 – Dec 2013, it also has 70 beautiful illustrations of Saints and their biographies. The Saints or Feast for Every Day of the Year according to the New, Traditional and Historical Calendars, Alphabetical Lists of Saints' Days and Feast Days, Patron Saints, The Doctors of the Church, and The 14 Holy Helpers, and more. It is one of my favorite resources and has been for years!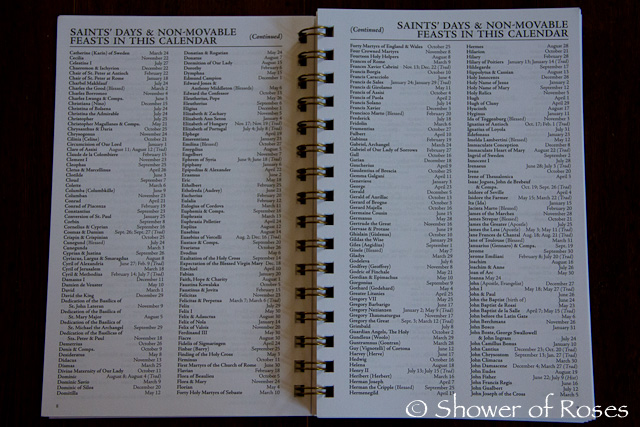 If you'd like to be entered in the drawing for this Saints Calendar just leave me a comment on this post letting me know. In fact, since I am working on trying to organize and stay motivated this month, I'll give you an extra entry for sharing your favorite resource, organizational tip, or motivational quote. I need all the encouragement I can get at the moment! 🙂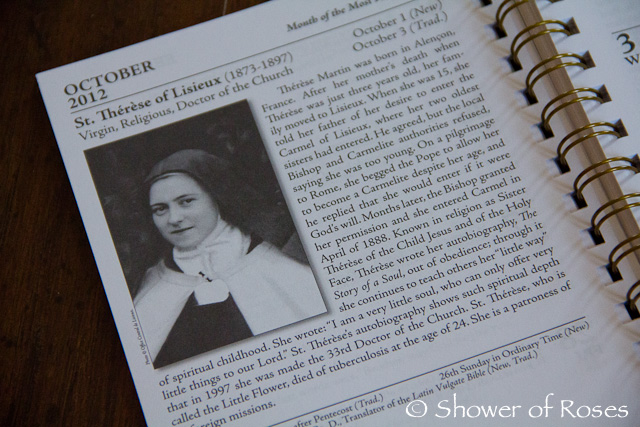 Also, did you notice the changes here at Shower of Roses?
I spent some time this past weekend, inspired by
Charlotte
, updating the blog layout. I created a new header, added some personalized social media icons, and changed the layout to have a wider, two column, sidebar on the right, eliminating the left sidebar to help reduce the "clutter." What do you think?
I'll leave the comments open for the giveaway until Wednesday morning, which happens to be my birthday. I always enjoy birthday giveaways, even if I don't enjoy getting older! 😉
UPDATE: Comments are now closed! Wow!! Thank you all so very much for the wealth of inspiration you have shared! I guess there was a little bit of interest in a copy of this planner… I'll be back soon to announce the winner!